Custom Search
Awake and Bold Seeks to Open Eyes to the Invisible Epidemic of Child Trafficking
Matt McGregor
3-4-22
Child trafficking prospers in the shadows of incognizance. This is why organizations such as Awake and Bold in North Carolina are striving to bring awareness to the invisible crime through education, training, and networking efforts.
Awake and Bold have initiated a video and billboard campaign through its Open Your Eyes organization that teaches a series of hand signals that can empower victims to alert someone to a trafficking situation.
"It's one of the largest growing industries," Awake and Bold Director Hara Taicher told The Epoch Times. "For traffickers, it's more lucrative than drugs because once you sell drugs, they're gone, but a trafficker can sell a child over and over."
Awake and Bold have four billboards in North Carolina and two in Georgia that illustrate the hand signal initiative Taicher and co-founder Elena Huggins are promoting.
Huggins demonstrates the hand signals in a video in which she explains that the gestures say, "I need help; I need to be rescued."
"If we as civilians know what these symbols mean and we see it, we can call law enforcement and help get a child rescued," Huggins said. "And the more of us that know about this symbol, the more kids we can rescue."
Training and education help people wake up to what is happening in their community, Taicher said.
"People can have circumstances to look for and actions to take to put in their repertoire so that they are paying attention," Taicher said.
Kathy Yurista, an assistant ambassador with Awake and Bold, told The Epoch Times that awareness begins at a local level and then "broadening the landscape of reach" by meeting frequently with other organizations, such as the Human Trafficking Commission in Raleigh, North Carolina, where multiple agencies gathered to discuss strategies to combat human trafficking.
Getting flyers into storefronts, restaurants, grocery stores, and gas stations awaken people living out their daily routines to the hidden-in-plain-sight crime of trafficking, Yurista explained.
"We are also working on a curriculum to bring awareness into the schools so that the teachers and parents can become aware and learn the hand signals," Yurista said.
Overall, Taicher said, it's about showing people that child trafficking isn't happening in "some far away, remote place, but right here in our communities."
State Funding to Combat Child Trafficking
In November 2021, North Carolina state Sen. Ted Alexander, a Republican, helped put together what he called "one of the most comprehensive approaches" to combat human trafficking through the state budget, which had several components, he told The Epoch Times.
An amount of over $32 million was earmarked for expanding resources targeting child trafficking, such as adding State Bureau of Investigation officers investigating human trafficking and providing grant money to boots-on-the-ground organizations that are actively involved in assisting trafficked victims.
The budget also funds state law enforcement departments that specifically investigate online sex trafficking.
"This is an enormous problem in our society," Alexander told The Epoch Times. "It's invisible to the average person, but it's real and it's insidious. The more I hear and learn about it—I find it sickening—but it strengthens my resolve to do something about it."
In 2018, former President Donald Trump signed the Frederick Douglass Trafficking Victims Prevention and Protection Reauthorization Act that made available $430 million in federal aid for human trafficking prevention, education, victim assistance, and tougher prosecution.
In addition to networking, education, and training, Awake and Bold raises funds for organizations that engage in rescue operations such as Veterans For Child Rescue (V4CR) in Arizona and SERT (Search, Evangelize, Rescue, and Train) Ministries.
Veterans For Child Rescue
V4CR founder Craig Sawyer's military career began in the U.S. Marines, from where he transitioned into the U.S. Navy to pursue special operations as a Navy SEAL where he served in the Naval Special Warfare Development Group.
As a Navy SEAL in special operations, he gained combat experience in Operation Desert Shield and Desert Storm during the Gulf War resulting in his decoration for heroic service in combat.
He then worked as an agent and supervisor in the Federal Air Marshal service before expanding his range into high-threat mobile security contracting, film and television technical advising, and personal security training for the public.
Using this experience, he now takes on child trafficking through V4CR from multiple angles.
"It's estimated to generate $38 to $50 billion dollars inside the United States annually," Sawyer told The Epoch Times. "That's a giant industry. So why aren't we hearing about it?"
Another reason child trafficking is pervasive is its use for blackmail in the political sphere through an unofficial intelligence scheme such as one he called Operation Brownstone.
"A lot of intelligence agencies like to get dirt on people, so people like Jefferey Epstein and Ghislaine Maxwell have these parties inviting public figures and elected officials in a house wired with cameras," Sawyer said. "If they aren't good people, they end up on video in compromising situations having sex with underage boys or girls."
To bring awareness, Sawyer made the documentary ContraLand, which takes a deep dive into sex trafficking and its impact on victims, the perpetrators, and how it has infiltrated society through academic theories and pornography.
"If the public understood how pervasive this crime actually is, they would rise up and revolt against it," Sawyer said.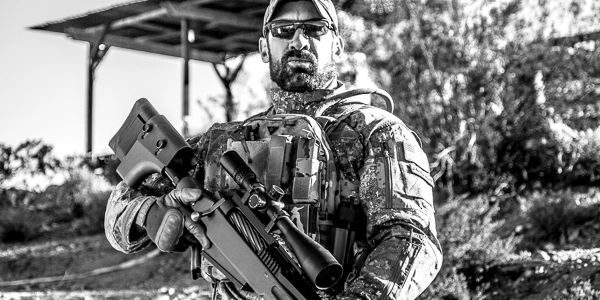 SERT (Search, Evangelize, Rescue, and Train) Ministries
In addition to his comedy podcast The Bald Avenger and talking at conventions to bring awareness to child trafficking, Jason Sisneros works in field operations rescuing children in coordination with law enforcement for the California-based SERT Ministries founded by former Marine and police officer—now pastor—Rudy Gonzalez.
Sisneros began his journey eight years ago in an undercover child-rescue operation in Haiti.
"We rescued 36 little girls and boys on that trip and put away 11 traffickers, and I've been doing that ever since," Sisneros told The Epoch Times.
His most recent operation was during the Super Bowl, during which he said there is a higher demand for prostitutes, including underage girls, because of a higher concentration of men away from their families and seeking sex.
SERT Ministries partners with The Slave Free Project to—like Awake and Bold—inform the public about child trafficking.
It's estimated that 800,000 children are abducted annually in the United States, according to Sisneros.
How SERT Ministries operates is based on parent referral or at the request of law enforcement that needs assistance in a rescue.
In one operation in a city during Black Lives Matter riots, Sisneros remembered what he described as the predominately white rescue team surrounding a car to rescue a young black girl inside.
"She rolled down her window and said, 'I can't believe all of this is for me,'" he said. "She was surrounded by 30 men who loved her and had been looking for her for months."
It was significant to Sisneros, he said, because it shattered the narrative that was being pushed alleging white and black people were in social conflict amid the height of racial tension.
"It was life-changing to see that," Sisneros said. "She got pulled out of that environment and is now thriving."
As both Sawyer and Sisneros have stated, a successful rescue is just the beginning of a rocky path toward rehabilitation because trafficked children have been controlled through psychological manipulation and drug addiction.
'Love and Awareness'
The epidemic of child trafficking has many faces and exists in every social class, Sisneros said.
"But there is so much more love on this planet than there is hatred," he said. "Love and awareness are all that needs to happen to bring people together to protect our most vulnerable."
https://www.theepochtimes.com/awake-and-bold-seeks-to-open-eyes-to-the-invisible-epidemic-of-child-trafficking_4315283.html