Custom Search
Girl & Cop Both Crying After He Learns Why She Was Searching Between Cars
FW: Sept. 2, 2016
(From: Nov., 2015)
Over the weekend, a California officer was called to a local mall after someone reported a woman acting suspiciously in the parking lot. When he arrived, he found her searching between parked vehicles, and after learning why, they were both left in tears.
The incident unfolded on Sunday afternoon, when Deputy Bruce Pierson was called to the Promenade Mall in Temecula after reports of a suspicious woman in the parking lot were received by his department, reports FOX5. When he arrived, he spotted the oddly behaving woman creeping around and trying to duck out of his view before he could see her, but it was to no avail.
Deputy Pierson approached the woman and began speaking with her, then she lifted up her feet and showed him her heartbreaking reality – she had been barefoot for over two months. Pierson said that her feet were dirty and torn apart by calluses from the hot pavement, and she told him that the reason she was sneaking around the parking lot was to try to find a bit of shade to get some relief for her tired feet.
"She raised her foot, and her feet were blacker than my boots and callused, and she said, 'I haven't had shoes in two months,'" Pierson said.
You see, the 18-year-old girl, who told Deputy Pierson her name is Franki, has been living on the streets since she was only 12. She and her boyfriend have two dogs, and they've been trying to make their way through life together, but it hasn't been too easy. In fact, she told Deputy Pierson that just last year she had a miscarriage, which only added to her misery.
So rather than allow this poor, young girl to suffer any longer, Deputy Pierson took immediate action to help her out. The pair went inside of the mall, and he brought her to PayLess ShoeSource, where he told her to pick out any pair of shoes in the store that she wanted, but Franki's good fortune didn't end there.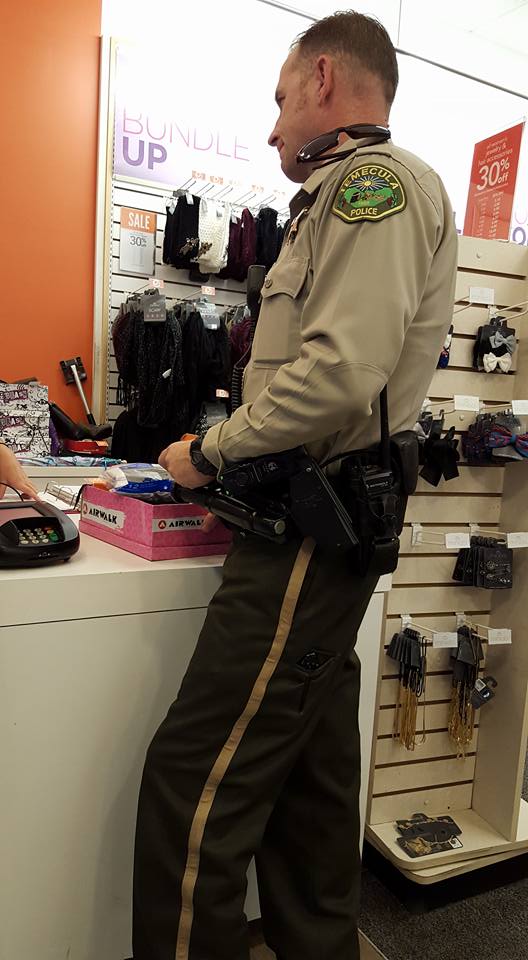 Another woman saw Deputy Pierson with Franki, and after Franki wandered off, the woman approached him to see what was going on, then asked if she too could help. After the woman offered to buy Franki another pair of shoes, something else incredible happened – Joshua Rounds had been watching the entire scene unfold, then he walked over to the group and offered up some of his money too.
In all, young Franki ended up getting two brand new pairs of shoes, new socks, a nice new scarf, and a beanie to help keep her warm in the coming cold months. Her blessing would only continue as well. Deputy Pierson told his wife what he was doing for Franki, and within a short time, she had shown up to the mall with two bags of dog food, several sweaters, and a blanket for Franki to take back with her.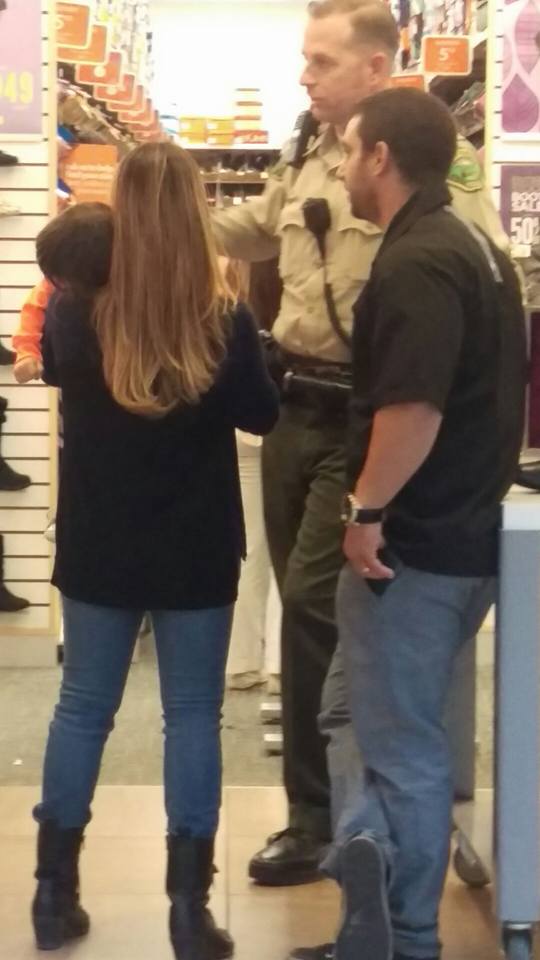 Rounds took two pictures of Deputy Pierson and posted them to his Facebook account, and as you would imagine, the incredible story went viral. In just 48 hours, it had been shared over 100,000 times, and that number continues to grow rapidly as Deputy Pierson's extremely generous act touches people's hearts across the country.
According to KTLA, the entire ordeal ended up leaving Franki bawling her eyes out at the kindness of pure strangers, and apparently Deputy Pierson wasn't immune to the water spouts either. He told the news outlet that before it was all over, he had tears running down his face as well.
"It was the right thing to do … I would hope any human would do that," he said.
I know I say it often, but it's because I don't think it's said enough – Deputy Pierson exemplifies how the vast majority of police are in our nation, despite the near-constant negative publicity they receive. When these brave men and women volunteer to keep our communities safe, it means more than simply busting criminals or issuing speeding tickets. For them, it means keeping everyone safe – even a lost, young girl trying to make her way through difficult times.
http://madworldnews.com/girl-cop-crying-searching-cars/