Custom Search
FBI Director Issues Warning as Police Officers Murdered at Unprecedented Rate
Jack Phillips
3-35-33
FBI Director Christopher Wray issued a warning about the increasing rate of murders of police officers in recent months, saying the trend is outpacing violent crime nationwide.
During a "60 Minutes" interview Sunday, Wray said that murders of police officers rose about 59 percent in 2021 over the previous year, while the total murder rate rose about 29 percent in 2021 as compared with 2020. Seventy-three officers were killed last year, he added.
"Violence against law enforcement in this country is one of the biggest phenomena that I think doesn't get enough attention," Wray said in the interview, saying that "one every five days" are being killed across the United States.
"Some of it is tied to the violent crime problem as a whole. But one of the phenomena that we saw in the last year is that an alarming percentage of the 73 law enforcement officers killed in the line of duty last year were killed through things like being ambushed or shot while out on patrol. … Wearing the badge shouldn't make you a target," he continued to say.
Some critics have said the spike in police officers coincides with a general anti-police animus that was fomented during the nationwide riots in the summer of 2020. As Black Lives Matter demonstrations turned into riots and arson attacks, protesters would often chant slogans against police officers. Meanwhile, some police groups and unions have said that bail reform policies have allowed violent offenders to be released back on the street at a quicker pace.
Earlier this month, the National Fraternal Order of Police group said that in 2022, so far, shootings of police officers have increased about 43 percent compared with the previous year. As of April 1, some 101 officers have been shot, the group said.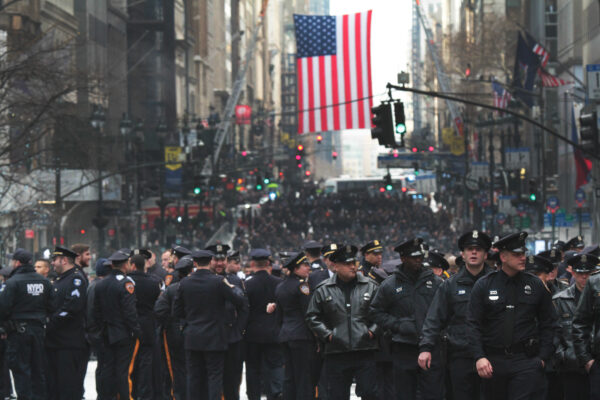 "We are in the midst of a real crisis. The violence directed at law enforcement officers is unlike anything I've seen in my 36 years of law enforcement," the group's president, Patrick Yoes, said in a statement released earlier this month. "Last year was one of the most dangerous years for law enforcement, with more officers shot in the line of duty since the National Fraternal Order of Police began recording this data."
It comes as a South Carolina police officer was shot and killed as he responded to a domestic disturbance on Sunday morning in Cayce, officials said.
Officer Roy Andrew "Drew" Barr, 28, responded at around 2:48 a.m. Sunday and spoke to a man who was standing in the front yard of a residence. As he spoke with the man, someone inside the home opened fire, killing Barr. The man who shot the officer barricaded himself in the home and was later pronounced dead of a self-inflicted gunshot wound, Cayce Police Department officials said at a news conference.
https://www.theepochtimes.com/fbi-director-issues-warning-as-police-officers-murdered-at-unprecedented-rate_4425692.html