Custom Search
Yale Psychiatrist Who Declared Trump Mentally Unfit Has Been Fired, and She's Suing
3-25-21
"your repeated violations of the APA's Goldwater Rule and your inappropriate transfer of the duty to warn from the treatment setting to national politics raised significant doubts about your understanding of crucial ethical and legal principles in psychiatry"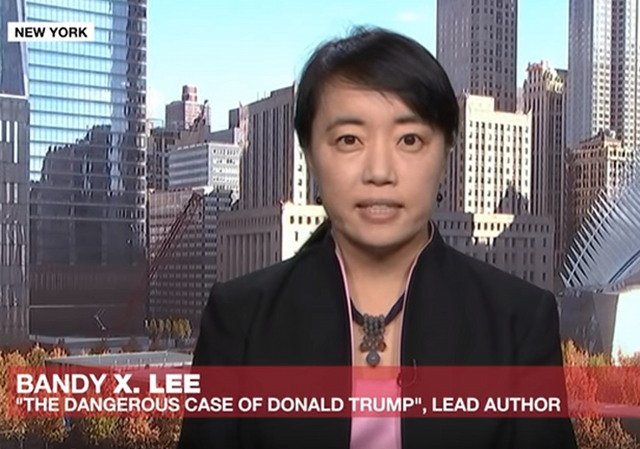 Listen to this article
Bandy Lee, the psychiatrist who repeatedly diagnosed Trump as mentally unfit and dangerous, without ever even having met him, has apparently been fired by Yale University.
What a shame.
At one point, Lee's frequent long-distance diagnoses extended to Professor Alan Dershowitz. He wrote a strongly worded letter to Yale, which apparently played a role.
This all began unfolding last spring, but we're just finding out now.
Yale Daily News reports:
Former professor says Yale fired her over tweet on Trump, Dershowitz

Bandy Lee MED '94 DIV '95, a formerly Yale-affiliated faculty member in the Department of Psychiatry in School of Medicine, filed a complaint against the University on Monday alleging "unlawful termination… due to her exercise of free speech about the dangers of Donald Trump's presidency."

University spokesperson Karen Peart declined to comment on the specifics of the case. Yale was the only named defendant.

Lee's complaint alleges that Yale fired her in response to a January 2020 tweet that characterized "just about all" of former president Donald Trump's supporters as suffering from "shared psychosis" and said that Alan Dershowitz, a lawyer on Trump's legal team, had "wholly taken on Trump's symptoms by contagion." Dershowitz responded to the tweet with a letter to Yale administrators, in which he complained that Lee's tweet constituted "a serious violation of the ethics rules of the American Psychiatric Association" and requested that she be disciplined.
Diagnosing people from afar is a big no-no in psychiatry. They even have a description for that. It's called the 'Goldwater Rule.'
Lee's superiors at Yale warned her about it, and it looks as though that was one of the factors in her firing:
"Although the committee does not doubt that you are acting on the basis of your personal moral code," the letter read, "your repeated violations of the APA's Goldwater Rule and your inappropriate transfer of the duty to warn from the treatment setting to national politics raised significant doubts about your understanding of crucial ethical and legal principles in psychiatry."

The American Psychiatric Association's Goldwater Rule states that it is unethical for psychiatrists to comment on a public figure's mental faculties in an official capacity unless granted permission or after a medical examination.
The timing of this is ironic. I recently had a brief exchange with Lee on Twitter that ended predictably: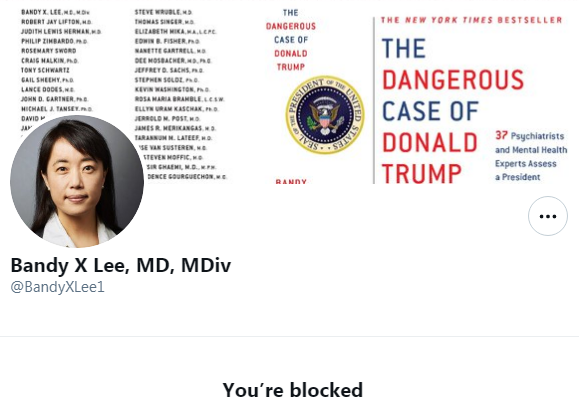 https://legalinsurrection.com/2021/03/yale-psychiatrist-who-declared-trump-mentally-unfit-has-been-fired-and-shes-suing/