Custom Search
Indiana Becomes First State to Pass Ban on Most Abortions After Fall of Roe
Mimi Nguyen Ly
8-5-22
Indiana on Aug. 5 became the first state in the country to approve and pass a bill into law banning most abortions, following the overturning of the 1973 Roe v. Wade ruling by the U.S. Supreme Court in late June.
The legislation, SB1, bans all abortions, except in the case of incest, rape, a diagnosis of a lethal fetal anomaly, or in circumstances where abortion is determined necessary to protect the life and physical health of the mother.
The rape and incest exceptions are limited to 10 weeks after fertilization; in such cases, victims would not be required to sign a notarized affidavit attesting to an attack.
The legislation headed to Republican Gov. Eric Holcomb's desk, who signed it into law late on Aug. 5.
"Following the overturning of Roe, I stated clearly that I would be willing to support legislation that made progress in protecting life. In my view, [Senate Enrolled Act 1] accomplishes this goal following its passage in both chambers of the Indiana General Assembly with a solid majority of support," Holcomb said in a statement on Aug. 5.
"These actions followed long days of hearings filled with sobering and personal testimony from citizens and elected representatives on this emotional and complex topic. Ultimately, those voices shaped and informed the final contents of the legislation and its carefully negotiated exceptions to address some of the unthinkable circumstances a woman or unborn child might face."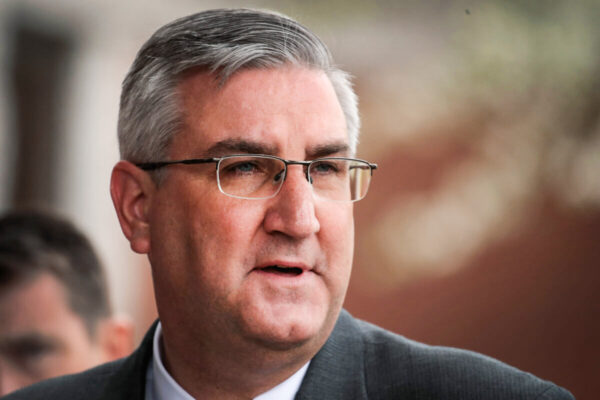 He thanked state Sen. Sue Glick of LaGrange and state Rep. Wendy McNamara of Evansville, both of whom are sponsors of the bill, for their "brave authorship."
"Each of you demonstrated a steady hand and uncanny poise while carrying this once-in-a-generation legislation," he said in his statement.
Holcomb had issued a statement shortly after the June 24 U.S. Supreme Court decision that overturned Roe. v. Wade, saying he would call on Indiana lawmakers to work on abortion legislation in the state. "I have been clear in stating I am pro-life. We have an opportunity to make progress in protecting the sanctity of life, and that's exactly what we will do," he also said at the time.
The legislation was transmitted to the Senate on Aug. 5 after it was amended in the House earlier in the day. Indiana House members advanced the bill in a 62–38 vote, and Indiana Senate members approved the ban by a 28–19 vote.
The American Civil Liberties Union of Indiana and Planned Parenthood Alliance Advocates-East held a protest late on Aug. 5 at the Indiana statehouse against the legislation. On Twitter, the ACLU called the legislation a "cruel and dangerous attack on liberty and freedom."
McNamara told reporters after the House vote that the legislation "makes Indiana one of the most pro-life states in the nation."
"Too often these days we are exposed to much violence and death," McNamara said before the House vote, according to CNN. "This bill restores faith in humanity and faith that human life has value."
https://www.theepochtimes.com/indiana-legislature-approves-ban-on-most-abortions_4647262.html?utm_source=pushengage