Custom Search
NORTH KOREA BLOWS UP LIAISON OFFICE JORTH OF BORDER: SOUTH KOREAN OFFICIALS
6-16-20
SEOUL, South Korea—North Korea has blown up an inter-Korean liaison office building just inside its border.
Seoul's Unification Ministry said the building in the North Korean border town of Kaesong was destroyed at 2:49 p.m.
It said that the detonation of the liason office had already been preannounced by the North, and that Seoul was seeking more details to access the situation, according to Yonhap.
South Korean Minister Kim Yeon-chul told the parliamentary standing committee on foreign affairs and unification, "It is something partly preannounced (by North Korea)."
Photos from South Korea's Yonhap News Agency showed smoke rising from what appeared to be a complex of buildings. The agency said the area was part of a now-shuttered industrial park where the liaison office was located.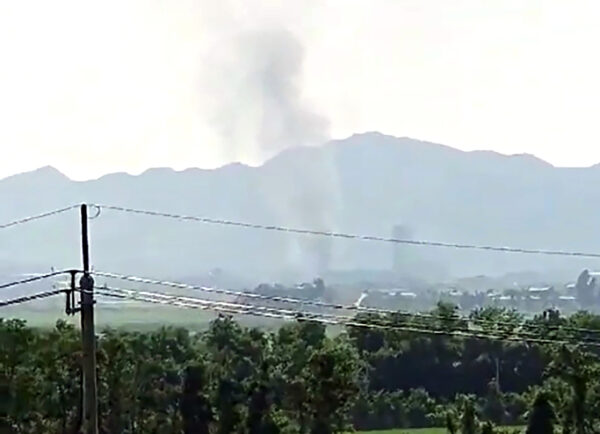 The sister of North Korea's leader had earlier threatened to demolish the "useless" communication office as it stepped up its fiery rhetoric over Seoul's failure to stop freedom activists and North Korean defectors from flying propaganda leaflets across the border.
On Saturday night, Kim Jong Un's sister Kim Yo Jong, warned that Seoul will soon witness "a tragic scene of the useless North-South liaison office (in North Korea) being completely collapsed."
In 2018, the rival Koreas opened their first liaison office at Kaesong to facilitate better communication and exchanges since their division at the end of the World War II in 1945.
Earlier Tuesday, North Korea's military threatened to move back into zones that were demilitarized under inter-Korean peace agreements. The General Staff of the Korean People's Army said it's reviewing a ruling party recommendation to advance into unspecified border areas that had been demilitarized under agreements with the South, which would "turn the front line into a fortress."
While it wasn't immediately clear what actions North Korea's military might take against the South, the North has threatened to abandon a bilateral military agreement reached in 2018 to reduce tensions across the border.
South Korean President Moon Jae-in urged North Korea on Monday to return to the dialogue table, reported South Korea's Chosun Ilbo. Monday was the 20th anniversary of the first int
https://www.theepochtimes.com/north-korea-blew-up-liaison-office-north-of-border-south-korean-officials_3389930.html?utm_source=pushengage&utm_medium=pushnotification&utm_campaign=pushengage