Custom Search
Cargo Ship Runs Aground in Japan and Splits in Two, Leaving Miles-Long Oil Leak
Lorenz Duchamps
8-12-21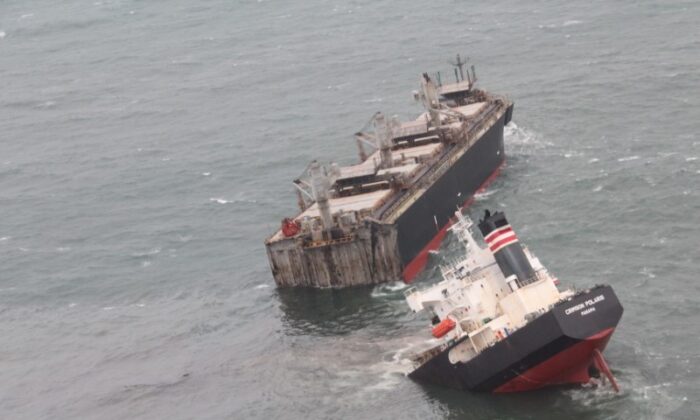 A view of the Panamanian-registered ship "Crimson Polaris" after it ran aground in Hachinohe harbor in Hachinohe, northern Japan on Aug. 12, 2021. (Courtesy of 2nd Regional Coast Guard Headquarters—Japan Coast Guard/Handout via Reuters)
A chartered cargo ship ran aground near Hachinohe Port, northern Japan, then split into two pieces and leaked oil, the Japanese Coast Guard said, noting that there are no reports of injuries among its crew and the oil leak is under investigation.
The 39,910-tonne Panamanian-registered vessel named the "Crimson Polaris" was swept away by strong winds while it was anchored and grounded in the harbor on Aug. 11, said Nippon Yusen Kabushiki Kaisha (NYK), a major Japanese shipping company, according to a press release.
Crimson Polaris crew initially managed to free the ship, but due to the windy weather conditions, they were unable to lead and navigate the large vessel, ending up anchoring again about 2.4 miles (4 km) out from the port.
The vessel, which was at the end of a voyage from Thailand, split in two at 4:15 a.m. on Aug. 12, the Coast Guard said in an updated statement, adding that oil has spilled into the ocean.
The vessel's crew of 21 seafarers have been evacuated safely, officials said, noting that no injuries to the crew were reported.
"All crew members have been evacuated from the ship with the cooperation of the Japan Coast Guard, and those seafarers have been confirmed to be safe," the company said.
The ship's operator confirmed that "a portion of the wood-chip cargo was lost from the damaged part of the hull," adding that the NYK is investigating the amount of cargo lost, as well as the impact it will have on the ocean.
An oil slick of 3.2 miles (5.1 km) long and about 0.6 miles (1 km) wide was visible later that day, with containment measures currently being investigated by patrol boats.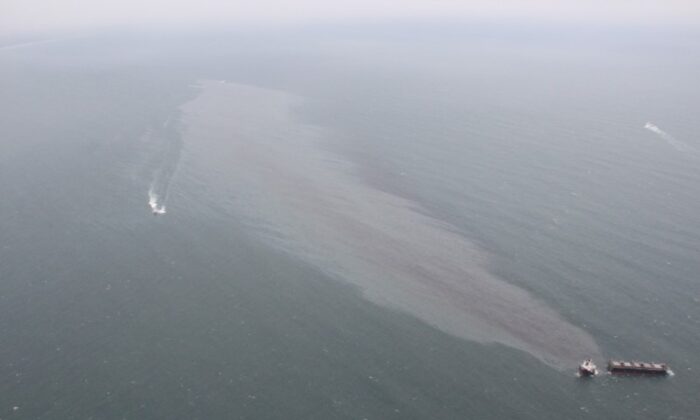 The vessel's two parts have not moved and are being closely monitored by patrol boats, a Coast Guard spokesman said. There had been no apparent major change in its situation by the afternoon of Aug. 12 (local time).
"NYK has organized a crisis management center led by NYK president Hitoshi Nagasawa to rapidly address the situation," the company said. "Personnel has been sent to the site, and necessary support will be provided to the shipowner and ship-management company."
The cargo ship is owned by Mi-Das Line S.A. and is currently being chartered by NYK.
Reuters contributed to this report.
https://www.theepochtimes.com/cargo-ship-runs-aground-in-japan-and-splits-in-half-leaving-miles-long-oil-leak_3945598.html