Custom Search
GERMANY ANTI-ISLAM PROTESTS: BIGGEST PEGIDA MARCH EVER IN DRESDEN AS REST OF GERMANY SHOWS DISGUST WITH LIGHTS-OUT
Lizzie Dearden
An estimated 18,000 Pegida supporters marched in Dresden while almost 30,000 counter demonstrators massed in other German cities
Monday, 5 January 2015
Anti-Islam demonstrators were outnumbered by 10 to one in Cologne tonight as the city's famous cathedral turned out its lights in a symbolic protest against the Pegida movement.
The so-called "Patriotic Europeans against the Islamification of the West" (Pegida) had planned to hold a march there following weekly rallies in Dresden but only 250 supporters showed up, compared to more than 2,000 counter-demonstrators.
They lined the Cologne's largest bridge as the cathedral stood in darkness, holding placards reading "refugees welcome", "I heart immigration" and "no Nazis here".
The cathedral's provost, Norbert Feldhoff, told n-tv that they wanted to make Pegida supporters think twice about what they were marching for.
"You're taking part in an action that, from its roots and also from speeches, one can see is Nazi-ist, racist and extremist," he said.
"And you're supporting people you really don't want to support."
Other buildings, including several churches and a museum, joined the Cologne Cathedral in shutting off their lights in support of the anti-Pegida demonstrators and in Dresden, Volkswagen kept its glass-walled manufacturing plant dark to underscore the company "stands for an open, free and democratic society".
Merkel: 'Pegida protesters have hatred in their hearts'
17,000 march on Dresden against 'Islamification of West'
In Berlin, police said some 5,000 counter-demonstrators blocked about 300 Pegida supporters from marching along their planned route from city hall to the Brandenburg Gate.
Another 22,000 anti-Pegida demonstrators rallied in Stuttgart, Munster and Hamburg combined, the DPA news agency reported - bringing the total to almost 30,000 nationwide. In pictures: Anti-Pegida protesters march in Germany
But in the movement's epicentre in the eastern city of Dresden, 18,000 supporters flooded the streets – its largest turnout so far.
Pegida's growing strength – going from marches numbering the hundreds in October to tens of thousands today – has sparked nationwide resistance, from Angela Merkel condemning "hatred in their hearts" to politicians dubbing its leaders "Nazis in pinstripes".
Carrying signs with slogans like "wake up" the Dresden crowd chanted "we are the people" and "lying press" as they passed television cameras on Monday.
The city, capital of Saxony, has around 100,000 foreign-born residents according to government statistics – 2.5 per cent of the population.
Muslims number only 0.1 per cent but many Pegida supporters refuse to believe the official figures, convinced that the public are being misled bKathrin Oertel, a Pegida organiser, told demonstrators "in Germany we have political repression again".
"Or how would you see it when we are insulted or called racists or Nazis openly by all the political mainstream parties and media for our justified criticism of Germany's asylum seeker policies and the non-existent immigration policy?" she asked the cheering crowd.
The group has sought to distance itself from the far-right, saying in its position paper posted on Facebook that it is against "preachers of hate, regardless of what religion" and "radicalism, regardless of whether religiously or politically motivated."
It has also banned any neo-Nazi symbols and slogans at its rallies, although critics have noted the praise and support it has received from known fascist groups.
Cem Ozdemir, co-chairman of The Greens party and himself the son of a Turkish immigrant, told n-tv that while he, too, was against any form of extremism, "intolerance cannot be fought with intolerance."
"The line is not between Christians and Muslims," he said. "The line is between those who are intolerant...and the others, the majority."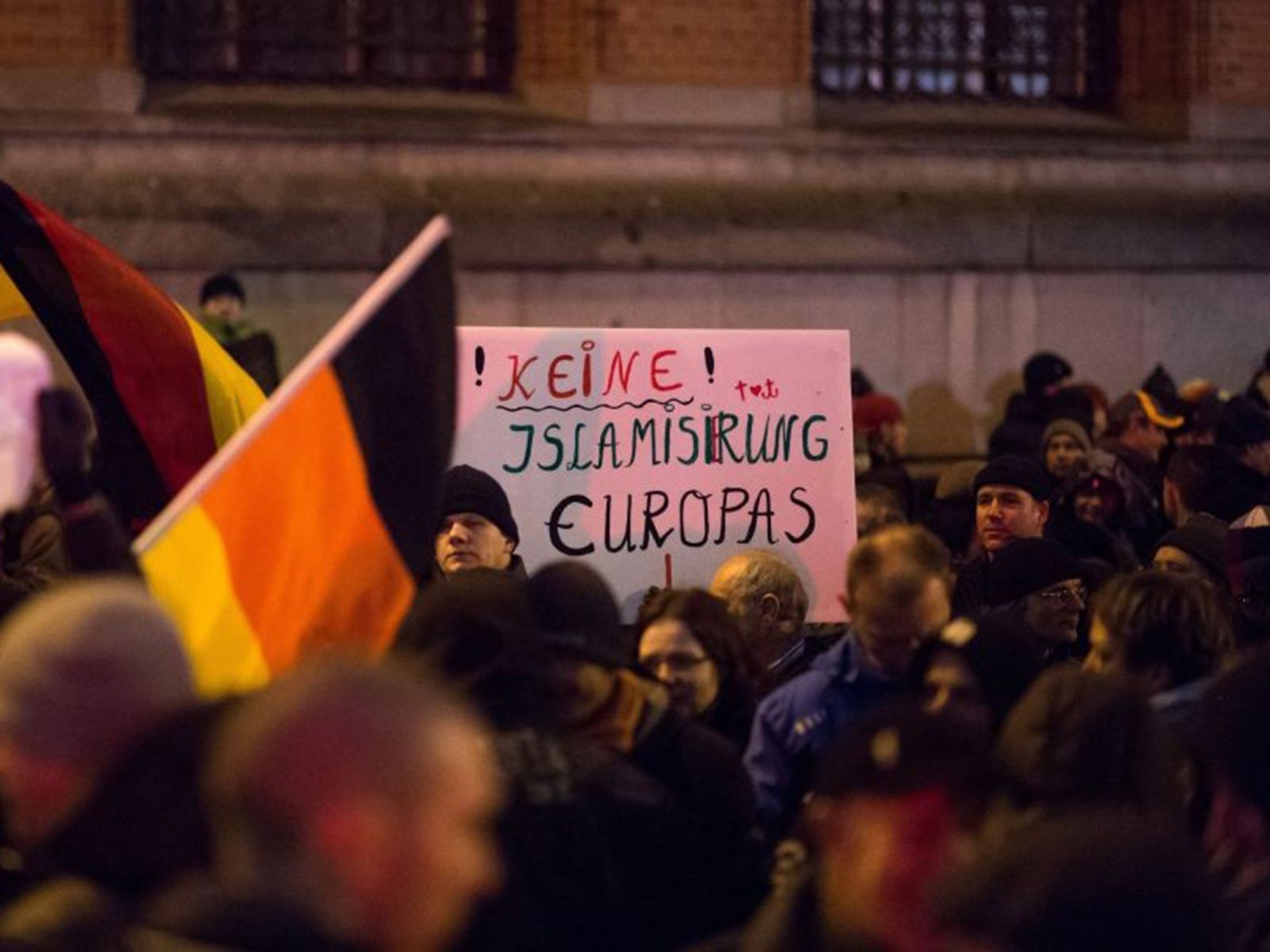 Pegida is calling for the immediate deportation of asylum seekerinal convictions but claims to support the admission of refugees fleeing war or political and religious persecution – provided all other EU member states "shoulder the burden" equally.
Its manifesto lists policies including integration, "sexual self-determination" and stopping the "almost obsessive" movement against gendered German language.
But its main focus is the preservation of "Judeo-Christian Western culture" against what they claim is the rise of "radicalism" and "parallel societies with Sharia police".
Tonight's protest came a day after disturbing evidence emerged linking Pegida supporters to a brutal knife and club attack on migrant youths in Dresden.
Police said that they were investigating an incident which was said to have taken place immediately after a 17,500-strong Pegida rally in the city on 22 December.
Berlin's leftist Taz newspaper said that shortly after the protest, a group of some 50 masked and armed Pegida supporters stormed the city's Galeria shopping mall and attacked a group of 30 migrant youths.
It is one of a growing list of crimes apparently motivated by racial and religious hatred or xenophobia in Germany in recent months.
In November, new hostel accommodation destined for use by asylum seekers was left damaged in a suspected arson attack near Nuremberg. Swastikas and anti-immigration graffiti were daubed on the walls.
German politicians have been accused of pandering to the group by proposing a radical overhaul of the country's asylum system, including swift deportations of anyone refused refugee status.
Immigration has a topic of hot debate in Germany this year following a surge in the numbers of asylum seekers, fuelled by the wars in Syria and Iraq. The country takes in more asylum seekers than any other EU state and expects 200,000 claims for 2014, up from 127,000 in 2013.
Additional reporting by AP
http://www.independent.co.uk/news/world/europe/germany-antiislam-protests-biggest-pegida-march-ever-in-dresden-as-rest-of-germany-shows-disgust-9959301.html?printService=print