Custom Search
WELL IT IS ROSWELL: ENORMOUS SUPERSTORMS IN THE SHAPE OF A UFO EMERGE OVER HOME OF AREA 51
Supercell storms like these can cause tornadoes, hail storms, flash floods and barrages of lightning
They are usually found over the Great Plains of the U.S. or the plains of southern Brazil and Argentina
In the alien invasion movie Independence Day, the spaceships which obliterate Earth's great cities emerge from vast storm clouds just like these.
So it's fitting, then, that these portentous swirling supercells appeared over Roswell, New Mexico, near the U.S. military's secret Area 51 base, where it is widely believed a UFO crashed in 1947.
Jody Miller, from California, tracks down extreme weather conditions like these, risking life and limb to photograph what are incredible examples of the power of nature.
Scroll down for video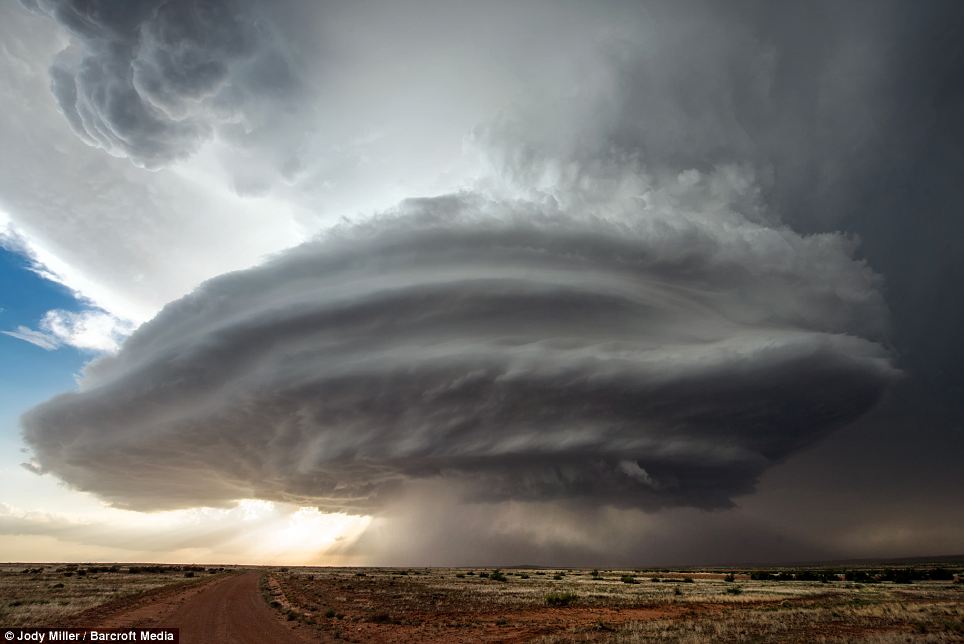 An enormous supercell in the shape of a UFO looms over Roswell, New Mexico, close to the secret U.S. military site Area 51
The humongous storm extends across the whole sky, which is cast a deep portentous grey by the extreme weather forming in it