Custom Search
Pope Francis Responds to Rush Limbaugh's "Marxist" Charges
Dec. 15, 2013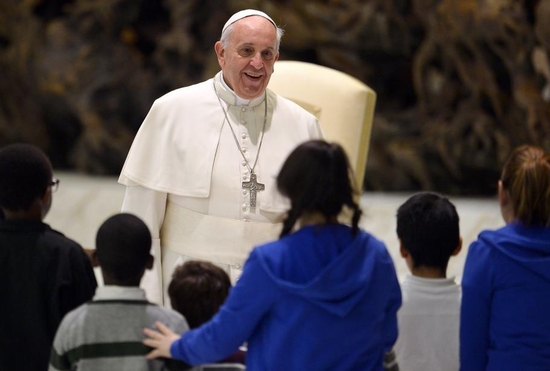 In
an interview
with Italian newspaper
La Stampa
, Pope Francis responded on Saturday to
Rush Limbaugh's recent accusation
that he is a "pure Marxist."
Asked how it felt to be called a Marxist, Time Magazine's Person of the Year answered:
"The Marxist ideology is wrong. But I have met many Marxists in my life who are good people, so I don't feel offended."
Pope Francis went on to reiterate his criticism of trickle down economics, saying it never benefits the poor, instead resulting in the rich simply keeping more for themselves:
"The only specific quote I used was the one regarding the "trickle-down theories" which assume that economic growth, encouraged by a free market, will inevitably succeed in bringing about greater justice and social inclusiveness in the world. The promise was that when the glass was full, it would overflow, benefitting the poor. But what happens instead, is that when the glass is full, it magically gets bigger nothing ever comes out for the poor. This was the only reference to a specific theory. I was not, I repeat, speaking from a technical point of view but according to the Church's social doctrine. This does not mean being a Marxist."
In case you missed it, here are Rush Limbaugh's original comments from November 27:
I mentioned, last night -- I was doing show prep last night -- usual routine. And I ran across this -- I don't actually know what it's called -- the latest papal offering, statement from Pope Francis. Now, up until this -- I'm not Catholic. Up until this, I have to tell you, I was admiring the man. I thought he was going a little overboard on the "common man" touch, and I thought there might have been a little bit of PR involved there. But nevertheless, I was willing to cut him some slack. I mean, if he wants to portray himself as still from the streets of where he came from and is not anything special, not aristocratic, if he wants to eschew the physical trappings of the Vatican -- OK, cool, fine.

attribution: None Specified

But this that I came across last night -- I mean, it totally befuddled me. If it weren't for capitalism, I don't know where the Catholic Church would be. Now, as I mentioned before, I'm not Catholic. I admire it profoundly, and I've been tempted a number of times to delve deeper into it. But the pope here has now gone beyond Catholicism here, and this is pure political. Now, I want to share with you some of this stuff.

"Pope Francis attacked unfettered capitalism as 'a new tyranny.' He beseeched global leaders to fight poverty and growing inequality, in a document on Tuesday setting out a platform for his papacy and calling for a renewal of the Catholic Church. In it, Pope Francis went further than previous comments criticizing the global economic system, attacking the 'idolatry of money.' "

I've gotta be very caref-- I have been numerous times to the Vatican. It wouldn't exist without tons of money. But, regardless, what this is -- somebody has either written this for him or gotten to him. This is just pure Marxism coming out of the mouth of the pope. There's no such -- "unfettered capitalism"? That doesn't exist anywhere.
You can read another diary on Pope Francis's comments here
Limbaugh and Pope Francis could not be more diametrically opposed when it comes to issues of money and poverty. Whereas Francis has been known to don "regular priest" duds and sneak out of the Vatican to minister to the homeless, Rush Limbaugh thinks poor kids should eat from dumpsters during summer break--ain't no such thing as a goddamned free lunch.
Decent folks who believe in tolerance and equality are no longer powerless against Rush Limbaugh's efforts to spread intolerance on the radio. StopRush is making a major impact by convincing advertisers on this show to withdraw their ads--and with your help we can do even more. Just a few emails, tweets, or Facebook messages a week to Limbaugh's advertisers can go a long way toward making hatred less profitable. It is our collective voice that makes us strong.
http://www.dailykos.com/story/2013/12/15/1262883/-Pope-Francis-Responds-to-Rush-Limbaugh-s-Marxist-Charges?detail=email