Custom Search
Why did the U.S. Government patent the Ebola virus in 2009?
Human Ebola Virus Species and Compositions and Methods Thereof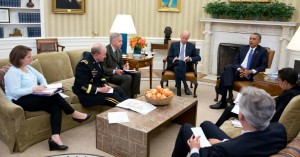 (Photo: White House / Creative Commons)
It really makes you wonder why the U.S. Government patented the Ebola virus back in 2009, just about the time I exposed the mass graves prepared for U.S. citizens.
An excerpt from the U.S. patent abstract posted officially by Google reads:
US 20120251502 A1
Abstract
Compositions and methods including and related to the Ebola Bundibugyo virus (EboBun) are provided. Compositions are provided that are operable as immunogens to elicit and immune response or protection from EboBun challenge in a subject such as a primate. Inventive methods are directed to detection and treatment of EboBun infection.
Publication number
US20120251502 A1
Publication type
Application
Application number
US 13/125,890
PCT number
PCT/US2009/062079
Publication date
Oct 4, 2012
Filing date
Oct 26, 2009
Priority date
Oct 24, 2008
Also published as
CA2741523A1, 4 More »
Inventors
Jonathan S. Towner, 4 More »
Original Assignee
The Government of the US as Represented by the Secretary of the Dept. of health
Export Citation
BiBTeX, EndNote, RefMan
Patent Citations (2), Non-Patent Citations (8), Classifications (39), Legal Events (1)
http://wikkorg.wordpress.com/2014/08/03/why-did-the-u-s-government-patent-the-ebola-virus-in-2009/