Custom Search
The World According To Monsanto - FULL LENGTH
Feb. 7, 2012
Film Review: The World According to Monsanto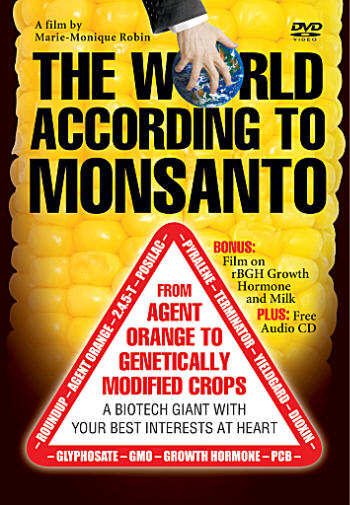 Directed by Marie-Monique Robin
Review by Jeffrey M. Smith
How much outrage can a single multinational corporation inspire? How much damage can they inflict? The breathtaking new film, The World According to Monsanto, features a company that sets the new standard. From Iowa to Paraguay, from England to India, Monsanto is uprooting our food supply and replacing it with their patented genetically engineered creations. And along the way, farmers, communities, and nature become collateral damage.
The Gazette says the movie "will freeze the blood in your veins." The Hour says it's a "horrifying enough picture" to warrant "fury." But most importantly, this critical film opens our eyes just in time.
The film is the work of celebrated award-winning French filmmaker Marie-Monique Robin, whose three years of work on four continents exposes why Monsanto has become the world's poster child for malignant corporate influence in government and technology. Combining secret documents with accounts by victims, scientists and policy makers, she guides us through a web of misleading reports, pressure tactics, collusion, and attempted corruption. And we learn how the company systematically tricked governments into allowing dangerous genetically modified (GM) foods into our diet--with Monsanto in charge of determining if they're safe.
Deception, Deception, Deception
The company's history with some of the most toxic chemicals ever produced, illustrates why they can't be trusted. Ask the folks of Anniston, Alabama, where Monsanto's PCB factory secretly poisoned the neighborhood for decades. PCBs are Monsanto's toxic oils used as coolants and lubricants for over 50 years and are now virtually omnipresent in the blood and tissues of humans and wildlife around the globe. But Anniston residents have levels hundreds or thousands of times the average. They all know their levels, which they carry as death sentences. David Baker, who lost his little brother and most of his friends to PCB-related diseases such as cancer, says Anniston kids used to run up to him, report their PCB level and ask, "How long you think I got?"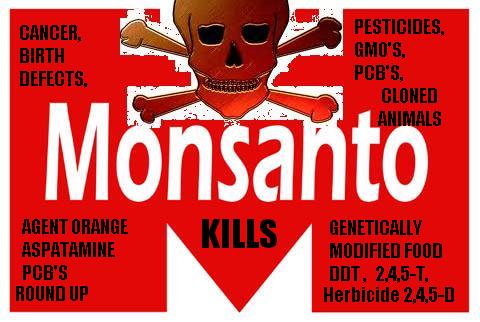 Ken Cook of the Environmental Working Group says that based on Monsanto documents made public during a trial, the company "knew the truth from the very beginning. They lied about it. They hid the truth from their neighbors." One Monsanto memo explains their justification: "We can't afford to lose one dollar of business."
Monsanto also produced the infamous Agent Orange, the cancer and birth-defect causing defoliant sprayed over Vietnam. It contaminated more than 3 million civilians and servicemen. But according to William Sanjour, who led the Toxic Waste Division of the Environmental Protection Agency, "thousands of veterans were disallowed benefits" because "Monsanto studies showed that dioxin [the main ingredient in Agent Orange] was not a human carcinogen." But his EPA colleague discovered that Monsanto had allegedly falsified the data in their studies. Sanjour says, "If they were done correctly, [the studies] would have reached just the opposite result."
Secret documents stolen from the FDA also reveal serious health effects from Monsanto's genetically engineered bovine growth hormone, called rBGH or rBST. In particular, the amount of a powerful hormone called IGF-1 is substantially increased in milk from treated cows. Samuel Epstein, Chairman of the Cancer Prevention Coalition, says that approximately 60 studies link IGF-1 to "breast, colon, and prostate cancers."
Cancer is also implicated in Monsanto's showcase herbicide, Roundup. According Professor Robert Belle's research showing disrupted cell division, "Roundup provokes the first stages that lead to cancer." Belle, who is with the National Center for Scientific Research and the Pierre and Marie Curie Institute in France, says, "The tested doses were well below those which people normally use."
Monsanto has promoted Roundup as harmless to both humans and the environment. But their advertised environmental claims, such as "biodegradable," "leaves the soil clean," and "respects the environment," were declared false and illegal by judges in both the US and France. In fact, Monsanto's own studies showed that 28 days after application, only 2% of the product had broken down. They were forced to remove "biodegradable" from the label.
Above the law
When Monsanto's transgressions are reported to authorities, somehow the company is magically let off the hook.
When Monsanto finally did share information on PCBs with the government, for example, Ken Cook says "instead of siding with the people who were being poisoned, [the government] sided with the company. . . . It was outrageous!" When William Sanjour's EPA colleague, Cate Jenkins, asked the agency to review Monsanto's flawed Agent Orange studies, Sanjour says, "there was no investigation of Monsanto. . . . What they investigated was Cate Jenkins, the whistleblower! They made her life a hell."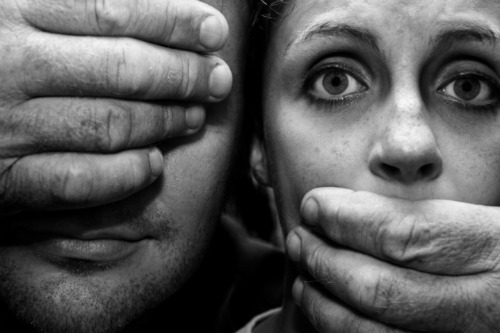 When Richard Burroughs of the FDA held up approval of rBGH by demanding more rigorous and relevant testing, he was fired. He says, "They figured: 'Well, if you're in the way, we'll get you out of the way. . . One day, I was escorted to the door and told that was it; I was done." Senior government scientists at Health Canada testified that their superiors were pressuring them to approve rBGH and that Monsanto had offered them an alleged bribe of $1-2 million. The scientists were later reprimanded, punished, and eventually "dismissed for disobedience." rBGH was never approved in Canada, Europe, and most industrialized nations.
When Professor Belle went to his administration "to let the public know about the dangers" of Roundup herbicide, he was "ordered" not to communicate his findings "due to the GMO question lurking in the background." That question about genetically modified organisms was in relation to Monsanto's "Roundup Ready" crops. Monsanto has the patent for 90% of the GMOs grown on the planet, and most of them are genetically modified specifically to tolerate applications of Roundup.
Read more here
VIEW HERE
http://www.brasschecktv.com/videos/food/the-world-according-to-monsanto---full-length-.html