Custom Search
FATHER CHARLES E. COUGHLIN WARNS OF THE WAR PROPAGANDISTS, THEIR SYSTEM OF FINANCIAL CONTROL AND THEIR EVIL 'BLOOD BUSINESS'
Martin Hill
FW: April 1, 2013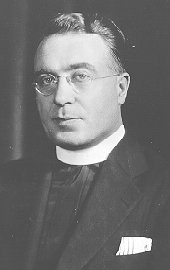 On April 9, 1939, Catholic priest Father Charles E. Coughlin broadcast his Easter Sunday message via his weekly radio program, to the people of the United States. As a preface to his Easter message, Fr. Coughlin warned his listeners of an impending world war involving Europe (World War II, which started in short order just as he had predicted). During the months prior to this Easter Sunday message, Fr. Coughlin had broadcast what was characterized as a very controversial series of thirteen weeks of hour-long radio programs, in which Fr. Coughlin refuted false claims of anti-semitism against him, and educated the public about the athiestic Jews funding and promoting communism worldwide. He also condemned the system of the private federal reserve, banks whose monetary policies are enslaving the people. He mentioned the Rothschilds specificlly, and insisted that the American people must heed the founding fathers edict of limited government refraining from foreign entanglements. He railed against the "war propagandists", "their own system of finance", and their "blood business".
He explains how peace can only be attained by justice which includes "restitution of ill gotten gains"; how "wicked men play upon patriotism"; how their "international financial control", use youth as "its cannon fodder", how "the democracy which they pretend to defend is slavery", and how those using the "merchandise of murderers" seek to "impose their wicked designs upon us". Coughlin offered his listeners each a free written copy of the last 13 weeks broadcasts in book format, and urged his listeners to write a letter to their Senators insisting they keep the United States out of European wars and foreign entanglements.
---
RELATED:
---
Fr Coughlin Warns of Warmonger Propagandists and their Financial Control
The Fr. Coughlin audio archive page at IamtheWitness.com can be found here.
The program featured in the youtube video above is from the April 9, 1939 broadcast. Here is the complete program: The Resurrection [MP3 here.]
There is also an additional earlier Easter Broadcast from March 28, 1937: MP3 here.
Father Coughlin's excellent memorial website is here: http://www.fathercoughlin.com.
The broad range of topics which Fr. Coughlin covered will likely resonate with Ron Paul supporters, those who want to abolish the federal reserve and end all foreign wars. In the years even prior to Ron Paul's birth, Fr. Coughlin was speaking out against many the same ills- at a time when they were originiting.
Often referred to today as an extremist, the exact opposite is true. Fr. Coughlin was a very devoutly religious, intelligent, and well researched man who was doing his best to oppose the clear evils of society.
The website Iamthewitness.com has an archive of many of these thirteen weeks of programs. I have listened to all of them, and my brief summary here certainly can not even begin to do justice to these programs. As you listen to them, the insight expressed and topics covered by this Paul Revere of the 1930s is nothing short of shockingly powerful and astounding.
I urge everyone to download all these archived radio programs and listen to Fr. Coughlins message. In this time of unrest when the world is facing continued financial decline and pending world wars, may we all heed Fr. Coughlin's morality-based and genuinely patriotic spirit of resistance to the evil ones. May we stringently resist and oppose "the base propaganda of the warmongers maintaining their own system of finance", and their "gospel of satan".
*********
Martin Hill is a Catholic paleoconservative and civil rights advocate. His work has been featured in the Los Angeles Daily News, San Gabriel Valley Tribune, Contra Costa Times, Pasadena Star News, Silicon Valley Mercury News, Long Beach Press Telegram, Inland Valley Daily Bulletin, L.A. Harbor Daily Breeze, Whittier Daily News, LewRockwell.com, WhatReallyHappened, Infowars, PrisonPlanet, Economic Policy Journal, FreedomsPhoenix, Veterans Today, The Wayne Madsen Report, Devvy.com, Rense, Antiwar.com, IamtheWitness.com, The Dr. Katherine Albrecht Show, Jonathan Turley blog, National Motorists Association, RomanCatholicReport.com, Republic Broadcasting Network, WorldNetDaily, Dr. Kevin Barret's Truth Jihad radio show, The Orange County Register, KNBC4 Los Angeles, Los Angeles Catholic Lay Mission Newspaper, KFI 640, The Press Enterprise, Redlands Daily Facts, BlackBoxVoting, and many others. Archives can be found at LibertyFight.com.
---
VIEW VIDEO
http://libertyfight.com/Father_Charles_E_Coughlin.html