Custom Search
LEAKED REPORT: ISRAEL ACKNOWLEDGES JEWS IN FACT KHAZARS; SECRET PLAN FOR REVERSE MIGRATION TO UKRAINE
BLOGGER, Jim WaldJerusalem and Zhitomir
Nov. 2, 20-14
(March 16, 2014)
Source: Timesof IsraelBlogs – (Our Russian and Ukrainian correspondents Hirsh Ostropoler and I. Z. Grosser-Spass also contributed to this story, delayed due to the crisis over the Crimean referendum.)
Fast-breaking Developments
Followers of Middle Eastern affairs know two things: always expect the unexpected, and never write off Prime Minister Binyamin Netanyahu, who has more political lives than the proverbial cat.
Only yesterday came news that Syrian rebels plan to give Israel the Golan Heights in exchange for creation of a no-fly zone against the Assad regime. In an even bolder move, it is now revealed, Israel will withdraw its settlers from communities beyond the settlement blocs—and relocate them at least temporarily to Ukraine. Ukraine made this arrangement on the basis of historic ties and in exchange for desperately needed military assistance against Russia. This surprising turn of events had an even more surprising origin: genetics, a field in which Israeli scholars have long excelled.
A Warlike Turkic People—and a Mystery
It is well known that, sometime in the eighth to ninth centuries, the Khazars, a warlike Turkic people, converted to Judaism and ruled over a vast domain in what became southern Russia and Ukraine. What happened to them after the Russians destroyed that empire around the eleventh century has been a mystery. Many have speculated that the Khazars became the ancestors of Ashkenazi Jews.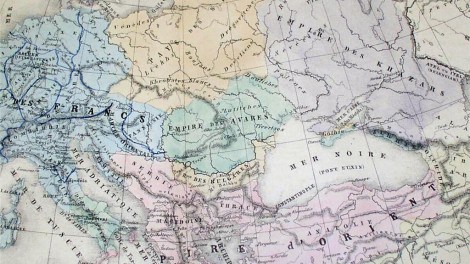 Click Here to continue reading.
***********