Custom Search
The Biggest Humiliation of them All
Rebel of OZ
Sept. 9, 2015
(SCROLL DOWN)
*
*
*
*
*
*
*
*
*
*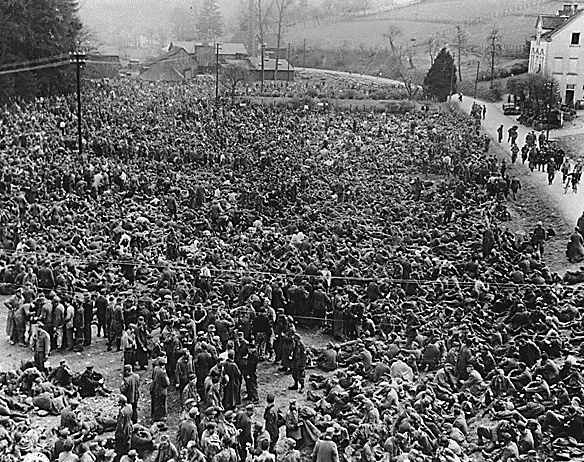 When talking to older folks about World War II, one remark always pops up: the Germans brought all their suffering onto themselves. They deserved it, every bit of it.
What exactly, is my answer, have the Germans done to deserve being killed by the millions, not just soldiers, but mostly civilians and prisoners of war, most of them not even in combat, but after the end of "hostilities"? A quarter of the total German population lost their life. Almost an entire generation got wiped out. If that does not qualify as genocide, what does?
Confronted with those questions they first look surprised, because they had no clue. Nobody had told them about Eisenhower deliberately starving and freezing to death 1.5 million German POW, on top of the same number of German POW starved and worked to death by Stalin. Nobody had told them about the millions of refugees - fleeing the marauding Soviet troops - who got gunned down, bombed into pieces and drowned on their Red Cross ships. Nobody had told them that every single female - from the age of 8 to 80 - the Soviet troops could get their hands on got either raped or killed or both. And nobody had told them about the deliberate targeting of civilians by the "heroes" from the "noble" British and American air force, ripping into pieces and burning alive over 1 million civilians with their terror bombs and machine gun fire when trying to escape the flames.
Then those ignorants turn around, like Pavlov's dogs. But, but, but, they bark. Germany did the Holocaust and started World War II. The Germans voted Hitler into power and supported him. They allowed it to happen. So it's all their fault. They deserved everything.
Did they really? Or is it just what the perpetrators of those war crimes want us to believe?
Do you really believe that the Germans 70 years ago were so brilliant that they were able to cremate 4 bodies at a time, in an oven that only fits one body, in half an hour, when in a modern, computer controlled crematory oven it takes 1.5 to 2 hours, 4 times longer if you burn 4 bodies at the same time?
Do you really believe they were so stupid to waste billions of litres of fuel for cremations at a time when they were struggling to provide enough fuel for their military trucks, ships, planes and tanks?
Do you really believe that the Germans managed to gas 1.5 million people with the non-toxic exhaust fumes coming from a Diesel engine? I wonder how all those underground miners survive when using Diesel motored machines.
But let's not even worry about those embarrassing technical details. The fact alone that an accused "Holocaust denier" is refused the right to provide evidence for his incriminating claims, should be proof enough for anyone equipped with common sense and critical thinking that those "Holocaust denial laws" don't exist to protect historic truth from vicious lies, but – the other way round - to protect vicious lies from historic truth.
And now let's go over this "Germany started World War II" meme. It's just as big a load of crap. As a matter of fact, Britain, France, the United States and Russia forced Germany into war. Hitler only invaded Poland because the Polish government, encouraged by France and Britain, refused to stop Judeo-Bolshevik thugs from raping and killing ethnic Germans by the tens of thousands. He only attacked France, Belgium and Holland AFTER France and England had started to invade Germany, using Belgium and Holland as launching platform for their attacks. He only invaded Greece after England used Mussolini's foolish assault on Greece as a welcome excuse to occupy the country in preparation for air strikes against Romania, Germany's sole supplier of oil. He only invaded Yugoslavia after Britain had engineered a Communist coup d'état to provide England with a launching platform for air raids on Romanian oil refineries. He only invaded Denmark and Norway to pre-empt an imminent British attack on Norway, Germany's main supplier of steel. He only invaded Russia to pre-empt an imminent Soviet attack, knowing all too well how dangerous and difficult a two-front-war would be. And he only started to round up the Jews of Europe, instead of continuing to transfer them to Palestine in cooperation with Zionist organisations, according to their transfer agreement, after German troops everywhere in Europe got constantly and viciously attacked by American and British trained and funded Judeo-Bolshevik terrorists, and a leading Zionist in America called in his well-publicised book "Germany must perish" for the wholesale erradication of the German people.
In other words, every single step, the Allies forced Hitler's hands. He always, very patiently, tried to resolve problems peacefully through negotiations. If Hitler deserved anything it's a Nobel Peace Prize, a million times more than anyone who has received it ever since. The more people find out the truth about what really happened and what's going on, the more people will wish that he had won the war.
So here we go. Why exactly, did they say again that the Germans deserved the treatment they received? Because of the Holocaust and because Germany started World War II? Did you get what I just explained to you? Justifying the murder of 15-20 million innocent and defenceless civilians and POW with such long-debunked vicious hoaxes and lies is adding insult to injury. It's like kicking the man on the ground, kosher style.
Hellstorm - Exposing The Real Genocide of Nazi Germany (full video, uncensored and downloadable)