Custom Search
THE REAL LARGEST MASS SHOOTING IN USA.....NOT ORLANDO!
THE LARGEST MASS SHOOTING IN
US HISTORY HAPPENED
December 29,1890.
When 297 Sioux Indians at Wounded Knee Creek on the Pine Ridge Indian Reservation in South Dakota were murdered by federal agents & members of the 7th Cavalry who had come to confiscate their firearms "for their own safety and protection". The slaughter began after the majority of the Sioux had peacefully turned in their firearms. The Calvary began shooting, and managed to wipe out the entire camp. 200 of the 297 victims were women and children.
Wounded K
nee was among the first federally backed gun confiscation attempts in United States history. It ended in the senseless murder of 297 people.
The Second Amendment, the right of the people to take up arms in defense of themselves, their families, and property in the face of invading armies or an oppressive government. The Second Amendment was written by people who fled oppressive and tyrannical regimes in Europe, and it refers to the right of American citizens to be armed for defensive purposes, should such tyranny arise in the United States.
Wounded Knee is the prime example of why the Second Amendment exists, and why we should vehemently resist any attempts to infringe on our Rights to Bear Arms. Without the Second Amendment we will be totally stripped of any ability to defend ourselves and our families.
AND: LARGEST SCHOOL KILLING FIELD? NO GUNS!!!!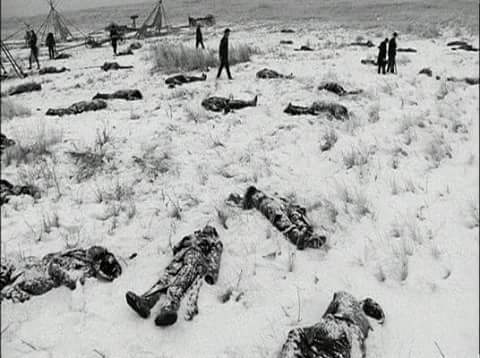 "The Bath School disaster is the name given to three bombings in Bath Township, Michigan, on May 18, 1927, " Wikipedia reports, "which killed 38 elementary school children, two teachers, and four other adults; at least 58 people were injured . . . Most of the victims were children in the second to sixth grades (7–14 years of age) attending the Bath Consolidated School. Their deaths constitute the deadliest mass murder in a school in United States history." Before the attack on the school, bomber Andrew Kehoe killed his wife with a blow to the head. After the main blast, the former school board member used a .30-caliber Winchester bolt-action rifle to ignite the dynamite in the back of his truck, killing himself and several bystanders. [h/t Daniel Greenfield]
SEE? CONFISCATE ALL THE GUNS YOU WANT TOO!! MAN WILL FIND A WAY U NEVER THOUGHT OF.........AND CONSIDER, ALL MASS SHOOTERS HAVE BEEN DEMOCRATS AND THEY SHOOT AND KILL IN GUN FREE ZONES........BUT EDUCATED LIBS NEVER SEEM TO CONNECT THE DOTS......PITY.
THERE WAS NO ISIS PRIOR TO OBAMA BEING IN OFFICE!!! OBAMA BODY COUNT NOW HIGHER THAN BUSH!!! Obama Hillary created power vacuum bringing on ISIS!!!
DAVID M. ADAM, JR.
4435 N.PERSHING DRIVE #709 ARLINGTON,VIRGINIA 22203 USA
c/o ADD INTERNATIONAL,LLC.-PRES.& CEO
WASHINGTON,D.C.
TEL.# 1-703 2431999
SKYPE addintlusa
EMAIL:addintlusa@comcast.net