Custom Search
IT'S WORKING!!! SIERRA LEONE'S INFORMATION MINISTER ON NANO SILVER [!]
Dr. Rima Laibow
Oct. 15, 2014
DR. RIMA TRUTH REPORTS
October 15, 2014 - Special Edition
Support Truth Here!
Nano Silver and CBD
STILL AVAILABLE!
---
Help us educate decision makers: http://tinyurl.com/DontStopNanoSilver

(READ THIS ARTICLE BELOW)
---
"It's working!"
Hon. Alpha Kanu, Minister of Information, Republic of Sierra Leone
We will report back to you as we receive more detailed information from West Africa... and from Dallas! Dr. Rima and Counsel Ralph were interviewed by NPR out of Dallas earlier today. Developments are happening very quickly, so make sure you open our emails! And download the Health Freedom App for your smart phone.
We are very happy that you are in private association with Natural Solutions. Help us by taking these steps:
[1] Help us educate decision makers: http://tinyurl.com/DontStopNanoSilver
[2] Donate and get your Nano Silver here: http://donate.DrRimaTruth.com.
Dr. Rima
---
http://donate.DrRimaTruth.com
---
Free App!
Urgent Push Notices and Other Features!
http://tinyurl.com/PushBackHere
Join Email List: http://drrimatruthreports.com/action/step1/
********************************************************
Support YOUR RIGHT to Natural Ebola Choice!
Tiny URL to this Action Item:
http://tinyurl.com/DontStopNanoSilver
SUPPORT EBOLA NATURAL SOLUTIONS -
SIGN CITIZENS PETITION HERE
ALERT: NANO SILVER 10 PPM CASE CAN
BREAK THE BACK OF FDA TYRANNY IF ENOUGH OF US ACT!
Tell Decision Makers YOUR Decision With One Click: Here!

WORLD HEALTH ORG (WHO) SAYS
"TRY ANYTHING AGAINST EBOLA
ANYTHINGBUT NANO SILVER 10 PPM"
NANO SILVER DENIAL = GENOCIDAL DISINFORMATION
Donate and Secure Your Nano Silver Supply Here: http://donate.DrRimaTruth.com
NANO SILVER 10 PPM SUPPORTS NORMAL IMMUNE FUNCITON
ELL FDA TO STOP BLOCKING AND ATTACKING NUTRIENT SILVER!
FDA FORCES UNTRUE DISCLAIMERS ON NUTRIENTS
LET'S TAKE BACK THE "C" WORD: C.U.R.E.
If the FDA's attack on Nano Silver 10 PPM were just about supressing the uses and benefits of that amazing nutrient, that would be bad enough. But it's not. This Citizens Petition goes to the very heart of the FDA's illegal and unconstitutional suppression of truthful speech, attacks on effective nutrients and profound enmity towards natural, non-drug options for your health including cancer cures, vaccine coverups, drug dangers, fluoride toxicity and more - much more.
Nano Silver 10 PPM just happens to be at the eye of this storm and we are ready to defend it, and free speech, together with you. This petition says that we have the right - indeed, the responsibiliy, to tell the truth about nutrients - if they "cure," we need to be able to say they do.
FDA forbids that speech. The Constitution protects it.
Nano Silver 10 PPM maintains homeostasis, supporting normal cell membrane imperiability to viral invasion, so the virus doesn't replicate. This micro nutrient mineral prior to any disease process. Nano Silver itself has been shown safe in 8 separate peer reviewed studies. In vitro research declassified by the US Department of Defense in 2009 showed how effective it is. http://drrimatruthreports.com/smoking-gun-us-suppressing-ebola-therapy-since-2009/
There is no apparent reason that it would not be effective in people as well given its astonishingly track record supporting immune function when faced with every pathogen ever tested against it . Nano Silver has a reasonable safety profile.
WHO and their bad-crowd friends (FDA/CDC/HHS/US Government/GHSI) have done everything, and I do mean everything, in their power to make sure that there are no clinical demonstrations of this safe and effective supplement.
They've used bogus stories in media like the New York Times against us and against Nano Silver 10 PPM.
They quite literally killed the Liberian Clinical Demonstration where epidemic is now raging fiercely, killing who knows how many people by their obstructionism and deceit. The Nano Silver 10 PPM was there, in the Ebola isolation ward about to save lives, when the demonstration was stopped, allegedly with word that WHO would not allow the trial to go forward. Yet WHO/CDC say it is ethical to try any potential therapy due to the outbreak emergency. This one is apparently not included because it is safe (none of the others have ever been used in humans) and, most importantly, because it works quickly and safely.
Brazenly, "they" stopped a shipment of 200 bottles of Nano Silver 10 PPM and 100 tubes of the Nano Silver Gel from reaching Sierra Leone, where the President Koroma had announced that they would use it against Ebola. After ten days of delays, the Nano Silver is finally arriving in West Africa.
While the alphabet globalists play games, people die and their numbers increase. This must stop.And it is We, The People, who must stop the death.
Natural Solutions Foundation WILL get the Nano Silver 10 PPM to people who need it. Obviously we are not saying how quite yet. The globalist monsters who have tried for weeks to stop it are either genocidalists or useful idiots. Either way, they deal in death.
But we also need to get Nano Silver 10 PPM into the hands of health care workers for their own protection and into the Ebola patients to support their survival and stop the disease.
We can prevent the globalists and their lackeys from covering their tracks in bogus scientific perplexity, pretending that they do not know what we are talking about. On August 23, 2014 FDA and FTC issued a joint Warning Letter to Natural Solutions (FDA/FTC Docket No. #14-NWJ-11) regarding Nano Silver and Ebola. We ask for your support as we respond, asserting our First Amendment Expressive Association rights.
WE HAVE FILED A FORMAL CITIZENS' PETITION WITH THE FDA, UNDER 21CFR10.30, CALLING FOR AGENCY RESPECT FOR OUR FIRST AMENDMENT RIGHTS. YOUR SUPPORT IS CRITICAL!
Read our Petition here:
http://drrimatruthreports.com/?p=20980
THEN -
[1] Add your voice through the Action Item below and
[2] Spread the word through your circles of influence!
We need your formal support for our Petition, so the FDA is one of the recipients of the Action Item, along with your representatives.
We need 10 million emails demanding Nano Silver 10 PPM clinical trials conducted under neutral international scrutiny.
We need millions of emails to make the FDA honor the Constitution. How do we get those emails? Easy! You have the power to make your voice heard! It's that simple! It's the same way we generated over three million emails in 2009 about the dangers of the bogus Swine Flu Vaccine! And the same way we generated over 3.5 million emails in 2014 in Chile and the US to force Monsanto and their twins to slink out of the Chilean Senate Chamber when the treaty they wanted so badly did not pass.
Take the ActionNOW to break the back of FDA tyranny.
Like! Share! Tweet! Do it! Share this link: http://tinyurl.com/DontStopNanoSilver
Start by using this Action Item: CLICK HERE to send a strong message to decision makers.
Be Part of our Expressive Association: Donate and Secure Your Nano Silver Supply Here: http://donate.DrRimaTruth.com
Yours in health and freedom,
Dr. Rima
Rima E. Laibow MD
Medial Director
Natural Solutions Foundation
More about what is happening in West Africa: http://drrimatruthreports.com/?p=20631
Easily Send Messages to Decision Makers Here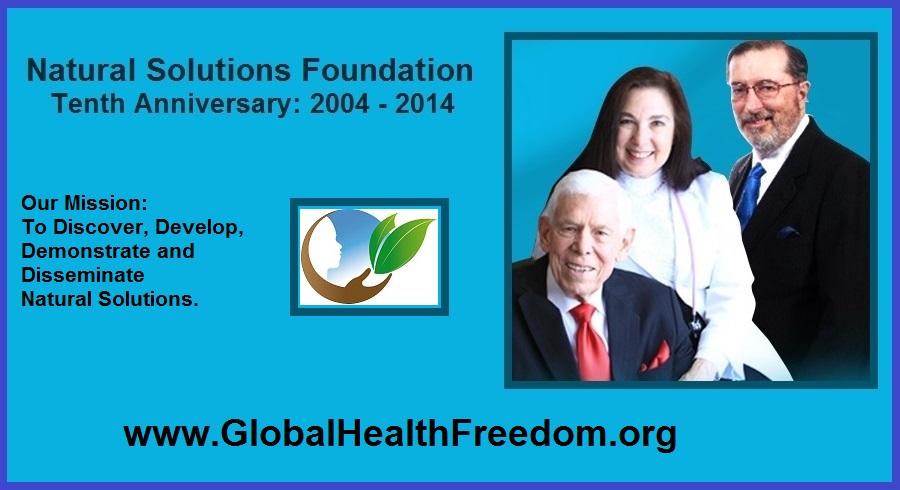 LEGAL DISCLAIMERS

.

Nutritional Immune System Support Disclosures

.

As a dietary supplement, Nano Silver has not undergone FDA testing.

.

Nutritional Nano Silver supports normal cell membrane impermeability to hemorrhagic and other viruses, maintaining homeostasis. Like other nutrients Nano Silver does not provide a pharmaceutical treatment of disease.

.

Nutritional strategies to achieve and maintain a healthy status may be powerful and effective in certain situations. Since the options for selection of nutrients and serving sizes can be confusing, we suggest that all of you who choose to be in private association with us take time to learn about your own nutritional needs. Nutrients are food and when used to supplement the diet are not subject to drug approval procedures by any government agency.

.

We advise prudent due diligence by the consumer using all available sources of information including the internet (e.g., google, yahoo.com and similar) as well as scientific studies (e.g., pubmed.com and similar) to see all viewpoints. The National Institutes of Health and PubMed have cooperated on a web site that includes large numbers of nutrient studies. You may find that here: http://ods.od.nih.gov/Research/PubMed_Dietary_Supplement_Subset.aspx .

.

We also recommend consultation with professionals trained in nutritional strategies for health and well-being (e.g, www.AAEM.org, www.ACAM.com and similar).
Easily send email messages to Decision Makers below.