Looming over the community is a coal-fired power plant built by the Puerto Rican branch of AES Corporation, a Virginia-headquartered multinational. The plant's smoke stack dominates the horizon, as does a huge mound of residue from the combusted coal that rises to at least 70ft like a giant sandcastle.
The mound is exposed to the elements and local people complain that toxins from it leach into the sea, destroying the livelihoods of fishermen through mercury poisoning. They also fear that dust coming off the pile causes health problems, a concern shared by local doctors who told the UN monitor that they see a high incidence of respiratory disease and cancer.
"It kills the leaves of my mango tree," said Flora Picar Cruz, 82. She was lying in bed at midday, breathing with difficulty through an oxygen mask.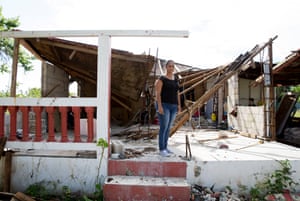 Studies of the pile have found perilous levels of toxic substances including arsenic, boron, chloride and chromium. Even so, the Trump administration is in the process of easing the relatively lax regulations on monitoring dangerous effluents from it.
AES Puerto Rico told the Guardian that there was nothing to worry about, as the plant was one of the cleanest in the US having been purpose built to avoid any run-off into air or sea. That's not what the people of Guayama think. They fear that the age-old pattern of being taken for granted by the US colonizer is about to rise to the next level.
When such attitudes are replicated across the island it helps explain why so many Puerto Ricans are voting with their feet: almost 200,000 have packed their bags and quit for Florida, New York and Pennsylvania since the hurricane, adding to the more than 5m who were already on the US mainland. Which gives a whole new meaning to the American Dream – anyone can make it, so long as they abandon their families, their homes, and their culture and head off into a strange and forbidding land.
Charleston, West Virginia, 13 December
====
"You're an amazing people! We're going to take care of a lot of years of horrible abuse, OK? You can count on it 100%."
Donald Trump's promise to the white voters of West Virginia was made just as he was securing the Republican presidential nomination in May 2016. Six months later, his audience handsomely repaid him with a landslide victory.
It is not surprising that white families in West Virginia should have responded positively to Trump's charm offensive, given that he offered them the world – "We're going to put the miners back to work!" After all, numerically a majority of all those living in poverty nationwide – 27 million people – are white.
In West Virginia in particular, white families have a lot to feel sore about. Mechanization and the decline of coal mining have decimated the state, leading to high unemployment and stagnant wages. The transfer of jobs from the mines and steel mills to Walmart has led to male workers earning on average $3.50 an hour less today than they did in 1979.
What is surprising is that so many proud working folk should have entrusted their dreams to a (supposed) billionaire who built his real estate empire on the back of handouts from his father.
Before he ran for the presidency, Trump showed scant interest in the struggles of low-income families, white or otherwise. After almost a year in the Oval Office, there is similarly little sign of those campaign promises being kept.
Quite the contrary. When the UN rapporteur decamped in Charleston, West Virginia on Wednesday as the final stop in his tour, he was inundated with evidence that the president is turning the screws on the very people who elected him.
That same day, Republicans in the Senate and House were fusing their plans for tax cuts ahead of a final vote next week. Many West Virginians will be lulled into believing that the changes are designed to help them, as initially everybody in the state will pay less tax.
But come 2027 when deficit-saving changes kick in, the bottom 80% of the population will pay more, while the top 1% will continue to enjoy a $21,000 bonanza.
"Trump's policies will exacerbate inequality, suppress wages and make it harder for low-income families to seek assistance," said Ted Boettner, executive director of the non-partisan West Virginia Center on Budget and Policy.
If sewage is the abiding image of the burden of the Black Belt, then a mouthful of rotting teeth is West Virginia's.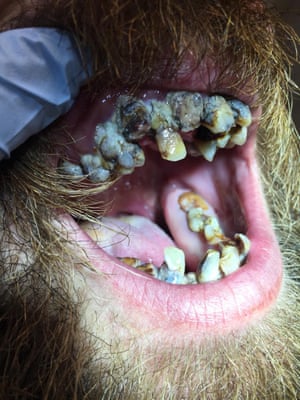 Doctors at Health Right, a volunteer-based medical center in Charleston that treats 21,000 low-income working people free of charge, presented the UN monitor with a photograph of one of its dentistry clients.
The man is only 32, but when he opened his mouth he turned into one of Macbeth's witches. His few remaining rotting teeth and greenish-blue gums looked like the festering broth in their burning cauldrons.
Adult dentistry is uncovered by Medicaid unless it is an emergency, and so people do the logical thing – they do nothing until their abscesses erupt and they have to go to ER. One woman seen by the center's mobile dentistry clinic was found to have nothing but 30 roots in her mouth, all of which needed surgery.
In other briefings, Alston was given a picture of life under siege for West Virginia's low-income families. If Lyndon Johnson declared a war on poverty, then Trump is waging a war on the poor.
People are jailed for years because they cannot afford bail awaiting trial; private detectives are used to snoop on disability benefit claimants; mandatory minimum drug sentences are back in fashion; Jeff Sessions is scrapping federal rehabilitation schemes for those released from prison; tenants in subsidized housing are living in fear that they will be evicted for the slightest infraction – the list goes on and on.
And the result of this relentless drubbing? "People end up fighting each other," said Eli Baumwell, policy director of the ACLU in West Virginia. "You become so obsessed with what you've got and what your neighbor has got that you become resentful. That's what Trump is doing – turning one against the other."
====
And so it was that Philip Alston boarded one last plane and headed for Washington, carrying with him the distilled torment of the American people.
At one point in the trip Alston revealed that he had had a sleepless night, reflecting on the lost souls we had met in Skid Row.
He wondered about how a person in his position – "I'm old, male, white, rich and I live very well" – would react to one of those homeless people. "He would look at him and see someone who is dirty, who doesn't wash, who he doesn't want to be around."
Then Alston had an epiphany.
"I realized that's how government sees them. But what I see is the failure of society. I see a society that let that happen, that is not doing what it should. And it's very sad."
The UN special rapporteur's tour was done.
http://www.informationclearinghouse.info/48501.htm