Custom Search
Cooking With Grandmothers Around the World
Rachael Dymski
5-11-21
In a new cookbook, 2 friends capture the recipes, stories, and wisdom of the world's best cooks—grandmothers
Anastasia Miari's grandmother's entire day revolves around food. In her 80s, she lives on the beautiful Greek island of Corfu, where she still makes her own olive oil and wine.
"My grandmother is one of those people who have always eaten seasonally," said Miari, a UK-based author and journalist, chatting with me on the phone from her Corfu home near the beach. "Before there were 'clean eaters' out there, there were our grandmothers."
Her grandmother, known to her grandchildren as Yiayia, uses permaculture in her planting techniques, and enjoys a mainly vegetarian diet. She cooks from scratch over an open fire.
"My Yiayia is quite stern and strict; she doesn't show her feelings easily," Miari said. "She's had a hard life, growing up on this agricultural island. Food is how she shows her love for us. She's always saying, 'What would you like me to make for you, and how would you like me to make it?'"
In 2016, Miari set out on a journey to record her grandmother's recipes. Among them was her grilled sea bream marinated in lemony olive oil and oregano, served with a tangy skordalia dip: "It's a Yiayia classic, something she makes for me when I arrive in Corfu. Naturally, it was the recipe for that dish I most wanted!"
But as she wrote down these recipes, Miari had a thought: "Wouldn't it be neat to record granny recipes and stories from all over the world?"
Miari reached out to her friend Iska Lupton, a creative director and food stylist, along with Ella Louise Sullivan, a photographer. For the next three years, they traveled across the globe to meet and cook with grandmothers in their home kitchens.
What followed was "Grand Dishes," a debut cookbook that captures the hearts and wisdom—and time-tested dishes—of grandmothers from Mexico City to Moscow, Bangkok to Istanbul. In an age when celebrity and trendy cookbooks have become the norm, "Grand Dishes" gives voice to the women whose largest platform is their own families. The book also features 25 recipes from grandmothers of famous chefs and food writers across the globe.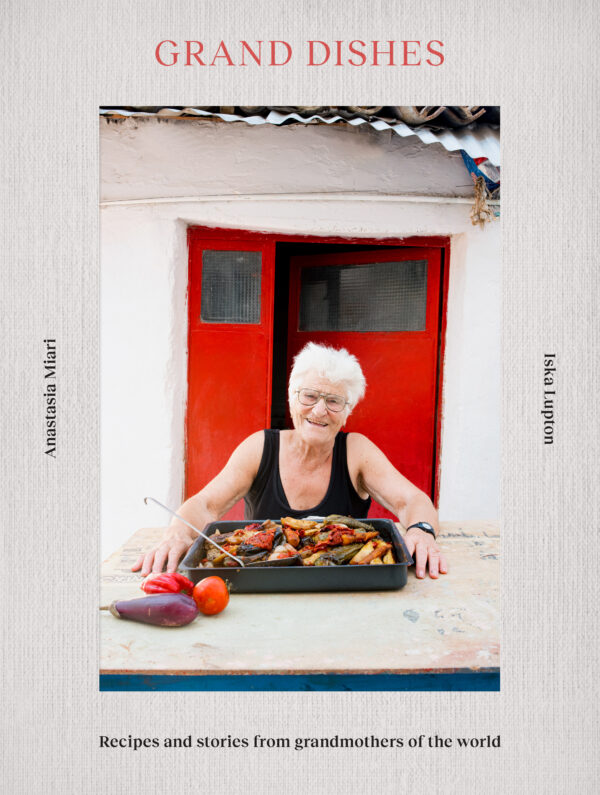 The book reads like a multi-family memoir, full of wit, stories both heartbreaking and heartwarming, and beautiful dishes. Grandmother Westelle (Shelbyville, Tennessee) shares her Southern pecan and cranberry buttermilk muffins; Grand Maman Nicole (Angers, France) her French orange tart with cointreau; and Nona Flora (Hvar, Croatia) a Croatian octopus salad. There are women like Mualla in Istanbul, who, with sweet tea and generous hospitality, recalled when the now-concrete jungle was still all green and lush. Dolores, a granny in Louisiana, made pig's ears, an old-school Cajun fried pastry, as she shared about what it was like to attend one of the first integrated schools.
"The biggest thing about this book was putting these women in the spotlight," said Miari. "Even though they are all really different, many of their stories shared common threads."
In Grandma's Kitchen
Miari and Lupton started with their own grandmothers, but from there, found women to interview through various means: friends, cultural societies, Instagram, and simply chatting with everyone they met on their travels to see if there was a connection. "As a journalist, I'm always on the lookout for people," said Miari. "I met people through the maid in our hotel room, through the Canon specialist in Nashville when our cameras broke."
The team would often go to the local market with a grandmother to buy ingredients, then return to her kitchen to spend hours cooking with her. In Sicily, for instance, the team spent a day with Nonna Ciccina in her outdoor kitchen learning to make Sicilian pasta al forno, an oven-baked pasta layered with fresh pasta sheets, cheese, and a rich tomato sauce.
Things didn't always go smoothly: After five hours and many stages of preparation, the pasta was ready to be pulled out of the wood-fired oven … only to be dropped on the floor by her son-in-law. (Fortunately, they had also prepared a second vegetarian version that saved the day.)
"One of the challenges of this project was that few of the women use measuring tools," said Miari. "We asked them to measure by cups and spoons, and I think some of them were quite annoyed that we asked them to be so exact."
A common theme among the grandmothers was the abundant use of simple, fresh ingredients. "They were never shy with seasoning and flavor. I think we're all quite freaked out about using too much olive oil or salt; it was quite a learning experience to see how much they used."
Miari also observed how they all took their time to cook and enjoy a meal: "Even sorting ingredients is an activity for them."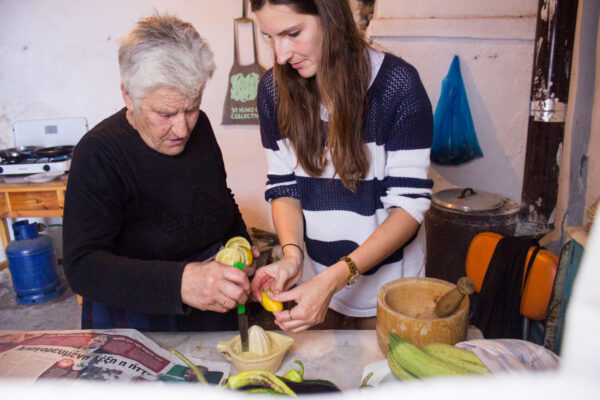 These recipes and traditions are worth preserving, Miari believes, because they anchor us to our history and our heritage. "I have always hosted people on a Sunday, as my grandmother did. It's the day when everyone comes together and enjoys a hearty meal," she said. "Traditions are important because without them, we become untethered, lose our sense of belonging to a place. When I lived in London and hosted this lunch every Sunday, it took me back to family lunches in Greece."
Lived Wisdom
Another common thread they found among the grandmothers was the wisdom that only comes with age, and a life lived. "One thing that really united them was that they all knew who they were," said Miari. "They would put everything into perspective in such a wise way: The biggest disasters will be a distant memory someday. They gave us wisdom we couldn't give to each other, or to our friends."
One of the featured grannies is Shewa, from Eritrea, who fled the war in her home country by walking through the desert to Sudan. She got lost in the desert for six months before arriving. Miari documents Shewa's reflection on the experience in the book: "Someone asked me, 'After all this, were you scared?' I was never scared. I always think, 'Yesterday is finished, so I can now look forward to tomorrow.'"
Gloria, from Colombia, cooked a traditional soup of chicken, corn, and potato called ajiaco while she told stories of living in Bogota, and how she waded through the grief of losing her son in a traffic accident. "I think it's not the food itself but the sharing together that can heal you," she said. "It's very healing to sit at the table and discuss."
For Miari, one of the most rewarding parts of the project was getting to give her Yiayia a copy of the book, which features her photograph on the front cover. For her Yiayia, who never learned to read or write, "holding a physical book was impressive for her."
Miari said the stories and recipes of these women, as well as the warmth and hospitality offered from their kitchens, will stay with her a long time. "These women are extraordinary. They've carried all of us. I wanted to honor them with this book."
To find out more about Grand Dishes, visit their website at GrandDishes.com or find them on Instagram @granddishes.
Rachael Dymski is an author, florist, and mom to two little girls. She's currently writing a novel about the German occupation of the Channel Islands and blogs on her website, RachaelDymski.com.
RECIPE: Yiayia Anastasia's Greek Marinated Sea Bream, Greek Salad, and Garlic Dip (Skordalia)
RECIPE: Baba Maral's Azerbaijani Stuffed Eggplants, Peppers, and Tomatoes ('Three Sisters')
RECIPE: Nonna Nico's Sicilian Jasmine-Infused Watermelon Jelly
https://www.theepochtimes.com/cooking-with-grandmothers-around-the-world_3935034.html