Custom Search
Poor and Disabled When Disaster Strikes
Lucy Westcott
This story is the final installment of a three-part series on the challenges faced by people living with disabilities in a world where intense storms and other natural disasters are expected to become the "new normal".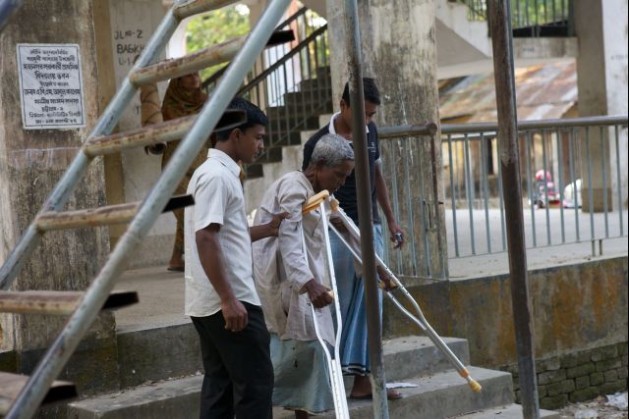 looks like any other. Organised into key categories like water, sanitation and hygiene, and psychosocial support, the information is typical of the kind circulated for emergency response.
- Upon first glance, the emergency checklist distributed in Haiti after the 2010 earthquake
But after a closer read, with recommendations for latrines to be built with a 90cm diameter so a wheelchair can turn around, and 80-cm-wide doors for wheelchair or crutch-users to pass through comfortably, it is clear that the checklist, distributed by Handicap International, was intended for persons with disabilities living in the disaster-ravaged country.
Natural disasters are common in many developing countries across the globe, and organisations like Handicap International are helping communities plan better for their disabled populations. There are between 2.9 and 4.2 million persons with disabilities among the world's 42 million forcibly displaced population, according to data from the United Nations Refugee Agency (UNHCR).
For many people living with disabilities in developing countries, social stigma and cultural barriers prevent community cohesion, which is essential for emergency planning and preparedness, Annie Lafrenière, social inclusion and technical adviser at Handicap International, told IPS.
"People won't speak about social barriers… they'll talk about ramps [instead]," Lafrenière said. "[People with disabilities] are not considered the same as everyone else."
Developing countries are vulnerable and at a higher risk of disasters because they are less prepared and equipped to deal with them, and not necessarily because they are more exposed to hazards, Lafrenière says. Persons with disabilities are often invisible to relief activities and unable to reach food or water checkpoints due to destroyed roads or non-accessible transportation.
"Meeting basic needs… remains a priority and often a challenge for communities affected by disasters, whether they are persons with or without disabilities," Lafrenière says. "What our experiences have shown us… is that the presence of disability amplifies the impact of the disaster on a person's life… and reduce[s] the range of strategies to cope with them."
Inclusive planning is one improvement that can be made by communities in developing countries, and one that Handicap International stresses. It's vital that disabled people are part of planning meetings and committees, as they help to spread awareness while offering their expertise.
"When we don't include people with disabilities, that's when the most deaths and casualties happen," Fred Doulton, social affairs officer at UN Enable, which focuses on the rights of disabled people and is part of the United Nations Economic and Social Council (ECOSOC), told IPS. "By asking [people with disabilities] directly about what they think, you get to the core issues."
The United Nations Office for Disaster Risk Reduction (UNISDR) recently released a survey asking persons with disabilities around the world about their experience living with and preparing for disasters.
In the Indonesian province of East Nusa Tenggara (NTT province), Handicap International is working with schools and children with disabilities and their families to improve awareness and response to disasters. The region is prone to flooding, landslides and whirlwinds; in 2012 there were 258 whirlwinds, 28 times the number recorded in 2002, according to Indonesia's National Disaster Mitigation Agency (BNPB).
"We are implementing activities within the community to increase resilience to natural disasters, but we are also implementing activities within schools to be sure that children with disabilities will be taken into consideration," Catherine Gillet, programme director for Handicap International in Indonesia/Timor-Leste, told IPS from the ground.
The NTT province consists of rural communities living in hilly areas and on dry and rocky land. The terrain can be treacherous, with communities staying either in valleys near the rivers, where there is a high risk of floods during the rainy season, or on the slopes of hills near areas suitable for crop cultivation, but where landslides pose a huge risk.
The children, mainly in grades three to five, raise awareness among their peers about disaster risk and are involved in risk assessment and identification. Disabled and non-disabled schoolchildren also demonstrate good practices for evacuation in disasters and work together in mock drills.
"For children with disabilities [the main challenge] is the problem of access, the problem of moving around," Mathieu Dewerse, regional operational coordinator for Handicap International in Indonesia/Timor-Leste, told IPS.
"This is compounded in the case of disasters. If we think about a landslide, the road may be cut, there could be rocks on the road. If this is a child that uses crutches, it's very hard to move around," Dewerse says.
During past disasters, children with mobility disabilities have been supported by tricycles or motorbikes, Dewerse says.
For children with sensory impairments in the region, access to information is one of the main concerns. Communities have set up flag systems to compensate for the sound of an evacuation signal, which can't be heard by children with hearing impairments, and have recruited friends and family to make sure they get away safely.
"Take the example of a child who doesn't see. It's a very big problem, especially if they have to evacuate quickly," Dewerse says.
The provision of more mobility devices adapted to the needs of children with disabilities is an important step in helping communities the next time there is a flood or landslide, Dewerse says.
In the neighbouring Philippines, Handicap International replaced the cumbersome wheelchair of Joshua Degas, a 10-year-old boy with cerebral palsy, after Tropical Storm Washi in 2011, with one his own size, improving his future mobility in the face of potential disasters.
http://www.ipsnews.net/2013/08/poor-and-disabled-when-disaster-strikes/