Custom Search
Torture and Testicle Crushing at Nuremberg
Lasha Darkmoon
Setp. 24, 2015
Confessions at Nuremberg were obtained under torture. The grimmest of these tortures, practiced mostly by Jewish operatives on their German prisoners of war, was testicle crushing.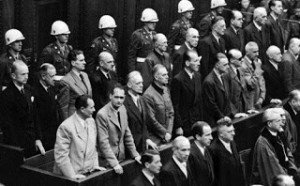 (Left) German defendants at the Nuremberg War Crimes trials, 1946-1949. How many of them had their testicles crushed?
"The Holocaust legend is built on 'confessions' obtained by the use of torture." So begins an article that has just been brought to my attention by an unknown emailer.
At the same time, by sheer coincidence, another correspondent has just sent me some stomach-churning details about testicle crushing. He ends his letter with these words : "This is what Jewish interrogators did to their German prisoners of war after WWII in order to get them to "sing"—i.e., to confess to crimes they never committed."
I was a bit shocked by these words. To tell the truth, testicle crushing is not something I have thought about a great deal, nor do I wish to dwell too much on this distasteful subject. I am aware of course that a lot of testicle crushing went on at Nuremberg in order to wring confessions out of the prostrate Germans, but I had been unaware that American Jews had been foremost in the ranks of these torturers.
Apparently, as many as three out four interrogators at Nuremberg had been Jewish—and these Jewish interrogators, I was to learn to my horror, had been by far the most sanguinary and sadistic. There was almost no level of human depravity to which these monsters were not willing to sink, including forcing their German victims to eat excrement and to have sex with disinterred corpses. (See below)
Yes, so this is something we ought to bear in mind when watching all those Hollywood movies celebrating the heroic deeds of the Allies in World War Two and lamenting the horrors of the Holocaust : that Jewish interrogators, working for the Americans, are known to have beaten, tortured, and crushed the testicles of German defendants before charging them with war crimes at Nuremberg. Without these confessions, obtained under extreme torture, there is no solid proof that any Jewish Holocaust took place at all. There is only legend, hearsay and "eyewitness accounts" : like those of Elie Wiesel and his kind—accounts that have turned out, in retrospect, to be based on pure fantasy, fiction, and grotesque exaggeration.
Proponents of the official storyline say that some of the strongest evidence that "proves" the Holocaust—i.e. the systematic extermination of 6 million Jews in gas chambers on the instructions of Hitler—consists of the supposed "confessions" of the German officials who were put on trial at Nuremberg. What they neglect to tell you is that most of these confessions were obtained under extreme torture. Indeed, according to Jewish investigator John Sack, torture was often practiced for its own sake, even when there was nothing to find out. It was practiced for sheer pleasure: because it gave the torturers a 'high', a feeling of sadistic omnipotence, of orgasmic euphoria.
It has since been openly admitted in the memoirs of the top British official, Colonel Alexander Scotland, who ran the interrogation program, that thousands of Germans were tortured by British Military Intelligence, under the direction of the Prisoner of War Interrogation Section (PWIS). This torture of German POWs occurred during the war to obtain military intelligence. After the war was over, it was used again in order to obtain confessions for convictions of "war crimes".
German POWs reported that the torture techniques included deprivation of sleep, starvation, systematic beatings, ripping hair from the scalp, menacing with red-hot pokers, threatened use of electrical devices to deliver shocks, and, finally, the worst torture of all, the slow and systematic mangling of the spermatic cords of the testicles—a procedure that had their victims thrashing about and screaming like wild animals for hours.
The prosecutors at Nuremberg accused and convicted the Germans of murdering some 4 million people at Auschwitz. These charges were based largely upon the supposed "confessions" obtained by the torture of German officers, such as the signed "confession" by Rudolf Höss, the commandant at Auschwitz, giving details of how he had personally supervised the murder of 2.5 million jews.
In 1989, however, the Soviet government reduced the claim of the number killed at Auschwitz from 4 million to 1.5 million. (See picture below). This was later reduced to 1 million.
CONTINUE READING.....
https://www.darkmoon.me/2015/torture-and-testicle-crushing-at-nuremberg/