Custom Search
Washington Post Reports 2010 Pentagon-CIA Drone Target Criteria as 'New'
May 6, 2012
Washington Post Reports 2010 Pentagon-CIA Drone Target Criteria as 'New' By Lori Price, http://www.legitgov.org/ 06 May 2012 An April 2012 article published in The Washington Post reported as 'new' an expansion of Pentagon-CIA killer drone target criteria. In fact, the change in policy was reported in May 2010 in the Los Angeles Times. Although the country discussed in the 2012 article was Yemen and the 2010 Los Angeles Times story referred to Pakistan, the Pentagon-CIA policy of killing broad numbers of unidentified targets is not a 2012 policy but one established in 2008 by George W. Bush and amplified in 2010 by President Barack Obama.
White House approves broader Yemen drone campaign By Greg Miller 25 Apr 2012 The United States has begun launching drone strikes against suspected al-Qaeda operatives in Yemen under new authority approved by President Obama that allows the CIA and the military to fire even when the identity of those who could be killed is not known, U.S. officials said. U.S. officials said that Obama approved the use of "signature" strikes this month and that the killing of an al-Qaeda operative near the border of Yemen's Marib province this week was among the first attacks carried out under the new authority. The expanded authority will allow the CIA and JSOC to fire on targets based solely on their intelligence "signatures" -- patterns of behavior that are detected through signals intercepts, human sources and aerial surveillance, and that indicate the presence of an important operative or a plot against U.S. interests. Until now, the administration had allowed strikes only against known terrorist leaders who appear on secret CIA and JSOC target lists and whose location can be confirmed.
CIA drones have broader list of targets --The agency since 2008 has been secretly allowed to kill unnamed suspects in Pakistan. By David S. Cloud 05 May 2010 The CIA received secret permission to attack a wider range of targets, including suspected militants whose names are not known, as part of a dramatic expansion of its campaign of drone strikes in Pakistan's border region, according to current and former counter-terrorism officials. The expanded authority, approved two years ago by the Bush administration and continued by President Obama, permits the agency to rely on what officials describe as "pattern of life" analysis, using evidence collected by surveillance cameras on the unmanned aircraft and from other sources about individuals and locations. The information then is used to target suspected militants, even when their full identities are not known, the officials said. Previously, the CIA was restricted in most cases to killing only individuals whose names were on an approved list.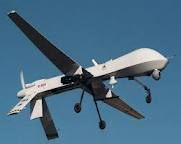 http://www.legitgov.org/Washington-Post-Reports-2010-Pentagon-CIA-Drone-Target-Criteria-New