Custom Search
Lebanese Government Collapses - January 2011
Kelly Blogspot
T)
and its allies followed through with threats to abandon the national cabinet. The decision marked the culmination of recent political hostilities associated with expected indictments from the
UN-backed tribunal (CNN)
investigating the assassination of former prime minister Rafik Hariri. The findings are widely expected to indict members of Hezbollah, and Lebanese Prime Minister Saad Hariri has refused to impede the court's rulings. Following the government's collapse, Lebanese President Michel Suleiman asked Hariri to stay on as caretaker prime minister.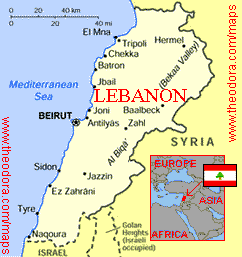 In statements to the press, U.S. President Barack Obama reaffirmed U.S. support for Hariri (CNN) saying Hezbollah's actions "demonstrate their own fear and determination to block the government's ability to conduct its business and advance the aspirations of all of the Lebanese people." Hezbollah's opponents claim that it takes its instructions from Iran and Syria (Guardian).
Experts say the dissolution thrusts the country into its worst crisis since the internal political violence of 2008. However, some efforts at reconciliation are underway including a proposal by Qatar (WSJ) to work with Saudi Arabia in mediating a compromise between Lebanese factions.
Pending UN indictments could link Hezbollah and Syria to the death of Rafik Hariri. Lebanon expert Michael Young says all sides, including Saudi Arabia and the United States, are scrambling to deal with the impact of the findings.
This New York Times op-ed argues that Hezbollah "will stop at nothing--including civil war" to protect its own interests.
In Foreign Affairs, Bilal Y. Saab argues the investigation into Hariri's assassination has highlighted the detrimental role that Hezbollah plays in Lebanese politics, and placed Lebanon at the center of a regional power struggle that the United States cannot afford to ign
A cogent profile of the Lebanese militant group.
Jan. 13, 2011
articlesofinterest-kelley.blogspot.com/2011/01/lebanese-government-collapses-january.html