Custom Search
They're not stopping
Dudley Brown
10-5-19
Congress may be on recess, but that doesn't mean the anti-gunners are taking a break.
And it doesn't make the threats against our Second Amendment rights go away.
In fact, Democrat candidates for president were back in the national media's gaze this week as they took to the stage at a "gun safety forum" in Las Vegas.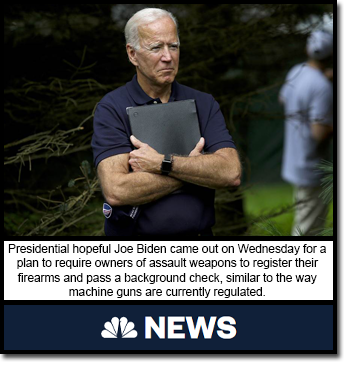 Candidates like Joe Biden, Cory Booker, and Kamala Harris all jumped at the opportunity to echo the Gun Control Lobby's agenda -- spearheaded by fellow anti-gun candidate Beto O'Rourke and his friends in Congress.
They know the Senate is feeling the pressure from the millions of NAGR members across the country who continue to sign petitions demanding all gun control legislation be shut down immediately...
And after NAGR helped shut down or reverse nearly all Obama-era gun grabs in recent years -- they know their window to pass similar gun control laws under a weak-kneed Republican Senate is closing.
That is why I am counting on you to stand up to this anti-gun onslaught by clicking here to sign your "No Gun Control Deals" Petition to President Trump today.
We must show the President that caving to the anti-gunners' demands will be met with firm resistance from millions of his constituents as Election Day 2020 inches closer.
That means telling him that any gun control plan which includes these laws must be vetoed:
● Expanded background checks, a.k.a. National Gun Registration schemes championed by anti-gun extremists Senator Joe Manchin (D-WV) and Senator Pat Toomey (R-PA);
● A "one gun a month"limit on firearms purchases as proposed by anti-gun Senator Elizabeth Warren (D-MA);
● "Assault Weapons Ban" legislation led by Senator Dianne "Turn 'em In" Feinstein (D-CA) and taken a step further by anti-gun candidates like Beto O'Rourke, Joe Biden, Kamala Harris and others; and
● "Red Flag" Gun Confiscation Laws which the Gun Control Lobby knows would have done nothing to stop these latest murders, but they can't pass up an opportunity to ram through a law designed to bypass our constitutional rights.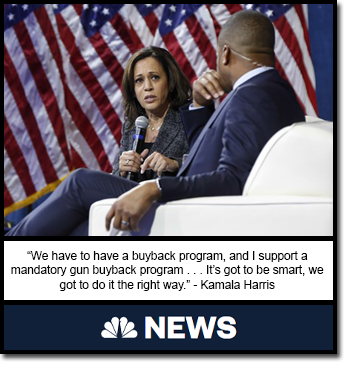 Let me be clear, your National Association for Gun Rights isn't going to stand idly by while our Second Amendment rights are eroded before our eyes by Democrats or Republicans in Washington.
If we sit on our hands and do nothing, the Gun Control Lobby will waste no time convincing President Trump to sign their gun control packages into law.
That's why we have to draw a line in the sand and say "NO GUN CONTROL DEALS!" now!
In addition to signing your petition, I hope you will agree to help me activate the troops with your most generous contribution. My hope is you'll agree to stretch with a gift of $100.
I know that's a lot. But this could not be more critical. So I'm asking all of our members to step up RIGHT NOW so we can fight the anti-gunners head on.
But if contributing that much right now is just out of the question, will you please agree to $50 or at least $20?
Please sign your "NO GUN CONTROL, NO DEALS!" Petition IMMEDIATELY.
For Freedom,
Dudley Brown
President
National Association for Gun Rights
P.S. Congress may be on recess, which means they aren't in Washington, D.C. compromising our rights away behind closed doors...
But that doesn't mean the anti-gunners are taking a break from their mission to convince weak-kneed Senators and President Trump to pass their radical gun control packages.
That's why I'm counting on you to please sign your "NO GUN CONTROL DEALS" Petition to President Trump TODAY.
Together we can stand up to these attacks and convince President Trump that signing our rights away isn't an option.
And once you have signed your petition I hope you will make a generous contribution of $100, $50, or at least $20 today to help us fight this onslaught before it is too late
---
The National Association for Gun Rights, Inc. is a non-profit tax exempt advocacy organization under Section 501(c)4 of the IRC. Contributions or gifts to NAGR are not tax-deductible for IRS purposes. Not paid for or mailed at taxpayer expense. The National Association for Gun Rights' mailing address is P.O. Box 1776, Loveland, Colorado 80539. They can be contacted toll-free at 1-877-405-4570. Its web address is www.NationalGunRights.org