Custom Search
Dudley Brown: ICYMI: Conversation with...
Dudley Brown
10-4-19
Last week I had the opportunity to talk with Lauren Boebert about how she is fighting back against the latest gun grabs in Congress as well as notoriously anti-gun presidential candidate Beto O'Rourke.
Lauren is a staunch supporter of the Second Amendment and owner of the popular Shooters Grill restaurant in Rifle, Colorado where you're more likely to see staff and customers open-carrying a firearm than not.
So in case you missed my conversation with Lauren, click here or on the video below to watch today.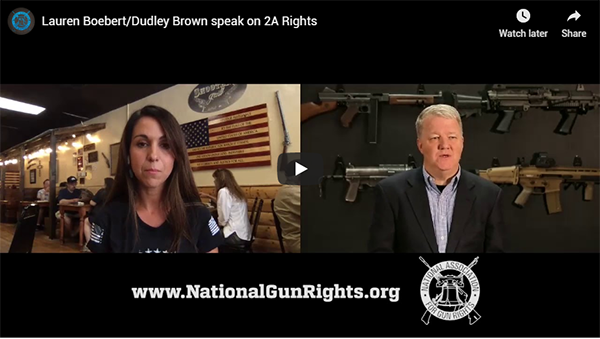 Once you are done, please click here to sign your "Vote NO on Gun Control" Petition today, and if possible, I hope you will consider chipping in to join the fight.
Even a small contribution of $15 will go a long way towards helping NAGR defeat this unconstitutional gun grab once and for all.
I hope you understand how important this battle is, and that you get involved right away.
Thank you!
For Freedom,
Dudley Brown
President
National Association for Gun Rights
---
The National Association for Gun Rights, Inc. is a non-profit tax exempt advocacy organization under Section 501(c)4 of the IRC. Contributions or gifts to NAGR are not tax-deductible for IRS purposes. Not paid for or mailed at taxpayer expense. The National Association for Gun Rights' mailing address is P.O. Box 1776, Loveland, Colorado 80539. They can be contacted toll-free at 1-877-405-4570. Its web address is www.NationalGunRights.org