Custom Search
What Happened To Jared Kushner's Face? Startling Before/After Photos
1-14-21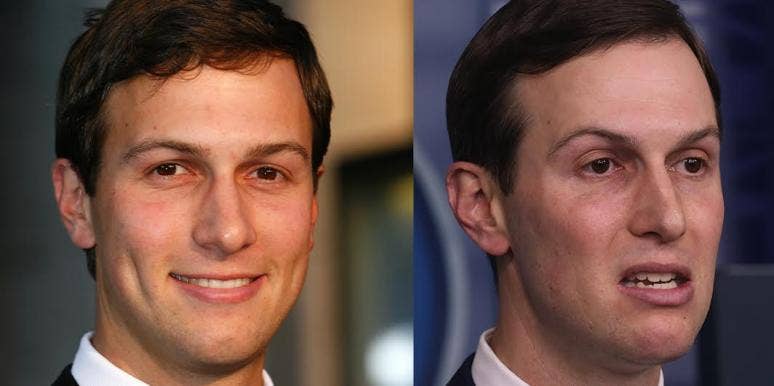 With Donald Trump's regular television appearances and minimally attended "rallies," he and his team are definitely in the spotlight more than ever these days, and that includes Jared Kushner — Ivanka Trump's husband and the president's Senior Advisor. But recently, someone on Twitter has pointed out something a bit suspicious about him: He seems to have had some serious plastic surgery or Botox done, because he's been wearing a much different face lately than the one he used to have. So, what's the truth?
What happened to Jared Kushner's face — do before/after pics show plastic surgery or botox?
Did Jared Kushner get plastic surgery?
On April 12, one Twitter user took to the site to share new and old photos of Kushner next to each other, wondering what had changed. He does look very different in the photos; when he was younger, Kushner had dimples and a more filled out face, and these days, he looks much more gaunt, his face full of harsh angles, and his dimples seem to have totally disappeared.
"I saw an old pic of Jared Kushner and I'm now completely freaked out. What happened to his face?" said the tweet.
However, there is literally no denying that this man's lips have gotten some sort of Kylie Jenner treatment. As you can see in his before pictures, his upper lip is quite thin and looks natural — this is the upper lip he was definitely born with. In his more recent pictures, Jared is sporting a plumper pout — something that can only be achieved with either overlining one's lips or getting fillers.
Also, if you look closely, his eyebrows have a higher arch and seem to be sitting a little higher on his face, which means he may have had a mini-brow lift — or just a really good eyebrow lady.
There's no evidence anywhere that Jared Kushner has had plastic surgery.
If Kushner did end up getting plastic surgery to change his looks, it hasn't been documented anywhere. Not that this is surprising; from what we know about Kushner, he would probably want to keep any cosmetic procedures totally under wraps if possible. Still, it's hard to say for sure whether or not he's gone under the knife without any further information.
Did Jared Kusner get Botox or other injections?
It's definitely interesting to note that Kusher's brother, Josh — the one who's married to Karlie Kloss, as seen in the photo below — has a much more natural look than Jared does, making us all the more suspicious.
CHECK OUT ALL TWEETS AND PHOTOS, VIDEO
https://www.yourtango.com/2020333303/did-jared-kushner-get-plastic-surgery-botox