Custom Search
BREAKING: U.N. AMBASSADOR NIKKI HALEY RESIGNS
Stevenbeyer
10-9-18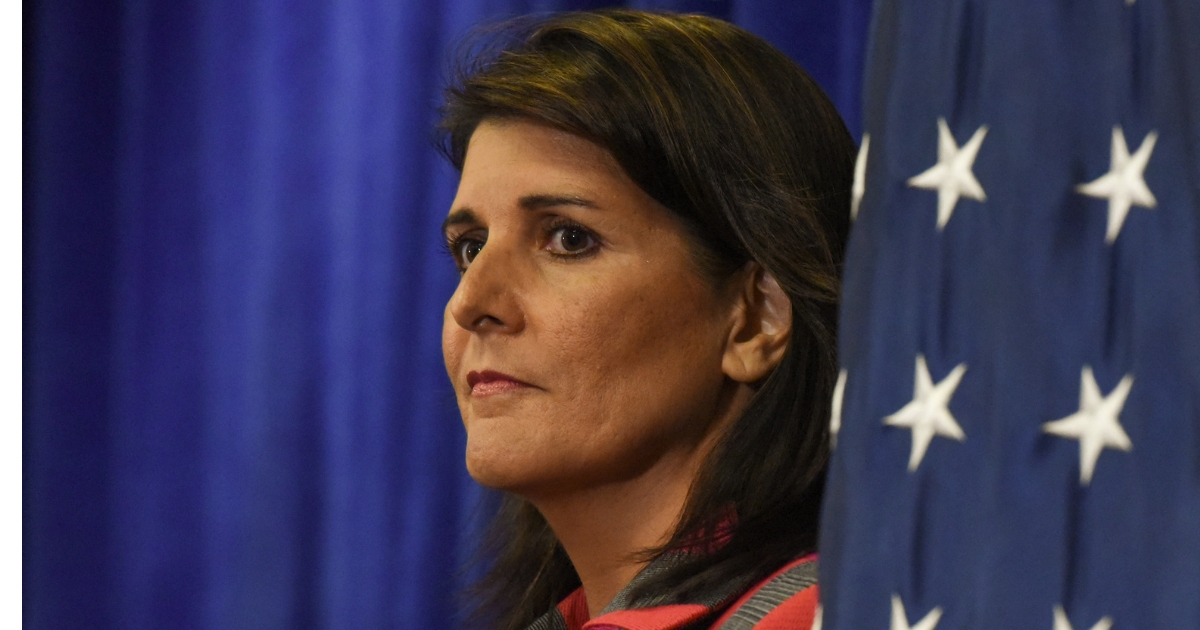 U.N. Ambassador Nikki Haley has resigned her position within the Trump administration, according to Axios.
The news agency reported Tuesday that President Donald Trump has accepted her resignation, but it is unclear as to when she will depart her post within the administration.
Her resignation came as a shock to many senior Trump officials, the report said.
According to The Hill, the president and Haley spent time last week discussing her resignation.
On Tuesday, Trump teased a press conference with his "friend," saying, "Big announcement with my friend Ambassador Nikki Haley in the Oval Office at 10:30am."
TRENDING: 'Late Show' Writer Sets Off Vicious Firestorm: 'I'm Just Glad We Ruined Brett Kavanaugh's Life'
White House Press Secretary Sarah Sanders also confirmed the press conference on Twitter, saying, "President Trump and Ambassador Nikki Haley will meet in the Oval Office at 10:30am this morning. This event will be open to the pool."
Haley, former governor of South Carolina, was easily confirmed to her position just four days after Trump was inaugurated.
In an interview with CNN in 2017, Haley recounted the time she was asked to become the U.N. ambassador. She told the president that she had some conditions.
"I said 'I am a policy girl, I want to be part of the decision-making process,'" Haley said in the interview.
She said that Trump quickly said, "Done."
"I don't want to be a wallflower or a talking head. I want to be able to speak my mind," she told Trump. He responded by saying, "That is why I asked you to do this."
Haley, since then, has played a pivotal role in Trump's dealing with the United Nations. She was also key in removing the U.S. from the controversial U.N. Human Rights Council, calling it the organization's "greatest failure."
In September, Haley challenged an anonymous New York Times Op-Ed that was critical of the administration.
"I don't agree with the president on everything," she said. "When there is disagreement, there is a right way and a wrong way to address it. I pick up the phone and call him or meet with him in person."
She continued, "If I disagree with something and believe it is important enough to raise with the president, I do it. And he listens."
https://www.westernjournal.com/breaking-u-n-ambassador-nikki-haley-resigns/