Seems Wikipedia has altered Epstein's bio already. First screenshot of Epstein's bio was at 8:27 a.m. The 2nd was at 10:30 a.m. omitting Bill Clinton & Spacy yet leaving Trump! That is frightening. Same exact bio of Epstein, different times. https://twitter.com/pilldocswife/status/1147881568578560001 …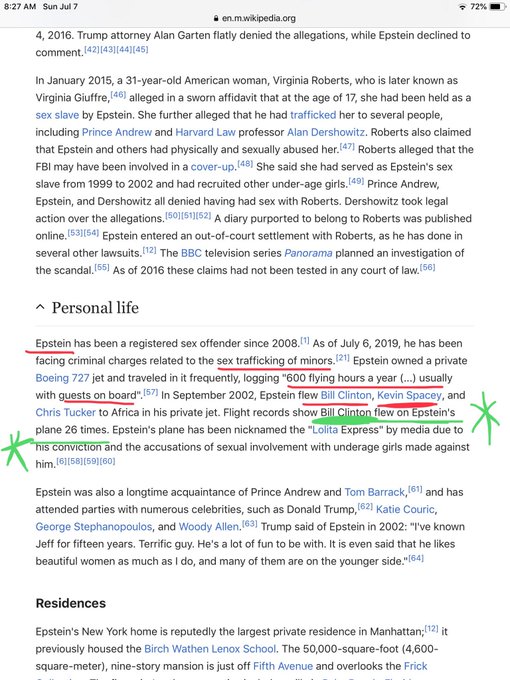 Indeed, this is frightening and shows the lengths Democratic Party operatives will go to bury unflattering history down the memory hole.
This comes after Christine Pelosi, Daughter of Speaker of the House Nancy Pelosi, and a top official with the Democratic National Committee (DNC), sounded the alarm over the weekend arrest of Jeffrey Epstein on sex trafficking charges.
Pelosi speculated that "some of our faves" may be indicted in the wake of Epstein's arrest, the Daily Mail reports.
On Saturday night she tweeted "This Epstein case is horrific and the young women deserve justice. It is quite likely that some of our faves are implicated but we must follow the facts and let the chips fall where they may – whether on Republicans or Democrats."
Here's the latest on the Epstein case via Reuters:
"American financier Jeffrey Epstein was charged with sex trafficking on Monday, as prosecutors accused him of luring dozens of girls as young as 14 to his luxury homes in New York and Florida and paying them for sex acts.
An indictment unsealed in federal court in Manhattan accused Epstein, 66, of arranging for girls to perform nude "massages" and other sex acts, and paying some girls to recruit others.
The former hedge fund manager "intentionally sought out minors and knew that many of his victims were in fact under the age of 18, including because, in some instances, minor victims expressly told him their age," the indictment said.
Epstein was charged with one count of sex trafficking and one count of sex trafficking conspiracy, for alleged misconduct from at least 2002 to 2005.
He faces up to 45 years in prison if convicted.
Prosecutors will ask a judge that Epstein be detained pending trial because he is a "significant" flight risk, U.S. Attorney for the Southern District of New York, Geoffrey Berman, said at a press conference.
"The alleged behavior shocks the conscience, and while the charged conduct is from a number of years ago, it is still profoundly important to the many alleged victims, now young women," Berman said. They deserve their day in court."
Advertisement - story continues below
Berman said a search of Epstein's mansion in Manhattan, conducted under a search warrant, uncovered evidence including "nude photographs of what appeared to be underage girls.
"
He encouraged other victims to come forward and contact prosecutors.
Known for socializing with politicians and royalty, Epstein once had friends including U.S. President Donald Trump and former president Bill Clinton, and according to court papers Britain's Prince Andrew.
None of those people were mentioned in the indictment. The case is being handled by the public corruption unit of Berman's office. Berman said he would not comment on Epstein's associates and added "not to read into that one way or another."
This is vile and despicable and we look forward to discovering who else was involved in Epstein network.
Facebook has greatly reduced the distribution of our stories in our readers' newsfeeds and is instead promoting mainstream media sources. When you share to your friends, however, you greatly help distribute our content. Please take a moment and consider sharing this article with your friends and family. Thank you.
https://www.blabber.buzz/conservative-news/611295-wikipedia-users-editing-epsteins-bio-to-remove-democratic-party-connections-special?utm_source=c-alrt&utm_medium=c-alrt-email&utm_term=c-alrt-GI