Custom Search
Look Who's New in the White House
July 17, 2013
Look who's new in the white house!
Guys...are any of our elected represenatives going to try and stop this madness? Have they been bought off? Has their families and careers been threatened? It hard for me to believe that we don't have enough good guys to try and stop this. I fear for the generations of our children and grandchildren because by the time they realize it we are going to be run by a muslim markist communist party.....(I better not sign this as NSA may be watching)
ANY WONDER WE SEE BOGGIE MEN BEHIND EVERY TREE?.....THE RATTLE OF THIS SNAKE IN THE GRASS IS GETTING LOUDER AND WE NEED TO FIND A WAY TO CHOP OFF THE HEAD....FAST
THERE ARE NO SURPRISES HERE FOR THOSE OF US WHO SAW IT COMING
Look who's new in the white house!
Arif Alikhan - Assistant Secretary for Policy Development
for the U.S. Department of Homeland Security
Mohammed Elibiary - Homeland Security Adviser
Rashad Hussain - Special Envoy to the (OIC)
Organization of the Islamic Conference
Salam al-Marayati - Obama Adviser –
founder Muslim Public Affairs Council
and its current executive director
Imam Mohamed Magid - Obama's Sharia Czar –
Islamic Society of North America
Eboo Patel - Advisory Council on Faith-Based
Neighborhood Partnerships
This is flat out scary!!!!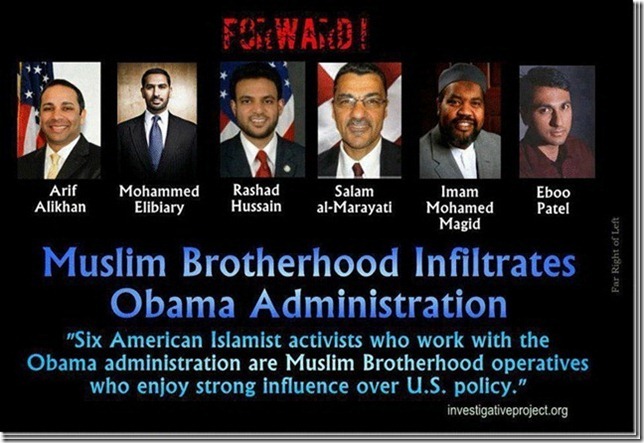 The foxes are now living in the hen house...
Now ask me why I am concerned!!!
amberco@swbell.net