Custom Search
Is Harry Reid behind the actions of BLM in Nevada?
Paul Shannon
April 10, 2014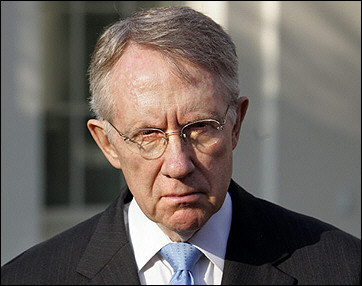 While there has been no full proof of Harry Reid making a push for BLM to do specific actions, there is some facts that point to his having a hand in some of it. This article will present some of the evidence of where these connections are.
Harry Reid, the BLM and Nevada
As shown in a Misguided Children article, Harry Reid is the former boss of Neil Kornze, the current head of the Bureau of Land Management. As a matter of a fact, other than Kornze has only his father as a reason that someone with degrees in politics and foreign relations would have any reason to head a government agency that is part of the Department of Interior and is tasked with managing federally controlled lands. Most of the state of Nevada is controlled by the BLM and they are killing most chances for anything because of their need for studies. This is the case in the Elko area, where Kornze is from and Nye County.
Here is how Geoffrrey Lawrence, a deputy director of the Nevada Policy Research Institute, describes Nye County, where some of the biggest oil and natural deposits were found.
About 200 miles due north of Las Vegas is Nye County's Railroad Valley. Home to only a few hundred people, it receives very few visitors.

But Railroad Valley boasts something unique to Nevada that could someday mean a new boom of wealth and job creation to the tune of over 21,000 jobs.

Here, in 1984, the Grant Canyon oil-field wells were first drilled. For nearly 10 years, before tapering off in the mid-1990s, the Grant wells produced around 110,000 barrels of oil per month. During these years, the Grant wells were the most productive onshore wells in the 48 contiguous states. Through most of the 1980s, in this section of rural Nye County, these few wells generated prosperity.
Yet, to stop further oil production in the area, the BLM has hurt the chance for jobs in Nevada by either stopping further jobs or not allowing drilling. They are still "selling" land for the money, though. One of the reasons that this could be connected to Harry Reid is how one of his biggest donors of the past few years has treated him and his fellow Senator from Nevada, Dean Heller, a Republican. The group that supports Reid is the League of Conservation Voters. They recently ran ads in the state.
Ad one for Harry Reid was full of praise for him. It praised his support for government helping with so called renewable energy production. It brags on how he was in support of large solar power production areas, even though, costs could be lowered for working people by having them put have their own solar or wind production capability on their own property. The amount of land needed to have enough energy production would be perfect for all the Nevada land controlled by the BLM.
Ad two that is against Dean Heller slams him for having oil companies giving him donations. It talks against him getting this money, even though the oil industry has a big presence in Nevada. The BLM is either stopping or slowing down the chance for over 21,000 jobs for the state. Nevada has so few people in the areas that the oil and natural gas has been found, frakking would not affect people, if the science is correct. This would be a way to help the nation in several ways to gain more energy independence and bring more high paying jobs.
So, there is proof of a full connection to Harry Reid, the BLM and what is happening in Nevada. The connections to those who profit off of the whole global warming theory will be covered in a later article.
Uncle Sam's Misguided Children
http://misguidedchildren.com/politics/2014/04/is-harry-reid-behind-the-actions-of-blm-in-nevada/18666