Custom Search
Unelectable Hillary and Her Partner Eva Telege aka Teleke aka Teleki East German DVD Agents
Tom Heneghan
UNELECTABLE HILLARY
AND HER PARTNER
EVA TELEGE aka TELEKE
aka TELEKI
EAST GERMAN DVD AGENTS
by Tom Heneghan
http://www.nohillaryclinton.com/blog/blog_images/hitlary%20hitler.jpg
It can now be reported that Gary Best Inc. "TRUE COLORS" Bush-Clinton-MOSSAD WORLDWIDE Crime Syndicate actually hacked the recent Democratic Primary debate in Los Angeles between Senator Barack Obama and UNELECTABLE lesbian IN-THE-CLOSET Hillary Rodenhurst Clinton.
http://d.yimg.com/us.yimg.com/p/ap/20080201/capt.c91a82340edb4be28cb62ef79245c555.
democrats_debate_cats130.jpg?x=400&y=308&sig=Sy7G4KP4zpWO6SeBiQHSlA--
Sen. Barack Obama, D-Ill., left, speaks as Sen. Hillary Rodham Clinton, D-N.Y., looks on during a Democratic presidential debate in Los Angeles, Thursday, Jan. 31, 2008 (AP Photo/Chris Carlson)
Two times during the debate CNN took commercial breaks and only returned to the debate when Senator Obama had already been speaking in response to a question.
Note: When unelectable Hillary got in her sound bite on her role in the Clinton-Bush monarchy, CNN cut away to a commercial break without giving Senator Obama a fair chance to respond.
At exactly 11:30 a.m. PST on the morning of the debate, an unknown skywriter scripted a massive "Star of David" across the blue Hollywood skies.
THIS SKYWRITER WAS NOT ONLY SIGNALING THE ELECTRONIC ISRAELI MOSSAD-CNN CONTROL OF THE DEBATE,
BUT A WARNING TO THE U.S. MILITARY THAT,
UNLESS UNELECTABLE HILLARY IS ALLOWED TO STEAL THE DEMOCRATIC PRIMARIES ON SUPER TUESDAY,
A TERRORIST ATTACK WILL BE LAUNCHED ON LOS ANGELES, CALIFORNIA.
The hacking of the Democratic debate is being directed from an Israeli MOSSAD-Gary Best communications center on the island nation of Madagascar.
It is likely they will try to STEAL the Democratic Primaries on Super Tuesday for Hillary from the same island.
Bush-Clinton Crime Syndicate
HIGH TREASON
against the American People Escalates
New evidence links Karl Rove and former 9/11 Commission Executive Director Philip Zelikow to a criminal conspiracy to obstruct justice by conducting an espionage operation against the alleged 9/11 Commission.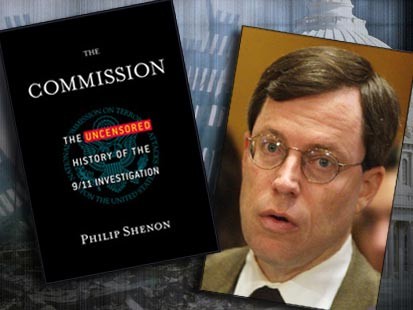 http://a.abcnews.com/images/Blotter/zelikow_shenon2_080130_ms.jpg
Reference: The destruction of the 9/11 Gary Best Interrogation Tape.
We can now divulge that the destruction of the 9/11 Gary Best Interrogation Tape includes not only linking Best to alleged 9/11 mastermind Khalid Sheikh Mohamed, but to a well known Israeli MOSSAD-East German DVD alleged Al Qaeda cell in Hamburg, Germany.
AND, OF COURSE, IT GETS WORSE!
This cell in Hamburg, Germany is headed by none other than Bush-Clinton bag lady that is linked to the United Kingdom 7/7 London subway bombing.
Her name, of course, is EVA TELEGE aka TELEKE aka TELEKI.
Telege aka Teleke aka Teleki is tied to another East German DVD agent with a code name "Becker".
"Becker" and Telege aka Teleke aka Teleki were former U.S. government assets used in the well known Wanta Russian ruble 1980s black op operation.
AND NOW IF REALLY GETS WORSE!
http://a.abcnews.com/images/Politics/ap_wh_email_070613_ms.jpg
We can also divulge that thousands of emails destroyed by the Bushfraud White House deal with communications between Karl Rove, George W. Bushfraud, former U.S. Attorney General Alberto Gonzalez, UNELECTABLE HILLARY RODENHURST CLINTON and none other than East German DVD operative EVA TELEGE aka TELEKE aka TELEKI.
Telege aka Teleke aka Teleki has had an on-going business relationship with current New York Senator Hillary Clinton, including an attempt in 1999 to build an Alabama toll bridge directed and financed by the CIA proprietary corporation Marvelous Investments, which is headquartered in Andover, Massachusetts.
http://www.villagevoice.com/blogs/bushbeat/zelikow-mug170-thumb.jpg
http://media.mcclatchydc.com/smedia/2007/07/05/16/506-6web-ROMNEY-2-MCT-861.
standalone.prod_affiliate.91.jpg
What really makes this smell to high heaven is that the tainted Bush 9/11 Commission Executive Director Philip Zelikow and former Massachusetts Governor and now Republican presidential candidate Mitt Romney both were involved in the Alabama toll bridge project using funds that were stolen from Ambassador Leo Wanta aka Wanta-Reagan-Mitterrand Protocols.
http://www.marcrich.ch/images/title/p_marcrich.jpg
The account executive and fellow co-conspirator in this project was none other than known Bush-Clinton Crime Family bagman Israeli MOSSAD and East German DVD agent Marc Rich, i.e. Hans Brand, currently hiding out in Zug, Switzerland.
http://www.guardianfx.com/links/bank_sweden.jpg
Note: The proceeds from the toll bridge project were to be laundered through the Swedish Riksbank where Marc Rich and the corrupt Swedish monarchy have a joint account.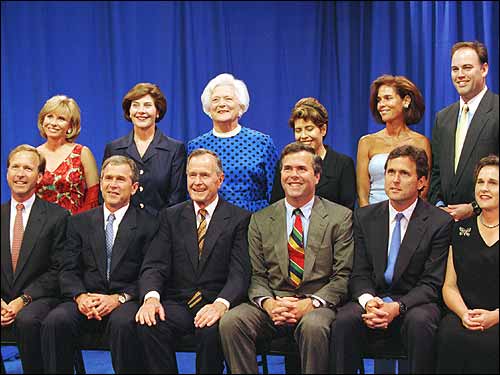 http://cache.boston.com/bonzai-fba/Original_Photo/2004/02/19/1077213260_6448.jpg
1999 The Bush family, from left, Neil and Sharon Bush, George W. and Laura Bush, George and Barbara Bush, Jeb and Columba Bush, Margaret and Marvin Bush, Bobby and Dorothy Koch, in Houston, Texas.
Reference: The toll bridge was first to be insured by none other than Marvin Bush's Houston Casualty Insurance Company.
What makes this out and out TREASON is that the Bush-Clinton Crime Syndicate planned to build the bridge and then blow it up and claim it was a terrorist attack by alleged Al Qaeda.
It was only the patriotic efforts of then Vice President Albert Gore Jr., now duly elected, non-inaugurated President of the United States, that discovered this TREASON taking place in the Clinton Administration and put a stop to it.
(http://www.josejsanchez.com/images/04-11-1996_AF_Two_AL_Gore-2.jpg)
Bush-Clinton Crime Syndicate
TRAITORS
of then Vice President now duly elected
President Albert Gore Jr.
This is one of the reasons, including Gore's earlier attempt to arrest Marc Rich, that the Bush-Clinton Crime Family "TRUE COLORS" mafia tried to assassinate the then Vice President by vectoring his Air Force II airplane over Chicago O'Hare airport in 1999.
Item: It was wanted fugitive DVD agent Eva Telege aka Teleke aka Teleki that forged Ambassador Leo Wanta's signature to take control of Marvelous Investments Ltd.
http://zapruder.nl/images/uploads/Leo_Wanta.jpg
Ambassador Leo Wanta, after being kidnapped, was ILLEGALLY held in an American gulag in Sayre, Oklahoma from 1997 to 1998.
Oklahoma City bombing co-conspirator, then Governor Frank Keating, administered Wanta's imprisonment.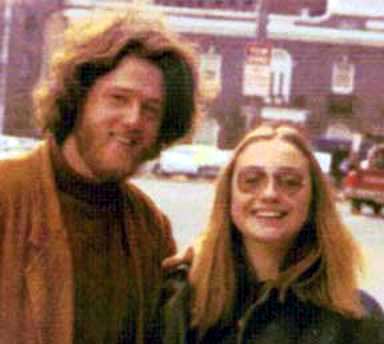 http://www.clevelandseniors.com/images/quiz/famous/bill-hillary-clinton.jpg
http://icanplainlysee.files.wordpress.com/2007/02/clinton_bill_hillary_young1.jpg
COMMUNIST East
German DVD agents
TRAITORS and CO-CONSPIRATORS
Bill and Hillary Clinton
http://img.radio.cz/pictures/ctk0511/madridsky_klub6x.jpg
Note: Telege aka Teleke aka Teleki was recruited as a U.S. double agent in 1967 at about the same time she developed a very close relationship with a young female Yale University student, Hillary Rodham, now known as Hillary Rodenhurst Clinton.
http://www.futuris.net/stasi/stasi1.JPG
http://members.cox.net/polincorr1/image/HillaryFlag4.gif
Telege aka Teleke aka Teleki eventually got to know Hillary's soon-to-be boyfriend, Yale University student William Jefferson Clinton.
Both Bill and Hillary soon became assigned to the Prague, Czechoslovakia desk of a joint U.S. rogue P2 CIA-East German DVD intelligence group.
http://www.hotspringsar.com/info/clinton/clint7.gif
http://blogs.guardian.co.uk/organgrinder/blair_handgesture.jpg
A young Bill Clinton on the left and Tony Blair on right making an apparently obscene gesture as he larks about with Oxford chums. Photograph: Gavin Rodgers/Pixel
It was Bill Clinton who traveled not only to Prague but to London, England masquerading as an anti-Vietnam War demonstrator while he was involved in U.S. rogue P2 CIA-Eastern German DVD intelligence gathering in both London and Prague.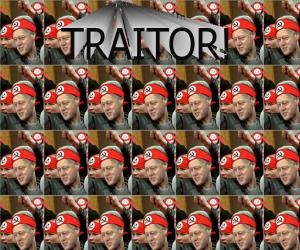 http://content.ytmnd.com/content/3/e/5/3e5e32b80f0c30396dd5381aa989a1a7.jpg
http://newcentrist.files.wordpress.com/2007/08/berlin-wall.jpg
[Berlin Wall, 1977]
This is a major story for someone interested in archives, totalitarianism and historical memory. While I have not heard much about this in the U.S., it is causing a row in Germany. A document from the Ministry for State Security, or Stasi, dated Oct. 1, 1973 was found last week in a regional archive office in the eastern city of Magdeburg. The document provides firm evidence that border guards had shoot-to-kill orders from the communist regime. Agence France Presse reports that the Stasi:
[H]ad told guards that they must "stop or liquidate" would-be dissidents.
"Do not hesitate to use your firearm, not even when the border is breached in the company of women and children, which is a tactic the traitors have often used," the key passage said.
The East German regime had long claimed that the killings at the border, which was fortified with concrete, barbed wire and armed guards, were only a "last resort" when other methods such as firing warning shots were exhausted.
But the director of the government office that now manages the thousands of Stasi files said the document offered iron-clad evidence that the regime expected those trying to escape to the West to be killed. MORE
http://newcentrist.wordpress.com/2007/08/19/ministry-for-state-security-
archives-gdr-is-stop-or-liquidate-order-a-major-discovery-or-old-news/
REMEMBER FOLKS, THIS WAS
DURING THE TIME THAT BOTH
CHEZKOSLAVKIA AND
EAST GERMANY WERE
COMMUNIST COUNTRIES.
NOW LET THE FUN START!
http://www.martinfrost.ws/htmlfiles/may2006/tblair5.jpg
TRAITORS and CO-CONSPIRATORS
Bill Clinton and Tony Blair embrace
While in London Bill Clinton became close friends with a young British Divinity student, his name being none other than former British Prime Minister and East German STASI DVD agent Tony Blair.
AND NOW IT REALLY, REALLY GETS WORSE!!!
http://www.willisms.com/archives/bushphones.gif
http://aftermathnews.files.wordpress.com/2007/06/bush_clinton_kennebunkport.jpg
TRAITOR daddy Bush's little bitch Bill Clinton
spending endearing, quality time with his "handler"
TRAITOR George Herbert Walker Bush
http://www.lewrockwell.com/floyd/ClintonBowstoBush.jpg
Bill Clinton bows down before his "handler"
George Herbert Walker Bush
Both Telege aka Teleke aka Teleki and Bill and Hillary Clinton's CIA handler in the United States was none other than George Herbert Walker Bush, i.e. daddy Bush, of Houston, Texas.
What we are dealing with folks, is a WORLDWIDE Soviet KGB-East German DVD-Israeli MOSSAD-U.S. rogue P2 CIA collective that have had command and control over the Western world since the assassination of President John F. Kennedy in November of 1963.
http://upload.wikimedia.org/wikipedia/en/thumb/5/5e/JFKmotorcade.jpg/260px-JFKmotorcade.jpg
This video shows showing the Secret Service officer ordering JFK's bodyguards away from JFK before entering the Grassy Knolls area when he gets shot. The [CIA/Mossad] thugs who murdered JFK, his elder brother Joseph, his brother Robert and his son JFK Jr. should know that although they control things then and now, there is NO STATUTE OF LIMITATIONS on murder.
Watch as the two secret service men assigned to protect president Kennedy's motorcade are ordered to stand down just minutes before entering Dealey Plaza. They are obviously not happy about being given these orders. It brings up another question: Where was NORAD on 9/11, who was in charge and why?
Watch video - 2 min 55 sec -
www.youtube.com/watch?v=XY02Qkuc_f8
Related:
FBI memo, photo link Bush Sr to JFK Dallas murder scene
by Tom Flocco
http://www.tomflocco.com/fs/FbiMemoPhotoLinkBushJfk.htm
One should remember that on the orders of his "handler daddy Bush", it was daddy Bush's little bitch Bill Clinton that drove rebellious Warren Commission member Hale Boggs to the airport before his fatal flight in Alaska in 1967.
For more on the East German DVD WORLDWIDE collective click http://www.worldreports.org.
P.S. So it is now clear that 9/11 was not an inside job it was an "OUTSOURCED" job tying Israeli MOSSAD-East German DVD operatives to command and control, along with Gary Best "TRUE COLORS" Inc. and the WORLDWIDE Bush-Clinton Crime Syndicate to the 9/11 attack.
Holding these secrets of the HIGH TREASON conspiracy is former NSA and 9/11 Commission Executive Director, East German DVD agent Philip Zelikow.
That is right folks, the NSA has been compromised and infiltrated by the Soviet KGB-East German DVD-Israeli MOSSAD-U.S. rogue P2 CIA collective.
How dare you, you conspiratorial
tyrants and kings and notable queens!
http://www.trosch.org/wom/hillarylesbi2.jpg
click on url to view
http://media.npr.org/blogs/bryantpark/images/2007/08/huma_200.jpg
CLOSET lesbian Hillary Cinton with her
lover Israeli MOSSAD agent Huma Abedin
P.P.S. Our next briefing will deal with the role of UNELECTABLE Hillary Rodenhurst Clinton and her on the payroll IN-THE-CLOSET lesbian lover Huma Abedin's link to Pakistani Intelligence and the government of Pervez Musharraf.
http://www.afghanistanwatch.org/images/2007/09/12/musharrafbhutto.jpg
Huma Abedin made three trips to Pakistan and personally met with Musharraf two weeks before the Israeli MOSSAD-DVD assassination of former Pakistani Prime Minister Benazir Bhutto.
The assassination of Benazir Bhutto took place just days before the Democratic Party Iowa caucus.
http://www.lewrockwell.com/kwiatkowski/blitzer.jpg
Final note: Israeli MOSSAD asset and Khazarian Jew Wolf Blitzer of CNN, (202) 898-7900, is now trying to shut down the Democratic Party presidential primary by urging an alleged dream ticket between Senator Barack Obama and EAST GERMAN DVD agent unelectable Hillary Rodenhurst Clinton.
http://www.latimes.com/media/photo/2008-02/35104634.jpg
(Chris Carlson / Associated Press)
http://images.huffingtonpost.com/gen/10170/thumbs/s-WORLD-OPINION-PRESIDENTIAL-RACE-large.jpg
http://images.huffingtonpost.com/gen/10180/thumbs/s-CLIDEB-large.jpg
http://i.l.cnn.net/cnn/2008/images/01/31/gall.civil1.gi.jpg
U.S. Democratic presidential candidates, Illinois Senator Barack Obama and New York Senator Hillary Clinton participate in a televised debate at the Kodak Theatre in Los Angeles. (GABRIEL BOUYS/AFP/Getty Images)
Last night, when CNN's Wolf Blitzer asked, "Would you consider an Obama-Clinton or Clinton-Obama ticket going down the road," neither candidate denied the possibility. "Well, there's a difference between those two," Obama laughed. "But her service to this country has been extraordinary. And I'm glad that we've been walking on this road together."
Clinton dittoed it. "Well, I have to agree with everything Barack just said."
Now, the possibility is the talk of the town.
http://www.abcnews.go.com/WN/Vote2008/story?id=4230183&page=1
Direct message to Senator Obama:
Remember what happened to Ronald Reagan when he chose daddy Bush as his Vice President. He barely survived an attempt on his life by Bush Crime Family stooge Hinckley.
http://newsimg.bbc.co.uk/media/images/38919000/jpg/_38919985_reagan_assassination_ap203.jpg
And remember Senator Obama, if you get in bed with dogs and TRAITORS like the white trash Clintons you will get a lot of fleas.
And as far as you are concerned Wolf Blitzer, your duplicitous activity is going to be dealt with.
If it was non-inaugurated, duly elected President Albert Gore Jr. that invented the internet then guess who it is that is going to invent the TREASON guillotine for immediate usage on TRAITORS – we will leave that to your imagination Wolf.
. . .
if image does not appear use this url
(
http://graphics8.nytimes.com/images/2004/11/02/national/networks.span.jpg)
CNN was one of several networks to call Florida for Al Gore on election night in 2000
GOD BLESS AMERICA, LAND THAT WE LOVE
At this hour we urge ALL PATRIOTIC AMERICANS to remember the work of our Forefathers,
with our Republic on the verge of collapse, we send out the words
http://unitedstates.fm/pics/AADD017.jpg
(vahistorical.org)Lafayette rallying troops at the
Battle of Brandywine
as General George Washington and General Lafayette remain at Brandywine,
as we now continue to identify the enemies of the American Republic and the American Revolution in the 21st Century and annihilate them.
SIGNIFICANT INTELLIGENCE BRIEFINGS:
Hillary Enables SERIAL RAPIST Bill Clinton and Attempts Gender Card
http://blog.myspace.com/index.cfm?fuseaction=blog.view&friendID=147509065&blogID=353254035
CAROLINE KENNEDY ENDORSES SENATOR OBAMA AS THE DEMOCRATIC PARTY WAVES BYE-BYE TO THE CLINTONS
http://blog.myspace.com/index.cfm?fuseaction=blog.view&friendID=147509065&blogID=352284486
Who killed John-John?
Division 4 team names Clintons, Bush 41, 43 in JFK Jr. assassination
By Tom Flocco
http://tomflocco.com/fs/PurgeTheEvil.htm
UNELECTABLE HILLARY AND MITT ROMNEY'S "JOINT" BANK ACCOUNT
http://blog.myspace.com/index.cfm?fuseaction=blog.view&friendID=147509065&blogID=351618808
Fitzgerald probe: Sen. Clinton withdrew stolen funds from Grenada bank
by Tom Flocco
http://www.tomflocco.com/fs/SenClintonGrenada.htm
HILLARY'S MOSSAD NEW JERSEY SLUSH FUND
http://blog.myspace.com/index.cfm?fuseaction=blog.view&friendID=147509065&blogID=350823072
BREAKING UPDATE ON BUSH-CLINTON CRIME SYNDICATE BAGMAN, ZIONIST MOSSAD AGENT MARC RICH
http://blog.myspace.com/index.cfm?fuseaction=blog.view&friendID=147509065&blogID=351268941
NoHillaryClinton.com
http://www.nohillaryclinton.com/
KnowHillaryClinton.com
http://www.knowhillaryclinton.com/
(http://www.oldamericancentury.org/dissent2.jpg)
REFERENCE: Bush-Clinton Crime Syndicate TRAITORS
We have a reservation for them at
Lafayette
Park
where new TREASON guillotines have arrived from
France
.
Guillotines

await

HIGH TREASON
(http://farm1.static.flickr.com/140/341804693_a3ab8f1445.jpg)
(http://www.nohillaryclinton.com/blog/blog_images/HRCquotes.jpg)
"two for the price of one"
http://www.seniorark.com/Humor/humor_images/BILLARY.gif
http://www.redstategraffix.com/Hillary_Billary_for_2008-.jpg
blog.myspace.com/tom_heneghan_intel