Custom Search
OBAMA GOES TO HOUSTON TO MEET HIS NAZI DVD BOSS GEORGE H.W BUSH
The Unhived Mind
President Obama gets a surprise visitor in Houston
BY KATIE ZEZIMA
April 9 at 5:45 pm
http://www.washingtonpost.com/blogs/post-politics/wp/2014/04/09/president-obama-gets-a-surprise-visitor-in-houston/
President Obama had a surprise visitor upon landing at the Houston airport: former President George H.W. Bush.
Sitting in a wheelchair and clad in khakis and brightly striped socks, Bush greeted the president and Michelle Obama on the tarmac next to Air Force One.
Former US President George H. W. Bush greets US President Barack Obama and First Lady Michelle Obama as they arrive at Intercontinental Airport on April 9, 2014 in Houston, Texas. Obama, who attended a memorial service at Fort Hood, is in Houston to attend two fund raisers for the Democratic National Committee, the Democratic Congressional Campaign Committee and the Democratic Senatorial Campaign Committee. AFP PHOTO/Brendan SMIALOWSKIBRENDAN SMIALOWSKI/AFP/Getty Images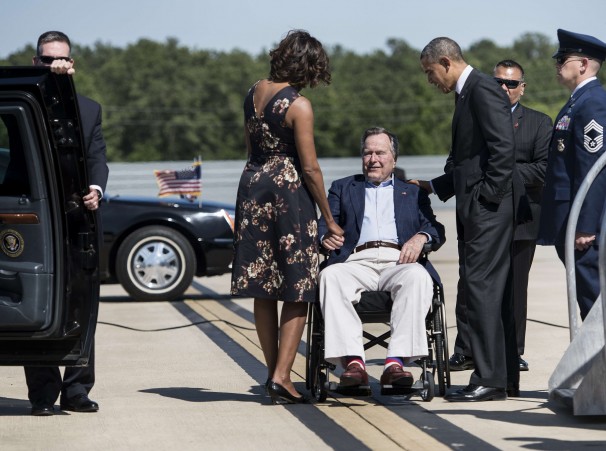 Former President George H. W. Bush greets President Obama and first lady Michelle Obama as they arrive at Intercontinental Airport on April 9, 2014 in Houston, Texas. (BRENDAN SMIALOWSKI/AFP/Getty Images)
Bush smiled broadly at the Obamas as they walked down the steps of Air Force One. They spoke with him for several minutes. Michelle Obama held Bush's right hand, and President Obama placed his hand on Bush's shoulder. There were lots of laughs and smiles.
"I just wanted to say hello to the president and the first lady. When the president comes to your hometown, you show up and welcome him," Bush said.
Reporters said it was Bush's idea to come greet Obama.
George H.W. Bush has been back in the spotlight of late. Last weekend, a three-day symposium celebrated the 25th anniversary of Bush's presidency. Held at the George H.W. Bush Presidential Library in College Station, Tex., it featured discussions of Bush's foreign and domestic achievements and, as is required, a Texas barbecue.
President Obama will head to Austin on Thursday, where he will meet up with another Bush: George W. Bush. Obama, Bush, Bill Clinton and Jimmy Carter will attend a Civil Rights Summit at the Lyndon Baines Johnson Presidential Library. George W. Bush will speak Thursday evening.
http://theunhivedmind.com/wordpress3/2014/04/15/obama-goes-to-houston-to-meet-his-nazi-dvd-boss-george-h-w-bush/
theunhivedmind says:
Look at the state of George H.W Bush, his Nazi division in the CIA aren't doing much for his health are they? Obama was ordered to meet George H.W Bush who masters over the U.S Presidency. They met in order to bring about the theft of the Pension system in the U.S. and to help out in the same process the British and German banking whores known as JPMorgan and Chase along with Deutsche Bank. George H.W Bush is a head of the Deutsche Verteidigungs Dienst secret Nazi continuum which hides in the Directorate of Intelligence division of the Central Intelligence Agency aka Odessa! Barbara Bush controls George H.W Bush's estate and has done for a few years now, she is from the Perci bloodline. The Bush's are Catholic serving the anti-pope of Rome like John Bush who is a fourth degree Knights of Columbus who gets on his knees and kisses the anti-pope's fisherman's ring. Their hidden religion is witchcraft and Barbara Bush is a fifth degree in Witchcraft.
-= The Unhived Mind