Custom Search
Nation Watches as Wisconsin Prepares for Recalls Tuesday
Mary Spicuzza, Wisconson State Journal
he money pouring into this summer's recall elections already has shattered campaign spending records across Wisconsin.
And with six Republican senators fighting for their seats on Tuesday, then two Democratic senators facing recall next week, high stakes and intense national interest in the historic recalls mean spending totals will only continue to rise.
Cash flowing into the recall elections from third-party interest groups already has approached $30 million, election watchdogs say, and total spending by third-party groups and candidates could top $40 million.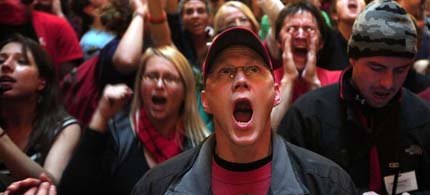 Demonstrators protest in a hallway below the assembly chamber where Wisconsin Governor Scott Walker was delivering his budget address to a joint session of the legislature at the capitol in Madison, Wisconsin, 03/02/11. (photo: Getty Images)
That total would double spending on all 116 of last fall's state legislative races combined. About $19.25 million was spent in those races for 17 Senate seats and 99 Assembly seats, which included 312 candidates on the primary ballot and 225 candidates in the November 2010 general election, said Mike McCabe, Wisconsin Democracy Campaign executive director.
The money spent so far in this summer's nine recalls - one already has been decided - is believed to have already broken Wisconsin's record for state Senate and Assembly races set in 2008, when candidates and groups spent about $20 million on 115 elections.
Big Spenders
Candidates and registered interest groups are required to report their expenses to the state, but unregistered third-party groups are not, making exact spending difficult to track.
Still, 31 interest groups registered in the Wisconsin recalls had reported spending about $13.2 million as of Friday, McCabe said. That's more than three times the $3.75 million spent by registered groups on all of last fall's races. Based on the extent of campaign advertising, such as television ads and direct mail, McCabe estimated last week that undisclosed activity already had topped $13 million.
"This is off the charts," he said.
Interest groups are spending big on both sides.
Conservative organizations such as Wisconsin Club for Growth, Wisconsin Family Action, and Citizens for a Strong America have targeted Democratic candidates with attack ads.
Pro-union and liberal groups such as We Are Wisconsin, Progressive Change Campaign Committee, and Democracy for America also have been heavily involved in the recalls, with a combination of attack ads targeting Republicans and get-out-the-vote efforts backing Democrats.
High Stakes
The recalls could drastically change the political landscape in Wisconsin.
Gov. Scott Walker and Republican lawmakers, who won control of the governor's office, Senate and Assembly in November, have been able to pass a broad slate of conservative legislation since they took power in January. Losing control of the Senate to Democrats would mean a sudden roadblock for Walker's agenda.
"Rarely in American politics do you have a chance for a do-over," UW-Madison political science professor Charles Franklin said. "This is as close to a do-over as you are going to get."
Since taking office, Walker has drawn national attention over his controversial plan to strip nearly all collective bargaining rights from most public workers. It drew tens of thousands of protesters to the state Capitol for days on end starting in February and led Wisconsin's 14 Democratic senators to flee to Illinois in an effort to fight its passage.
The measure, which has since become law, triggered the recall efforts against the senators. Republican senators were targeted for backing Walker's plan, while Democratic senators were targeted for leaving the state to delay a vote.
The focus of the recalls has since expanded, shifting away from the collective bargaining fight toward issues such as taxes and funding for public schools and seniors. Few outside groups and candidates mention unions these days.
"I believe it's because the broader population agrees with what we did," said Sen. Robert Cowles, R-Green Bay, who faces off against Democrat Nancy Nusbaum on Tuesday.
Democratic challenger Jessica King, who is running against Sen. Randy Hopper, said the frustration goes beyond policy to a growing lack of confidence that lawmakers will be civil and include them.
"A lot of people feel shut out of the process," she said. "People are really looking for someone to advocate for them."
Referendum on Walker?
Many also view these races as a sign of whether Walker will face recall next year - and even as an indicator of President Barack Obama's chances to win re-election in 2012.
That likely explains why the Campaign to Defeat Barack Obama PAC, a Sacramento, Calif.-based organization formed to support conservative 2012 presidential candidates, is involved in the Wisconsin recalls. It sponsored a TV ad last month backing the six GOP senators up for recall on Tuesday and accusing liberal groups backed by Obama of being behind the recall efforts.
That was just one of dozens of TV ads by third-party groups in recent months.
In another, paid for by Citizens for a Strong America, Democratic recall challenger Shelly Moore is slammed by someone who sounds like Morgan Freeman. Schoolchildren accuse Darling of making it harder for them to learn in another ad paid for by We Are Wisconsin.
"What we've seen is outside groups have basically unlimited amounts of money to spend on advocacy," Franklin said.
In interviews with the Wisconsin State Journal, recall candidates across the state panned outside groups' attack ads.
"What's disappointing is the outright lies," said Republican state Sen. Luther Olsen. "In all honesty, the truth means nothing anymore."
Olsen, a 20-year school board veteran who has chaired education committees in the state Assembly and Senate, said he has always made education a top priority. But he and other GOP senators have been attacked in ads by third-party groups over recent cuts, including the more than $1 billion cut from public schools and higher education in the 2011-13 state budget.
"It has always been my position that they don't lead to better elections," his opponent, Rep. Fred Clark, said of the outside groups. "I would rather see none of them spend money, whether they are supporting me or Sen. Olsen."
Clark said last month he was willing to sign a joint statement with Olsen asking such groups to stop running attack ads in their race.
Olsen's campaign refused, saying it would discourage free speech, but Olsen said he offered to sign an agreement that any false ads stop running. No agreement was signed.
'This Is About Power'
Jay Heck of government watchdog Common Cause Wisconsin said people are viewing what happens Tuesday as a sign of which direction the nation is heading politically leading up to the 2012 elections - in part because the state is considered one of the most closely divided in the country.
"Everyone is looking at Wisconsin as the barometer," Heck said.
That national focus has not escaped senators who face removal from office.
"They want to use us as an example. They have to take us out to prove that they can do it," Darling said of national liberal groups. "This is about power."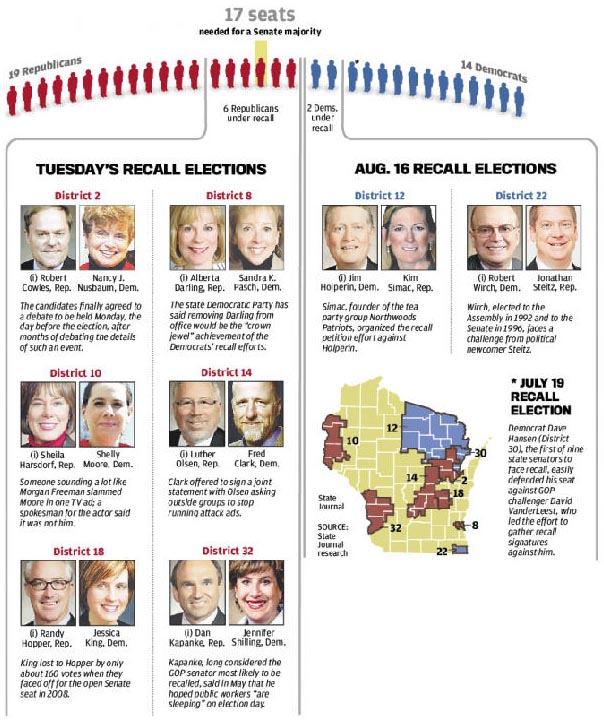 http://readersupportednews.org/news-section2/318-66/6955-nation-watches-as-wisconsin-prepares-for-recalls-tuesday