Custom Search
The day it was so windy the waterfall ran uphill: Britain battered by 106mph gales which leave two dead – and there's more to come in the next 24 hours
Chris Parsons, Gareth Finighan and Luke Salkeld (Dailymail)
Jan. 4, 2012
Winds of 106mph recorded in Pennines. Force 11 winds batter Channel
Atlantic front hits UK with fierce winds and heavy rain
Van driver, 50, killed by tree falling on his vehicle as gales cause havoc
Sailor dies after tanker in English Channel is hit by huge wave
Extreme weather causes misery for millions heading back to work
Roads closed and trains delayed by fallen trees
Roof of grandstand blown off at Epsom Downs Racecourse, Surrey
Trains affected as passengers are urged not to travel
Winds of up to 106mph battered Britain yesterday, bringing death and destruction as many returned to work after the Christmas holidays.
A driver was killed when a tree fell on his van. The storm also claimed the life of a man on board a tanker which was hit by a huge wave in the Channel.
Barely a single area was spared the onslaught roaring in from the Atlantic, which toppled lorries and brought down power lines.
Scroll down for videos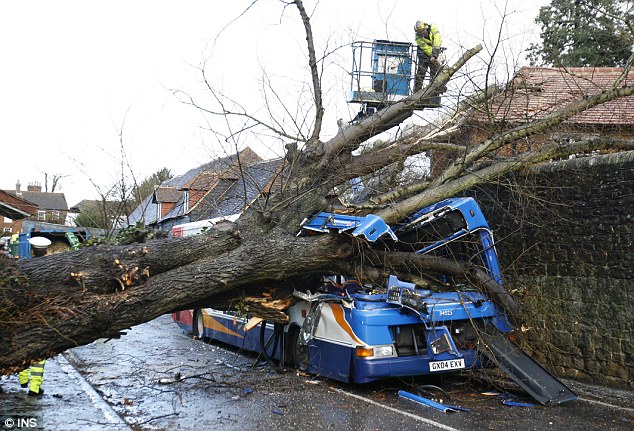 Crushed: The driver of a single decker bus in Witley, Surrey, was badly injured when an oak tree came crashing down on the vehicle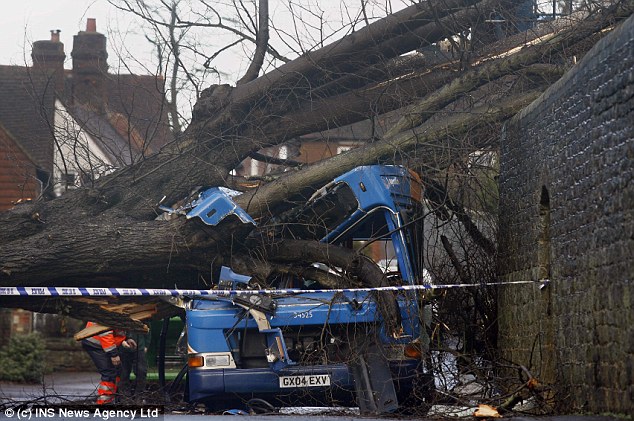 Lucky to be alive: The driver was cut free from the wreckage by firefighters and rushed to hospital
Buildings were damaged, roads closed and trains, flights and ferries were cancelled.
The Met Office issued numerous severe weather warnings and emergency services urged motorists and pedestrians to stay indoors.
However, some had to be evacuated from their houses because of flooding.
Sleet and snow added to the problems in some parts, bringing a cold wake-up call to Britain in 2012 after an unusually mild festive season.
CONTINUE READING TO VIEW VIDEOS AND ALL THE PHOTOS
http://www.pakalertpress.com/2012/01/04/the-day-it-was-so-windy-the-waterfall-ran-uphill-britain-battered-by-106mph-gales-which-leave-two-dead-and-theres-more-to-come-in-the-next-24-hours/?utm_source=feedburner&utm_medium=email&utm_campaign=Feed%3A+pakalert+%28Pak+Alert+Press%29