Custom Search
New map!... Majority of America's population lives in counties with levees
Levees.Org
Sent: Tuesday, December 01, 2009 4:14 PM
Subject: New map!... Majority of America's population lives in counties with levees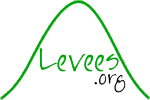 December 1, 2009
In a Freedom of Information request, Levees.org recently discovered that 55% of the nation's population lives in counties protected by levees (156,615,630 people).
This information is enormously relevant so we commissioned researcher Ezra Boyd to translate the data into an easy-to-read map graphic.
The result is eye popping.
The graphic and accompanying table of the most populated cities shows that living behind levees is not uniquely a New Orleans phenomenon. Nor is it a coastal issue. Nor a sea level issue.
And the map raises very important questions.
After the federal flood, the nation questioned the wisdom of massive public investment in levees and other flood risk reduction infrastructure in New Orleans and south Louisiana.
This map sheds light and insight on the benefits of using levees and other control structures to protect property in floodplains.
It's long been argued that levees encourage settlement in floodplains which leads to flooding losses. However, levee construction provides access to trade and navigation along with benefits like recreation and irrigation.
For the first time, many of these benefits can be quantified using the dataset obtained by Levees.org.
The results could even reveal that job opportunites and high paying jobs are in higher concentrations in levee-protected communities.
We will continue to examine and study this data and we will release the results as they are determined.
In the meantime, share this information! Please send this to those you know. Enlighten them with the true facts!
Thank you for your support of Levees.org.
We are winning.
Sandy Rosenthal
Founder, Levees.org
www.levees.org
Click here for the levee county map.
http://levees.org/2/wp-content/uploads/2009/11/USCountiesWithLevees3_110209_Boyd2.jpg
Click here for cover sheet from FEMA.
http://levees.org/2/wp-content/uploads/2009/12/FEMA-Letter-page11.pdf
Click here for data set from FEMA.
http://levees.org/2/wp-content/uploads/2009/10/LeveeStatisticalSummary.pdf
New York Chapter
bhschaffer@levees.org
California Chapter
kc.costa@levees.org
Florida Chapter
DrLevine@levees.org
Illinois Chapter
derbes@levees.org
Oregon Chapter
Oregon@levees.org
Follow us on Twitter! http://twitter.com/LeveesOrg
Remove yourself from our list.