Custom Search
RADIATION ALERT ISSUED ON LONG ISLAND, NY
Turner Radio Network
March 18, 2014 -- (TRN) --
(UPDATED TWICE; see bottom)
The Nuclear Emergency Tracking Center has issued a Radiation Alert for Mattituck, NY on Long Island after local background radiation levels spiked 156 times higher than normal on March 14, but quickly returned to normal. On March 16, radiation spiked again to 75 times higher than normal and though it has come down, as of the publication of this story on March 18, the level remains 13 times higher than normal. Charts and map below.
(Click the Image below to enlarge)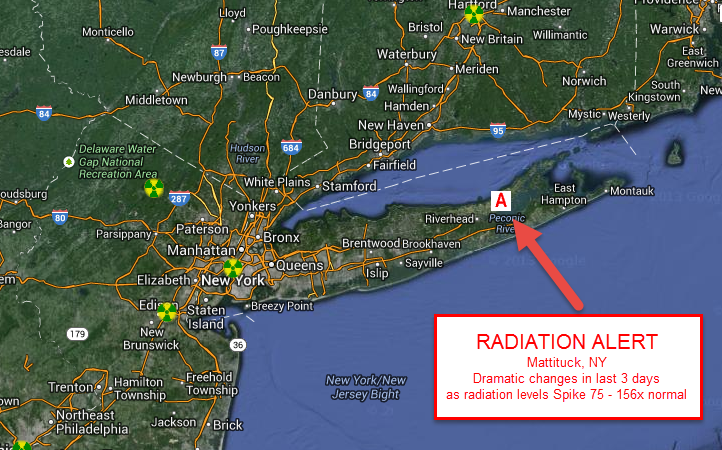 Mattituck, NY, a small, picturesque community located on the north shore at the eastern end of Long Island got blasted with high energy Gamma Radiation from an unknown source over the last three days.
According to local Geiger Counter equipment, the one-year average background level of radiation in Mattituck is only about 10 counts-per minute. Yet on March 15, the radiation level suddenly skyrocketed to 1565 Counts-Per-Minute (CPM), an increase of one-hundred fifty-six times the normal level.
Oddly, as fast as the level went up, it went back down, until 8:40 PM the next day, March 16, when the level suddenly spiked again to 784 Counts-Per-Minute, an increase of 78 times the normal background level. This time, the level went down much slower as shown on the chart below.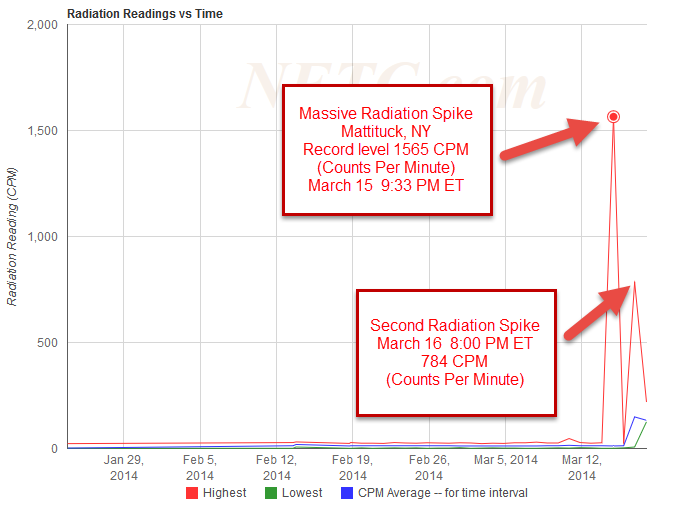 As of March 18, 2014 at 12:37 AM, the level is remaining around 131 CPM, certainly within the safe range but still 13 times higher than normal when compared to levels over the past three months.
Since the level is more than five times the typical amount, the Nuclear Emergency Tracking Center (www.NETC.com) issued a RADIATION ALERT because such a change in typical levels is a significant event and residents should monitor the situation for their own safety.
Given Mattituck's location and ease of access to the ocean, local authorities may wish to determine what is taking place in that town which would account for such a dramatic surge in radiation. While we have absolutely no indication whatsoever that any terrorist group might be trying to smuggle a radioactive device into New York via an ocean route, prudence in these times of terrorism dictates the matter be looked into.
UPDATE MARCH 19, 2014 5:41 PM EDT
We have been made aware that a small local newspaper, "The Suffolk Times" has run a new story about this on its web site today, and possibly in print issues. They prominently quote US Environmental protection Agency (EPA) spokesperson Elias Rodriguez, who said "We don't have any validated data that would indicate a cause for concern." There's a very simple reason for that: The EPA did not test for radiation in Mattituck, NY and the EPA has no radiation monitoring stations in -- or near -- Mattituck, NY. THAT is why they have "no validated data."
We have become quite familiar with the language used by the EPA; they issue "non-denial, denials." Same with the Nuclear Regulatory Commission which is reported in the story as follows:
Neil Sheehan, a representative with the U.S. Nuclear Regulatory Commission said he's unfamiliar with the group that issued the alert. "Never heard of it," he said. "We're not aware of any incidents at any of the nuclear power plants that could be a source of that [supposed radiation]."
Nobody asked him about nuclear power plants. He answered a question which wasn't asked about something not even mentioned in our article! Crafty, these government types, aren't they?
TRN stands-by the story.
The map at top was a screen shot from the NETC web site which clearly shows they issued a "RADCON-5 ALERT" and the chart below the map came directly from within the subscriber area of the same NETC web site.
Readings from the Nuclear Emergency Tracking Center (NETC) were the basis for that story. The graphic used above in the initial story came from the subscription area within the NETC web site and was the substantiation for our original story. The graph used in that story was reproduced directly from the NETC subscriber area.
One final note, the Suffolk Times places great emphasis on the fact that the source of our story "is not a government agency" as if that has any bearing on the facts. It does not. To put it bluntly, most of us already know that the federal government - in general -- is one of the largest collections of liars on the planet. What gives our story credibility is that it is NOT based on government information!
UPDATE MARCH 20, 2014 1:18 AM EDT
According to a story published by "Riverhead Local" a small publication in Riverhead, LI, NY. the US Environmental Protection Agency uses "RADNET" to monitor for radiation throughout various parts of the country, but the EPA monitoring site in Yaphank, LI, NY, just 26 miles from Mittituck, has not been transmitting any data since February 20. (Story here) One wonders how the EPA can question our report when their own radiation system hasn't been working for over a month?