Custom Search
Over 1,200 Calif. Homes & Businesses Burned; More Evacuations (Updated 10/23/07)
Allison Hoffman & Gillian Flaccus
SAN DIEGO — Thousands more residents were ordered to evacuate their homes today, bringing the number of people chased away by the wind-whipped flames that have engulfed Southern California to at least 300,000.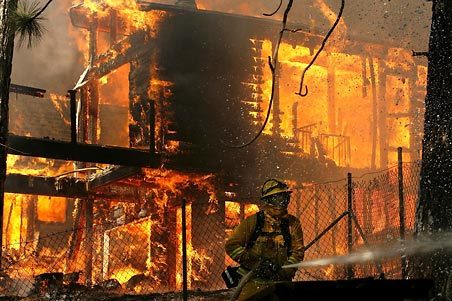 Photo: Firefighter Scott Limpus works the front line in Green Valley Lake, Calif., northeast of San Bernardino, on Monday. Gov. Arnold Schwarzenegger declared seven counties disaster areas, mobilized the National Guard and asked for aid from neighboring states and the federal government. (See Photo Gallery below)
By day three, the dozen wildfires had burned 1,200 homes and businesses and set 245,957 acres — 384 square miles — ablaze, and the destruction may only be the start for the region. today's forecast called for hotter temperatures and more explosive Santa Ana gusts.
The blazes bedeviled firefighters as walls of flame whipped from mountain passes to the edges of the state's celebrated coastline, spreading so quickly that even hotels serving as temporary shelters for evacuees had to be evacuated.
Marilee Bishop of Running Springs and her 10 year-old-daughter Erica rubbed their red eyes this morning as they woke up in a Wal-Mart parking lot where they spent the night after being forced to leave their home.
"No one ever expects something like this to happen to them," said Bishop, as thick smoke rose in the skies behind her.
As the fires spread, most out of control, smaller blazes were merging into larger, more fearsome ones. Evacuations were being announced in one community after another as firefighters found themselves overwhelmed by gale-force Santa Ana winds, some gusting to 70 mph.
San Diego Mayor Jerry Sanders pleaded with residents to stay off cell phones so that emergency crews could do their work. At least 274,000 homes — about 300,000 people — were asked to clear out in San Diego County alone, he said. Officials cautioned that more evacuations could be necessary, as the fires carved a path today toward populated areas.
"Please stay at home today if you can," he said. "Stay off the freeways. Allow our emergency vehicles and people needing to evacuate to move around freely."
President Bush declared a federal emergency for seven counties, a move that will speed disaster-relief efforts. He also sent federal disaster officials to California. He did not plan to visit the area himself, fearing his visit would detract from firefighting efforts.
"All of us across this nation are concerned for the families who have lost their homes and the many families who have been evacuated from their homes," Bush said today. "We send the help of the federal government."
Fire crews and fleeing residents described desperate conditions that were sure to get worse. Temperatures across Southern California were about 10 degrees above average and were expected to approach 100 degrees today in Orange and San Diego counties.
Deputies arrested two men for looting in the community of Ramona, and there were a handful of other looting cases reported, said San Diego Sheriff's Lt. Mike McClain.
The fires were exploding and shooting embers in all directions, preventing crews from forming traditional fire lines and severely limiting aerial bombardment, officials said.
"Lifesaving is our priority. Getting people out from in front of the fire — those have been our priorities," said Capt. Don Camp, a spokesman for the California Department of Forestry and Fire Protection.
Thousands of residents sought shelter at fairgrounds, schools and community centers. The largest gathering was at Qualcomm Stadium in San Diego, where up to 10,000 evacuees anxiously watched the stadium's television sets, hoping for a glimpse of their neighborhood on the local news. Sanders pleaded for donations of blankets, cots, pillows and food for the people staying there, and officials said more people were expected to arrive today.
San Diego County was ablaze from its rural north to its border region with Mexico, where the wildfires that started Sunday claimed their only fatality to date: Thomas Varshock, 52, of Tecate, a town on the U.S. side of the border southeast of San Diego. His body was found Sunday afternoon, the San Diego County Medical Examiner's Office said.
Forty-two people were injured, 16 of them firefighters.
In San Diego County, public schools were closed, as were campuses at the University of California, San Diego and San Diego State University.
The scope of the infernos was immense and was reminiscent of the blazes that tore through Southern California four years ago this month, killing 22 and destroying 3,640 homes.
The fires have been made worse by fierce Santa Ana winds. The winds — which sweep through Southern California's canyons in fall and winter — are stronger than normal, turning already parched scrubland into tinder. They generated walls of flame that bore down on housing developments in a wide swath.
East of Los Angeles, a two-front fire destroyed at least 160 homes in the Lake Arrowhead area, the same mountain resort community where hundreds of homes were lost four years earlier.
One of the blazes, near Green Valley Lake, was so intense that firefighters were forced to pull back. It jumped Highway 18 and was headed toward the community of Running Springs, said Steve Lowe, a fire information officer with the San Bernardino National Forest.
Touring an evacuee camp at Qualcomm Stadium in San Diego, Gov. Arnold Schwarzenegger pledged to do everything in his power to assist the firefighting effort and help those who have lost their homes.
"I will be relentless all the way through this," Schwarzenegger said.
Photo Gallery: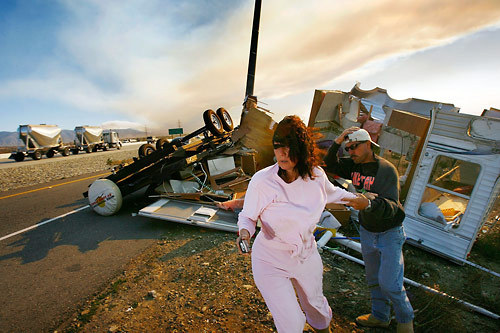 1. Rick and Kelly DeGraw hold one another for support as they struggle to keep from being blown over by the wind that toppled their fifth-wheel trailer over as they drove on the I-210 freeway in Fontana, California. After seeing a high wind warning sign they were trying to reach a safe location, but were quickly caught by the wind. In the distance, a plume of smoke blows down from a major wildfire near Lake Arrowhead, California. The Santa Ana Winds are pushing numerous major wildfires into communities surrounded by native chaparral habitat, burning homes and business as they advance. Gale-force winds have sped up to more than 100 mph in some high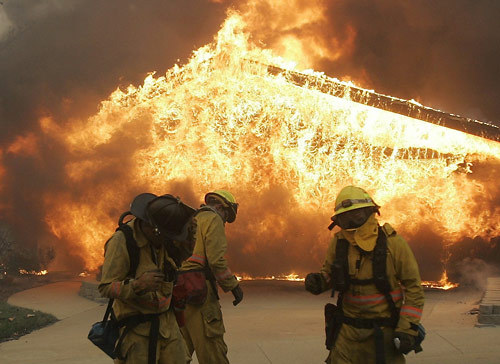 2. Three firefighters react to explosive heat coming from a burning home in Rancho Bernardo, Calif., on Monday.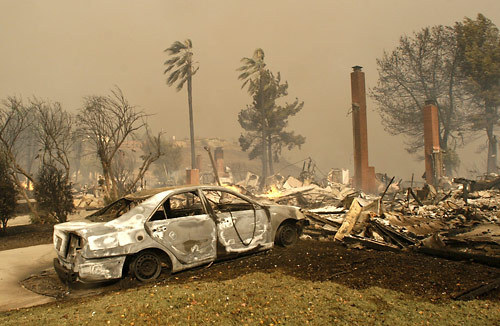 3. Thick smoke encompasses an abandoned neighborhood in Rancho Bernardo on Monday.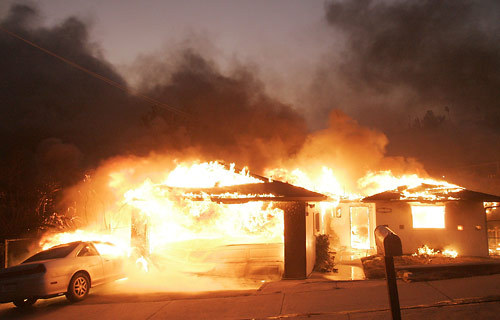 4. Houses burn on Camp Plenty Road in Canyon Country, Calif. on Sunday.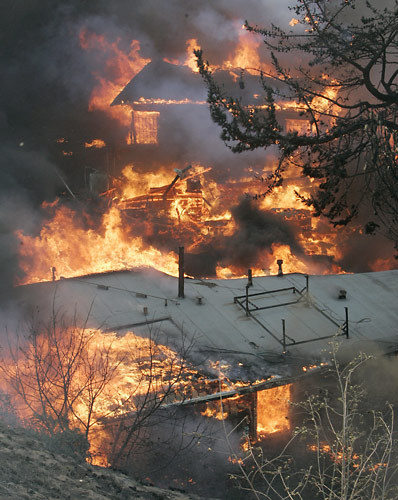 5. Several structures burn as strong, gusting powerful Santa Ana winds push flames through Malibu, Calif., on Sunday.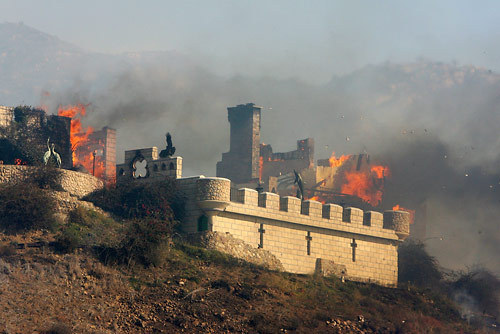 6. The historic Castle Kashan, a stately fortresslike home with turrets and arched windows, burns near Malibu Canyon Road Oct. 21 in Malibu, California. The arrival of the Santa Ana Winds is bringing gusts of 60- to 80-mph in Malibu and up to 108 mph on a peak near one of the fires that broke out in Los Angeles County this morning. Fire conditions are dangerous this year as a result of the driest season since records begin, 130 years ago.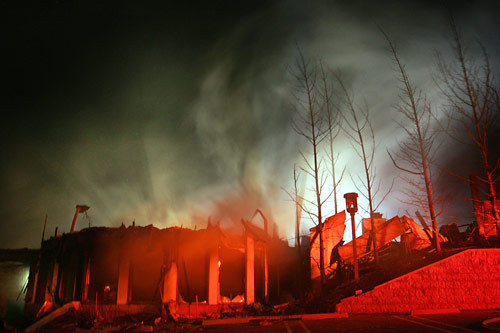 7..Smoke rises from the ashes of the Malibu Presbyterian Church late into the night in Malibu, Calif., on Sunday. Nearly a dozen wildfires driven by the powerful Santa Ana Winds spread across Southern California on Sunday, killing one person near San Diego, destroying several homes and a church in celebrity-laden Malibu, and forcing hundreds from their homes.
*******************************
California Wildfires From Space
weblogs.marylandweather.com/2007/10/california_wildfires_from_spac_1.html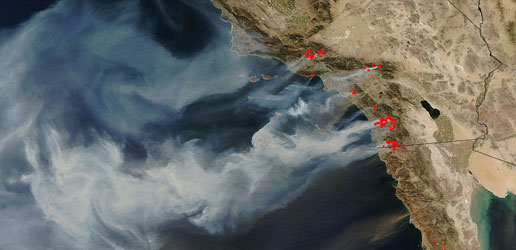 NASA's Earth-observing satellites have been snapping pictures this week of the devastating wildfires that have scorched southern California and burned hundreds out of their homes.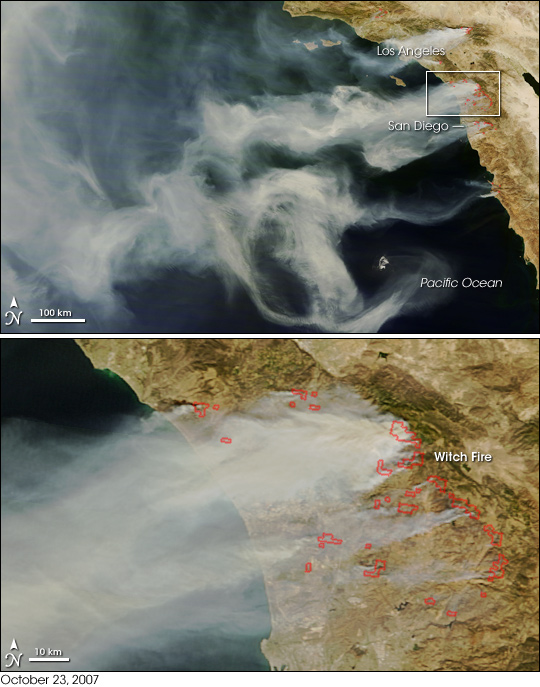 Here's one showing the smoke plumes streaming out over the Pacific Ocean.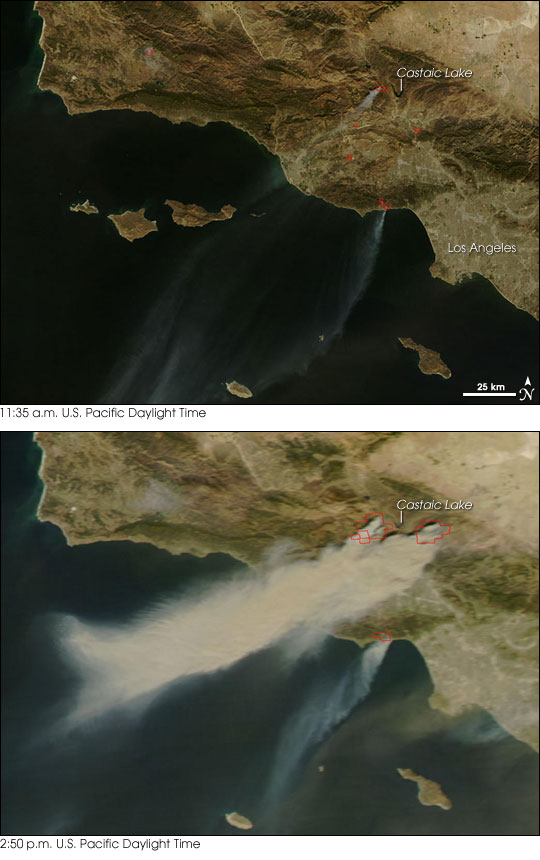 Here's another showing how the fires blossomed in just a few hours on Sunday afternoon.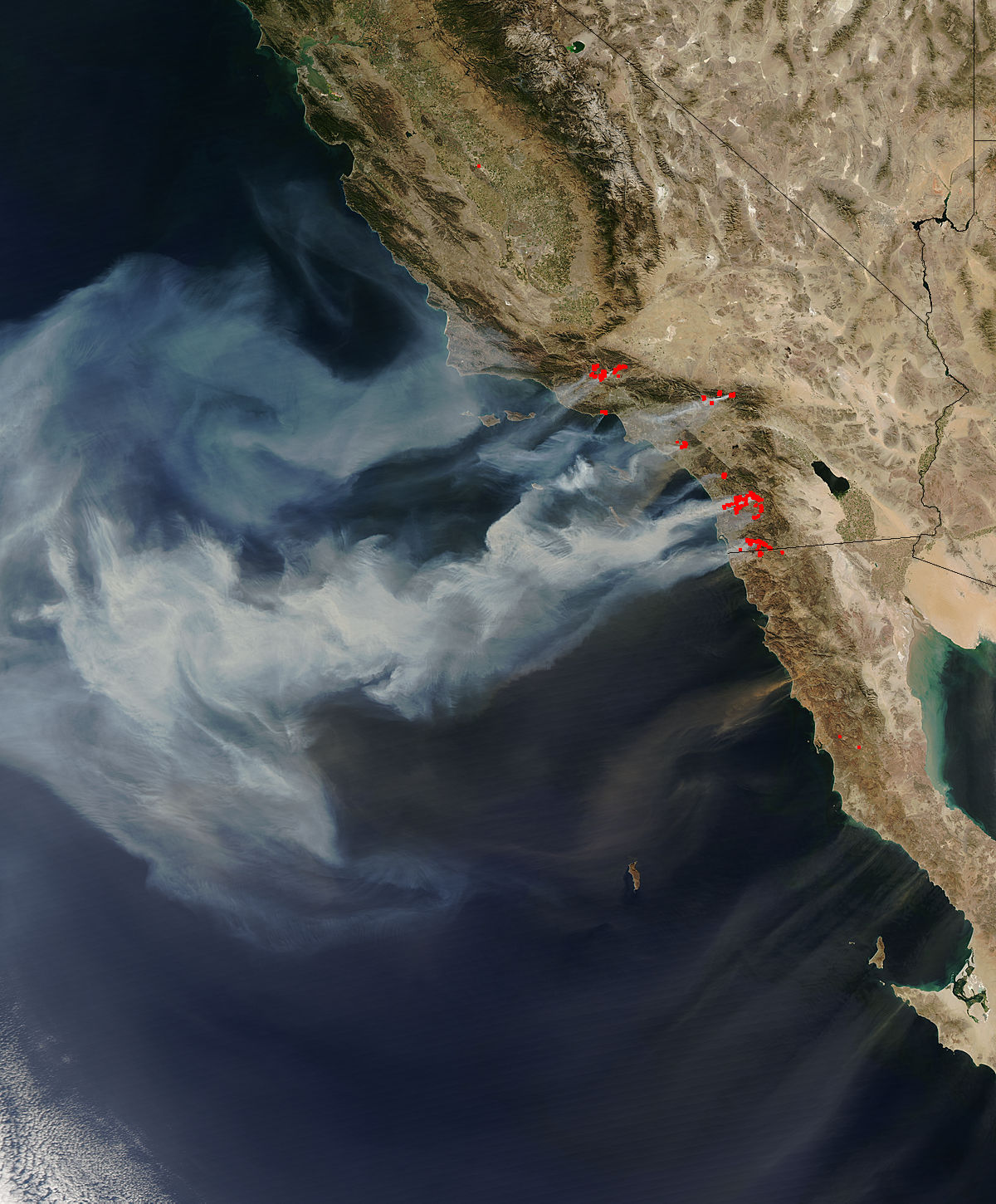 Here's one shot Monday. Amazing. The red dots show where infrared imagers spotted intense heat on the ground - fire.