Custom Search
NANO CHEMTRAILS
If you did not enjoy "traditional" chemtrails raining down on you, you are not going to like the new version, which the United States Air Force promises will feature aerial dumps of programmable "smart" molecules tens of thousands of times smaller than the particles already landing people in emergency rooms with respiratory, heart and gastrointestinal complaints.
Under development since 1995, the military's goal is to install microprocessors incorporating gigaflops computer capability into "smart particles" the size of a single molecule.
Invisible except under the magnification of powerful microscopes, these nano-size radio-controlled chips are now being made out of mono-atomic gold particles. Networked together on the ground or assembling in the air, thousands of sensors will link into a single supercomputer no larger than a grain of sand.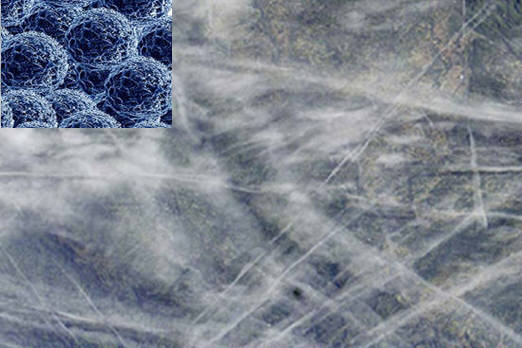 Brought to you by the same military-corporate-banking complex that runs America's permanent wars, Raytheon Corp is already profiting from new weather warfare technologies. The world's fourth largest military weapons maker bought E-Systems in 1995, just one year after that military contractor bought APTI, holder of Bernard Eastlund's HAARP patents.
Raytheon also owns General Dynamics, the world's leading manufacturer of military Unmanned Aerial Vehicles.
Raytheon also reports the weather for NOAA through its Advanced Weather Information Processing System. According to researcher Brendan Bombaci of Durango, Colorado, these Raytheon computers are directy linked with their UAV weather modification drones. Bombaci reports that NOAA paid Raytheon more than $300 million for this "currently active, 10-year project."
She goes on to describe the Joint Environmental Toolkit used by the U.S. Air Force in its Weather Weapons System. Just the thing for planet tinkerers.
GREEN LIGHT
For public consumption, nano-weather control jargon has been sanitized. "Microelectric Mechanical Sensors" (MMS) and "Global Environmental Mechanical Sensors" sound passively benign. But these ultra-tiny autonomous aerial vehicles are neither M&Ms nor gems. [Space.com Oct 31/05]
According to a U.S. military flier called Military Progress, "The green light has been given" to disperse swarms of wirelessly-networked nano-bots into the troposphere by remotely-controlled UAV drones for "global warming mitigation."
U.S. Army Tactical Unmanned Aerial Vehicles, as well as U.S. Air Force drones "are slated to deploy various payloads for weather warfare," Military Progress asserts. This dual mission - to slow global warming and use weather as a weapon - seems somewhat contradictory.
FIGHTING FOR CLIMATE CHANGE
U.S. Military Inc. is already in the climate change business big time. The single biggest burner of petroleum on this planet, its high-flying aircraft routinely rend Earth's protective radiation shielding with nitrous oxide emissions, while depositing megatons of additional carbon, sulfur and water particles directly into the stratosphere - where they will do three-times more damage than CO2 alone.
Go figure. A single F-15 burns around 1,580 gallons an hour. An Apache gunship gets about one-half mile to the gallon. The 1,838 Abrams tanks in Iraq achieve five gallons to the mile, while firing dusty radioactive shells that will continue destroying human DNA until our sun goes supernova.
A single non-nuclear carrier steaming in support burns 5,600 gallons of bunker fuel in an hour - or two million gallons of bunker oil every 14 days. Every four days, each carrier at sea takes on another half- million gallons of fuel to supply its jets.
The U.S. Air Force consumed nearly half of the Department of Defense's entire fuel supply in 2006, burning 2.6 billion gallons of jet fuel aloft.
While flying two to five-hour chemtrails missions to reflect incoming sunlight and slow global warming, a single KC-10 tanker will burn 2,050 gallons of highly toxic jet fuel every hour. The larger and older KC-135 Stratotanker carries 31,275 gallons of chemtrails and burns 2,650 gallons of fuel per hour.
The EPA says that each gallon of gasoline produces 19.4 pounds of CO2. Each gallon of diesel produces 22.2 pounds of CO2.
Total it up and routine operations by a military bigger than all other world militaries combined puts more than 48 billion tons of carbon dioxide into the atmosphere every year. Nearly half that total could be eliminated by ending the wars against Iraq and Afghanistan. [TomDispatch.com June 16/07; huffingtonpost.com Oct 29/07]
NANO RAIN
Meanwhile, the 60 year quest for weather warfare continues. Though a drone cannot carry a heavy payload, more sub-microscopic weather modification particles can be crammed into a UAV Predator than all the chemtrail slurry packed into a tanker the size of a DC-10. T
According to the air force's own weather modification study, Owning The Weather 2025, clouds of these extremely teeny machines will be dropped into hurricanes and other weather systems to blend with storms and report real time weather data to each other and a larger sensor network.
Then these smart particles will be used to increase or decrease the storm's size and intensity - and "steer" it to "specific targets".
The air force report boasted that nano-chemtrails "will be able to adjust their size to optimal dimensions for a given seeding situation and make adjustments throughout the process." Instead of being sprayed into the air at the mercy of the winds aloft, as is the fate of normal chemtrails, nano versions will be able to "enhance their dispersal" by "adjusting their atmospheric buoyancy" and "communicating with each other" as they steer themselves in a single coordinated flock within their own artificial cloud.
Nano-chemtrails will even "change their temperature and polarity to improve their seeding effects," the air force noted. [Daily Texan July 30/07]
Rutgers University scientist J. Storrs Hall held out the military's hope that these new nano weather-warrior bots: "Interconnected, atmospherically buoyant, and having navigation capability in three dimensions - clouds of microscopic computer particles communicating with each other and with a control system, could provide tremendous capability."
Sounds expensive.
CONTINUE READING
http://willthomasonline.net/Nano_Chemtrails.html