Custom Search
U.S. Geo-Engineering Budget Exceeds Billions
Shepard Ambellas & Avalon
The Conspiracy Facts of Aerosol Geoengineering aka Chemtrails: A Multi-Billion Dollar a Year Global Business
February 20, 2010 (Early Release)
Geoengineering has now been defined as: "the deliberate large-scale manipulation of the planetary environment to counteract anthropogenic climate change." – The Royal Society 2009
Recently, the question has been asked, What In the World Are They Spraying? The documentary with the same name answers many of those questions. The question the world is now asking is "Who in the World Is Spraying Us?"
The World is Now Demanding Answers and Accountability…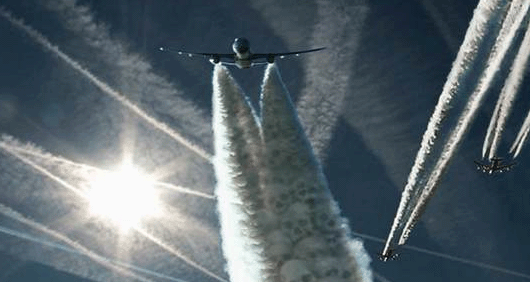 As an introduction to this article, we will first cover information to familiarize the uninformed readers as to the core facts and information so that a more complete understanding is possible, given this complex issue.
A recent report by CBS Atlanta detailed how some local citizens are outraged that such "crimes against humanity" are being carried out right before our eyes in secret.
In the report Sen. Johnny Isakson was interviewed on the subject of chemtrails saying quote:
"That is a theory that some people have, but there is no evidence this is happening. This is not happening."
It looks as if members of the government's upper echelon and even members of the Senate will go to extreme lengths to suppress this vital information from reaching the American people.
Not to mention they signed off on the multi-billion dollar per year budgets in an economic crisis, with little to no transparency to the public.
In regards to aerosol spraying into the earth's atmosphere, a recent update to data assembled by The Carnicom Institute reveals the chemicals used and their respective levels of concentration. The toxic levels that are being used in these aerosols goes beyond shocking – it would appear that these levels are indeed criminal by EPA Standards.
An Updated Look at Aerosol Toxins – Part 1

By Dr. Ilya Sandra Perlingieri –

Copyright © 2011 – All Rights Reserved

February 3, 2011

(Excerpt from Report)

A new preliminary draft report by ArizonaSkyWatch shows dramatic increases in heavy metals that simply do not belong in our air. NOTE: The level of Manganese is so shockingly high that ArizonaSkyWatch also included additional information about it (see below). This report will be posted online shortly.

This is only a preliminary overview of Arizona Air Particulates.

2010 Air Particulates

These figures indicate how many times they are over the allowable toxic limit:

Aluminum: 15.8

Antimony: 63.3

Arsenic: 418

Barium: 5.3

Cadmium: 6.0

Chromium: 6.4

Copper: 9.0

Iron: 43.5

Lead: 15.7

Manganese: 513.8

Nickel: 10.7

Zinc: 7.5

Additional Research & Videos are at the CaliforniaSkyWatch.com & the AgricultureDefenseCoalition.org.
Interestingly enough, Monsanto has just released an Aluminum Resistant Seed which is Genetically Modified to tolerate Aluminum in high levels in the soil. Is this a coincidence, or do they know something?
"Control oil and you control nations; control food and you control the people." – Henry Kissinger
See also: Henry Kissinger National Security Study Memorandum 200
"The common enemy of humanity is man. In searching for a new enemy to unite us, we came up with the idea that pollution, the threat of global warming, water shortages, famine and the like would fit the bill. All these dangers are caused by human intervention, and it is only through changed attitudes and behavior that they can be overcome. The real enemy then, is humanity itself." – Richard Haass- Club of Rome
Another famous quote;
When the people fear their government, there is tyranny; when the government fears the people, there is liberty. Whenever the people are well-informed, they can be trusted with their own government. - Thomas Jefferson
LINKS FOR CURRENT SOURCES
Fund for Innovative Climate and Energy Research (FICER)
Purpose
The Fund for Innovative Climate and Energy Research (FICER) exists to accelerate the innovative development and evaluation of science and technology to address carbon dioxide and other greenhouse gas emissions and their environmental consequences. The non-profit research fund focuses on early-stage innovative research where relatively small and timely grants can significantly advance understanding, especially of the viability and scalability of proposals to address global warming.
Funded research projects are intended to produce peer-reviewed scholarly articles in recognized professional scientific and technical journals. Any intellectual property that may be generated in the course of such research resides with the researchers or their institutions.
Grants for research are provided to the University of Calgary from gifts made by Mr. Bill Gates from his personal funds.
The activities of the Fund for Innovative Climate and Energy Research fall outside the scope of activities of the Bill & Melinda Gates Foundation. FICER is not a Foundation project and has no relationship with it.
The fund has supported research in a wide range of areas. Some examples include:
• understanding carbon dioxide emissions associated with international trade in goods and services;
• developing technologies to capture carbon dioxide out of the air; and
• climate modeling to understand possible environmental consequences of solar radiation management.
Report On GeoEngineering
A select group of diabolic oligarch globalists and their puppet cronies embedded within the United States government are now involved in what some would say are crimes against humanity. These tyrants will stop at nothing to usher their hush, hush global aerosol agenda into full swing.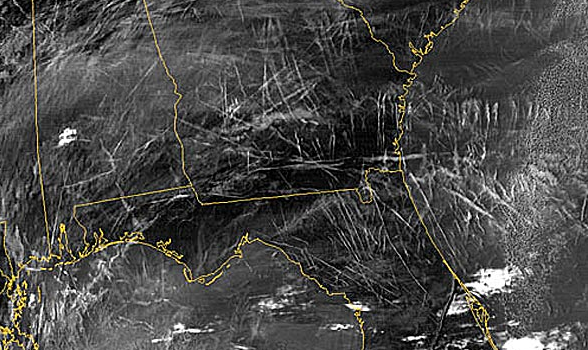 According to a report prepared for the Air Force titled "Weather as a Force Multiplier: Owning the WeatherBy 2025" the U.S. Air Force wants to fully control the weather on earth by the year 2025.
CONTINUE READING
theintelhubradio.com/2011/02/19/u-s-geoengineering-budget-exceeds-billions/
Feb. 22, 2011
Feb. 19, 2011