Custom Search
Mysterious giant hole in Siberia gradually filling up with water, expanding (PHOTOS)
RT
July 14, 2015
The mysterious hole-turned-lake in Siberia's Yamal peninsula has expanded to 50 meters in depth, Russian scientists said. Researchers have been puzzled by its origins saying it was likely caused by gas explosions.
The giant sinkhole located not far from Gazprom's Bovanenkovo gas field in Russia's northern Yamal Peninsula has been expanding, scientists said as cited by Yamal region TV. The researchers also discovered additional smaller craters appearing around it, the media said. The whole area is within Russia's key strategic oil and gas region – the Yamalo-Nenets Autonomous Okrug.
The crater, discovered last year, has been gradually filling up with water and turning into a lake. Over the past winter and spring the water level in the crater has risen by 10 meters and it will continue to rise, scientists said, according to the government website of the Yamal-Nenetsky region.
"I am very surprised by the size, it's very big!" Japanese reporter for Asahi Shimbun Terukhiko Nouse, who accompanied the science expedition, told local TV. "And the sound of the glacier melting…this sound amazes me."
*
*
*
*
*
*
*
*
*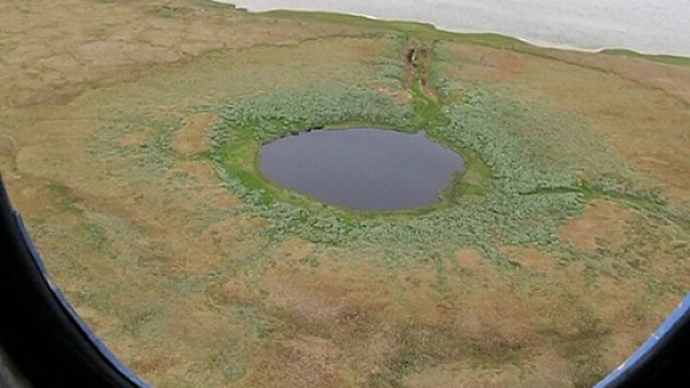 SEE ALL PHOTOS AND VIDEO
http://rt.com/news/273019-gian-hole-crater-siberia/