Custom Search
Kanata couple angered by city order to change veggie garden
cbc neWS
jULY L7, 2015
An Ottawa couple who maintain a small vegetable and herb garden next to the sidewalk in front of their home say they're saddened and frustrated after a bylaw officer gave them until July 30 to remove the wooden structures around it.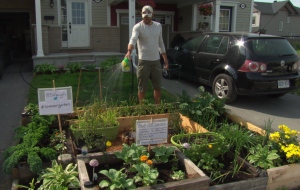 "It's just not going to happen. When they come on July 30 I'll sit on my garden and I won't move," said Will Needham, who tends the garden with Shannon Lough.
"Having spent 13 years in the military, and now I'm getting out and I'm growing a garden and doing my own thing, and I've served this country, and you're telling me I can't grow a little garden to feed myself? That's just not on."
The garden, built by Needham, sits in a wooden planter on their front lawn in the Kanata neighbourhood. It features strawberries, bok choy, lemongrass, peppers and other plants.
Specifically, the couple have been told to remove the planters from the garden to comply with the use and care of roads bylaw, which states that people can't build hard structures up to the curb.
"Somebody biking down the edge of the sidewalk, a young child or something, could be tripped with it being so close to the sidewalk," said Roger Chapman, the city's chief of bylaw enforcement.
Chapman said there have been people injured by structures built too close to the sidewalk but admitted it's rare and couldn't give an estimate of how often that has happened.
The distance people can build from the curb varies from street to street depending on a number of factors, he said, but in this case, it would be about three metres from the sidewalk.
Work could be done by city
In an emailed statement, the city said the rule exists for "public safety as well as implications for road maintenance work and associated equipment."
If the couple don't comply by July 30, the work could be done by the city at the couple's expense and a ticket could also be issued.
"The bylaw does not provide for an appeal process, nor is there such a requirement in the enabling legislation. The measure of road allowance varies from one property to another, depending on lot size and other factors," the city said.
The couple fear that by removing the wooden planters from the garden they could lose some of their harvest, on top of ending up with an unsightly brown patch where the garden currently sits.
"When I got the message I was kind of enraged. ... We've put a lot of time and effort into it and it's kind of been like a therapy garden. You come home, you look after it, you tend to it, you clear your mind," Lough said.
"If the city really needs to use this space for any purpose, fine, they can use it. But right now they don't need to and there's no emergency, so [let us] keep our garden. There's no reason to get rid of it."
The couple say they've contacted their councillor and hope they'll be able to keep the garden.
SEE VIDEO
http://www.cbc.ca/news/canada/ottawa/kanata-couple-angered-by-city-order-to-change-veggie-garden-1.3141354