Custom Search
Hulk Hogan Apologizes To The World After His 'N-Word Rant'
The Unhuved Mind
Sept. 1, 2015
Hulk Hogan Apologises To The World After His 'N-Word Rant'
BY : ALEX WATT | 31 AUGUST 2015
http://www.unilad.co.uk/video/hulk-hogan-apologises-to-the-world-after-his-n-word-rant/
A tearful Hulk Hogan finally broke his silence this morning on the racism row which has seen him fired from WWE and all but erased from pro-wrestling history.
The 62-year-old Hogan, one of the biggest (if not the biggest) star in the history of WWE, told Good Morning America that he's now at an all time low after footage was leaked of him ranting about his daughter Brooke dating a black man, in which he frequently used the n-word.
The 12-time world champion pleaded for forgiveness in the interview, from both the general public and from his daughter, for the racist tirade. Hogan, real-name Terry Bollea, even broke down in tears at the mention of his daughter's role in the controversy.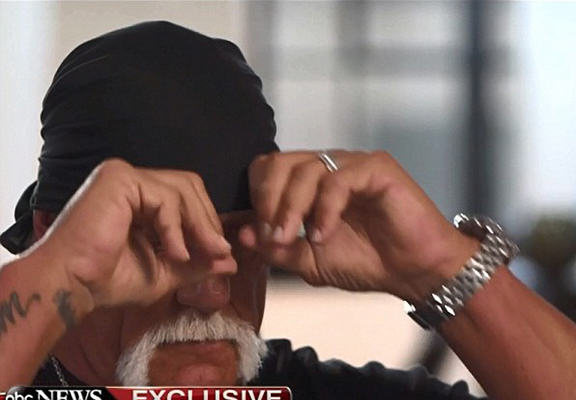 Hogan then went on to blame his upbringing in a rough Tampa, Florida neighbourhood for the language he used.
He said:
I'm not a racist, I never should have said what I said. It was wrong. I'm embarrassed by it.
A lot of people need to realize that you inherit things from your environment. And where I grew up, Port Tampa, was a really rough neighbourhood, very low income. And all my friends, we greeted each other saying that word. The word was just thrown around like it was nothing. I think that was part of the culture and the environment I grew up in.
Hogan also claimed he was left suicidal by the fallout from the scandal, which resulted in the termination of his contract with World Wrestling Entertainment and his removal from the company's Hall of Fame.
He added:
I was completely broken and destroyed and said, 'What's the easiest way out of this?' I mean, I was lost. I've worked for the WWE for almost 30 years off and on, and then all of a sudden, everything I've done my whole career and my whole life was like it never happened.
Just because a person makes a mistake, just don't throw them away. You don't throw good people away. People get better every day.
Hogan is currently seeking $100 million (£65m) from Gawker for posting part of the sex tape featuring him and Heather Cole, the ex-wife of Hogan's one-time friend and radio show host Bubba the Love Sponge, believed to have been recorded in 2006 or 2007. Hogan's racial slurs were caught on camera in the full video.
SEE VIDEO
http://theunhivedmind.com/wordpress3/hulk-hogan-apologises-to-the-world-after-his-n-word-rant/#comment-5212
· theunhivedmind
Notice the timing of all this is right in line with the George Soros and Zionist attempts to instigate a race war in the United States to either bring down harse post-democratic actions on Americans or as a cover-up of a US Treasury economic failure. I wouldn't be surprised if Obama is assassinated at some point to make sure two birds are killed with one stone, meaning no more nuisance to Israel along with a race war.
The WWE will remove Hogan from their organization and history just over the sex tape alone and they've done this with Joan Marie Laurer (Chyna). You must understand that the WWE gets a large base of its viewers and followers from gullible children as well as braindead semi-adults. The WWE has to watch it's back with the parental guidance ratings so don't expect to see Hogan back in the line up soon. Hogan is a very childish man a bit like David Hasselhoff and they both don't know when to quit being stupid. If you want to know more about Hogan then check out what the Ultimate Warrior had to say in his personal youtube videos. Also make a note of what the Warrior's widow has to say about Hogan.
☆´¨)
.·´ ¸.·★¨) ¸.·☆¨)
★(¸.·´ (¸.*´ ¸.·´
`·-☆ The Unhived Mind
http://nypost.com/2014/08/17/ultimate-warriors-widow-slams-hulk-hogan-for-interview/