Custom Search
Mall Traffic Surges as Incomes Rise and Americans Go on Shopping Spree
Tom Ozimek
4-30-21
Shoppers returned to malls in droves in March, boosted by a sharp rise in personal income and a strong boost in consumer spending, reinforcing the view that a recovery in the pandemic-stricken retail sector is building steam.
Foot traffic at a sample of 50 malls in March was up 86 percent from the same month last year, according to mobile-device location data from analytics firm Placer.ai.
Ethan Chernofsky, VP of Marketing at Placer.ai, told The Epoch Times in an emailed statement that, "we're already seeing the signs of a clear retail recovery."
"Visits to retailers, restaurants, malls, and more are all on the rise, but the recovery is still likely to have peaks and valleys. Weather, seasonality, and dips in tourism and business travel still matter. Yet, so long as COVID's effects continue to dissipate, there is a growing confidence that retail could reach 'normal' levels within the coming months," Chernofsky said.
A separate report from Placer.ai showed that the percentage of weekend visits to retail establishments, including malls, rose for the third quarter in a row, with a quarter-over-quarter jump of 10 percent. It concluded that "one of the most significant trends in Q1 retail was signs that normal shopping patterns were returning."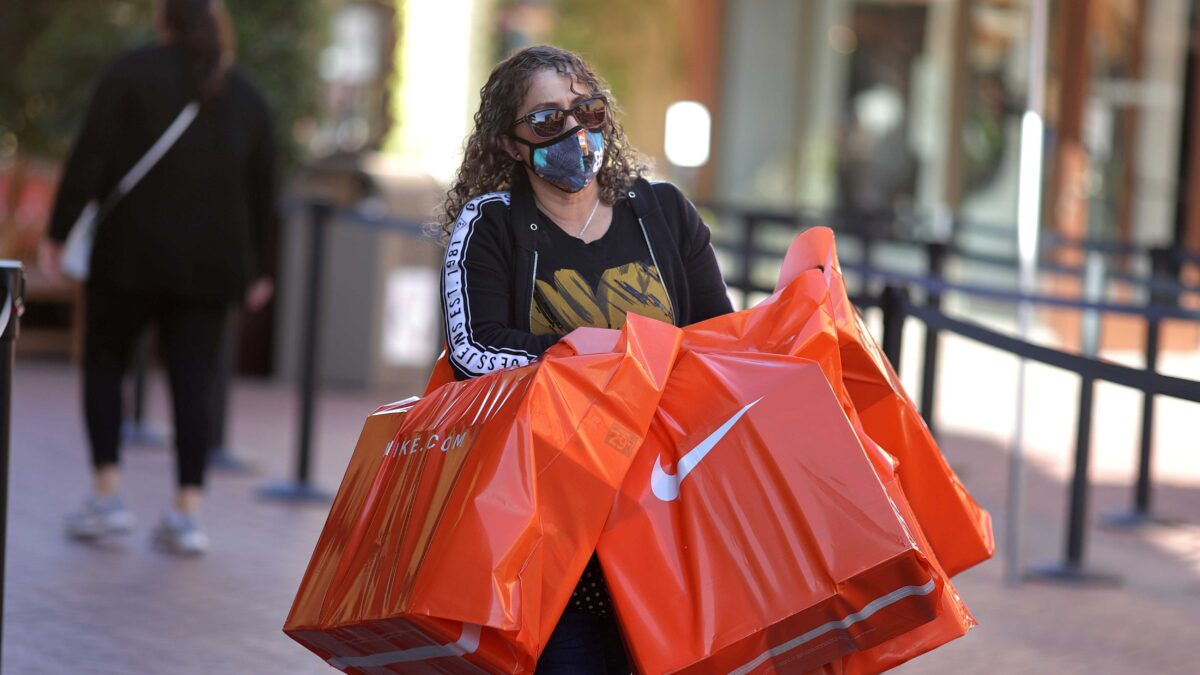 The fate of the retail recovery was clouded by earlier economic data showing U.S. consumer spending falling by the most in 10 months in February as a cold snap gripped many parts of the country and the boost from a second round of stimulus checks faded. But a Friday morning release from the Commerce Department's Bureau of Economic Analysis (BEA) went a considerable way towards dispelling those clouds, showing personal consumption expenditures (PCE) in March saw a sharp boost of $616.0 billion (4.2 percent).
Personal income, meanwhile, increased $4.21 trillion (21.1 percent) in March, after retreating by 7 percent in February. The Commerce Department noted, however, that rises in personal income over the past 13 months primarily reflected changes in government social benefits, suggesting that the spending boost may be short-lived. The stimulus checks associated with the most recent pandemic relief package, the American Rescue Plan, were distributed in March.
A separate BEA report on Thursday showed that consumer spending, which accounts for around two-thirds of the economy, surged by an annualized 10.7 percent in the first quarter of this year—the second-biggest jump since the 1960s. Only the stimulus-fueled spending frenzy of the third quarter of 2020 was higher. Spending on durable goods like appliances and other long-lasting purchases surged by 41.4 percent in the first quarter, while spending on services, which had been the missing link in the economic recovery, grew by 4.6 percent.
Friday's BEA report drew a comparison between consumer spending in March and in February 2020, the last pre-pandemic month of economic activity. It showed spending for goods in March was 19 percent above the February 2020 level, with notable increases in categories like motor vehicles and parts, recreational goods and vehicles (led by information processing equipment), and furnishings and durable household equipment.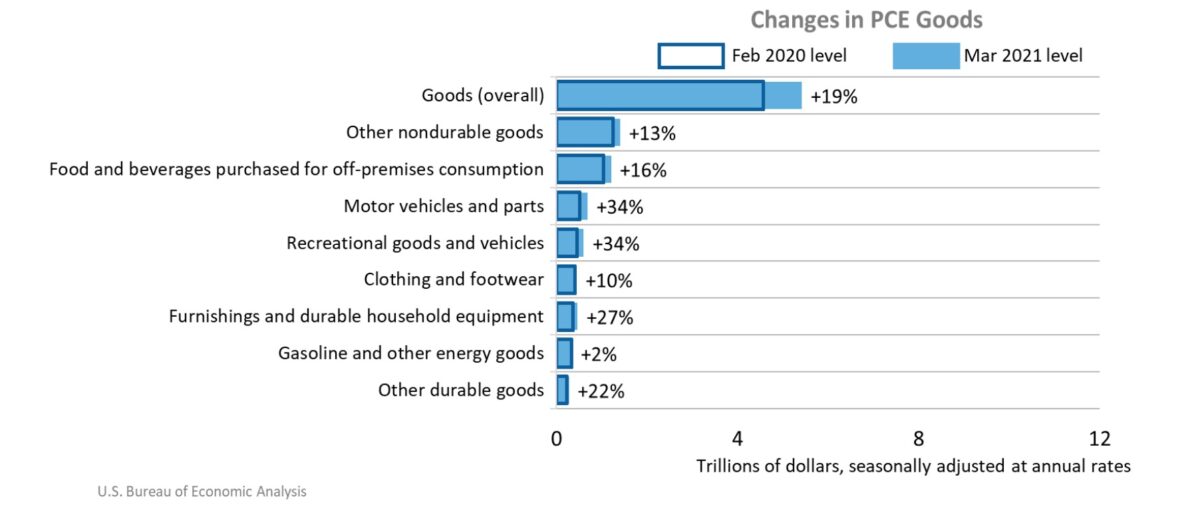 Services still lag, however, down by 3 percent in March compared to February 2020. Categories with notable decreases included recreation, transportation, as well as food and accommodation services, reflecting capacity limits and outright closures imposed amid the pandemic.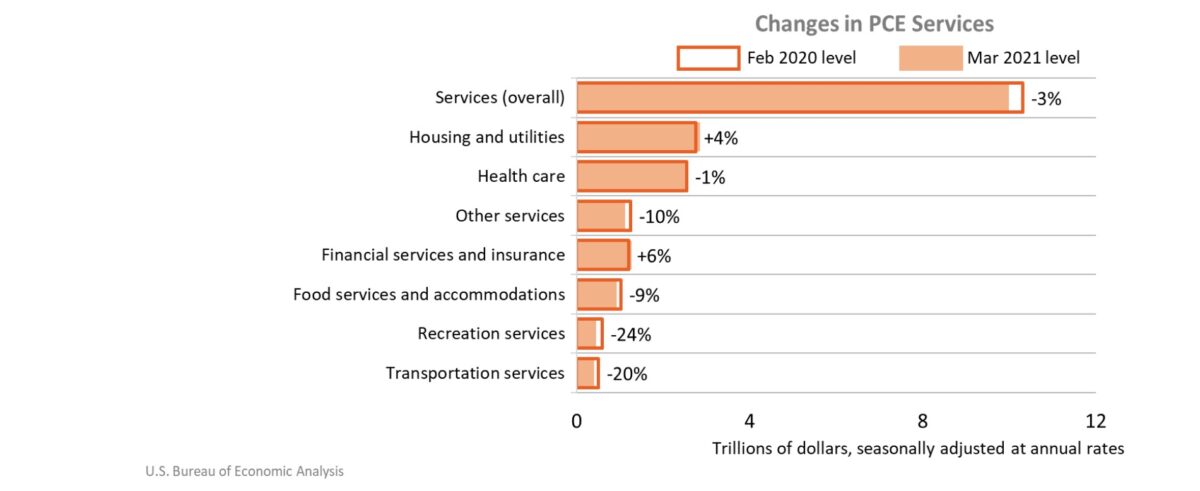 U.S. economic growth accelerated sharply in the first quarter, fueled by the rush of consumer spending, the BEA's Thursday release showed.
Gross domestic product expanded at a 6.4 percent annualized rate in the first quarter, following a softer 4.3 percent pace in the fourth quarter. That's the second-fastest pace of GDP growth since 2003.
The rapidly accelerating growth could revive fears about the economy overheating. The Federal Reserve on Wednesday acknowledged the burgeoning domestic activity, but the U.S. central bank gave no sign it was ready to reduce its extraordinary support for the recovery.
The booming economy could also erode support among moderate Democrats for Biden's economic agenda, which carries a hefty price tag. Biden on Wednesday unveiled a sweeping $1.8 trillion package for families and education in his first joint speech to Congress. Republicans oppose more stimulus, worried about swelling debt and expanding government footprint on the economy and lives of Americans. The new package and an earlier infrastructure and jobs plan total around $4 trillion, rivaling the annual federal budget.
"The second quarter will be hotter, people have money to spend as they are able to go shopping and traveling again," said Sung Won Sohn, a finance and economics professor at Loyola Marymount University in Los Angeles. "Production is being ramped up to rebuild inventories. President Biden and (Fed) Chairman (Jerome) Powell, do we need all the stimuli?"
Reuters contributed to this report.
https://www.theepochtimes.com/mall-traffic-surges-as-incomes-rise-and-americans-go-on-shopping-spree_3797412.html