Custom Search
SEARS HOLDINGS: THE DISASTER WILL NOT ABATE
Sean Weston
NOv. 14, 2014
Summary
The demise of Sears seems quite inevitable at this point.
Creative and controversial maneuvers by Eddie Lampert are being used to address liquidity issues.
The core business of Sears is shot, and the valuable assets in real estate are being sold frequently.
I do not trust management, which has been so profound in destroying the value of this company, to now be able to realize value of significance for shareholders.
The numbers for Sears Holdings (NASDAQ:SHLD) are a disaster. After squeaking out a profit in 2010 and 2011, profits for the company appear to have gone the way of the dodo. Eddie Lampert, who is chairman and CEO of the company is a fascinating individual. His Ayn Rand inspired philosophy has been the subject of numerous interesting articles, and has been pointed to as a significant contributor to the company's downfall.
Operating losses have gotten so bad that Sears has been forced to resort to divesting valuable assets such as Land's End (NASDAQ:LE), as well as numerous pieces of real estate. The obvious question to ask at this point is whether or not Sears has the capability to ever return to being a profitable company. I certainly don't think so, and I would guess Eddie Lampert does not think so as well.
Back on September 15th Sears struck an agreement with JPP LLC and JPP 2 LLC, which are both affiliated with Lampert's hedge fund, ESL Investments. As Lampert is the majority shareholder and CEO of Sears, this arrangement is rather atypical, although there is nothing illegal about it.
The basic terms of the $400 million loan are:
5% annual interest. The loan matures 12/31/14, although it can be extended to 2/28/15 with a .5% extension fee.
1.75% origination fee.
The loan is secured by a first priority lien on 25 real estate properties.
Sears has not failed to pay any of its debt yet, but with credit ratings of CC, which means a default of some kind is probably on its way, belief that payments will continue is far from universal. Cash on the balance sheet stood at $330 million at the end of the third quarter. It was $839 million at the end of the second quarter.
Some investors have interpreted this news as Lampert acquiescing to the fact that the company can't be saved and is now looking to limit his own personal damage to the situation. Some other investors disagree with this, asking why Lampert would risk his reputation to potentially trade $400 million in loans for 25 real estate properties.
Two important comments I have in regard to the latter point:
Mr. Lampert is already making lists as the worst CEO in existence. He can't move further down the list, there is nowhere to go.
Dividing the $400 million by the 25 properties gives you $16 million a property. In recent years Sears has been selling its stores to other retailers and investors at $20 to $50 million. The $16 million appears to be a steep discount. So(assuming the loan ends in December), Lampert either gets about $10 million in interest or 25 properties that could easily be worth $500 million or more.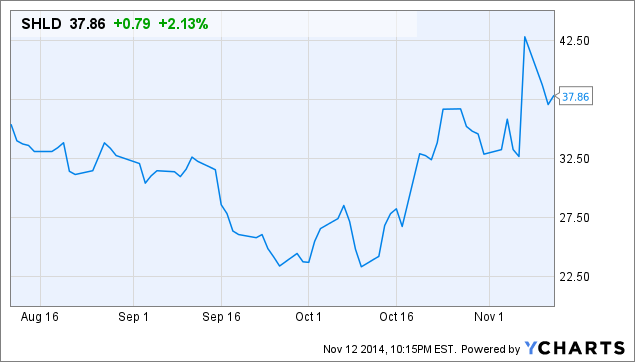 SHLD data by YCharts
Shares recently enjoyed a substantial increase in price after Sears stated it was considering a sale-leaseback deal for up to 300 of its stores, in which the stores would be sold to a REIT. Current owners would be issued rights to purchase the REIT, and liquidity would be enhanced at Sears. Lampert would be an investor in the REIT. Prior to this, rights offerings, unsecured loans and equity warrants have all been used, with Lampert and his fund heavily involved. Ultimately, Lampert finds himself pretty trapped in this, but other investors don't have to be.
This company is bleeding money. There is value in it, as the assets may be enough for holders of the debt, but it most likely is not promising for equity holders at this point. Lampert has done an epically horrible job at running this company. Shareholders should not get their hopes up that the man who has destroyed so much value for the company in recent years is now going to realize substantial value out of it which benefits them. Succeeding as a retailer is a moot point, and net assets that bulls base the value of the stock on is shrinking every month. The more protracted what looks like the inevitable demise takes, with Lampert taking opportunistic actions that don't look to be in the best interest of shareholders, the worse things will get.