Custom Search
HOLMES CRITIQUE AND THREAD...
Dick Eastman/ John R. Prukop
July 26, 2012
The real James Holmes has been abducted (compare photos) to force FICO crime scientist Robert Holmes to not testify in LIBOR scandal -- his expertise as scienfiic director at FICO investigating fraud by statistical patterns and expert in credit scoring analysis .
(SCROLL DOWN)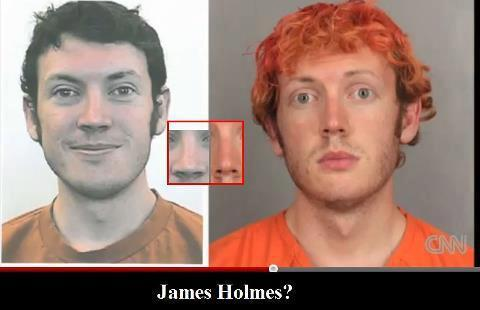 The real James Holmes is on the right. This imposter is on assignment and somehow has been assured of protection and is a pure sociopath earning a buck. The real James Holmes has been taken and his parents, of course, know it. James' father is a mathematician/statistician who works for FICO which scores our credit using among other things the inter-bank interest rate set by LIBOR. FICO is the eyes, the intelligence of lenders in discriminating among potential borrowers as risks. James Holmes was the lead developer of FICO's fraud manager system for financial institutions. The LIBOR scandal which involves the biggest and most powerful merchant banking houses in the City of London is in the midst of the biggest fraud scandal in history. Here is money and motive enough to make conceivable a black-operation on the scale of the James Holmes frameup.
The bankers are major criminals and have been for sometime. They are criminals with trillions at their disposal. They control all strategic institutions of probably all major governments or are working towards that end. They need to know that no man in law enforcement or fraud detection can harm them, and so they have prepared means of intervening to prevent -- by murder, blackmail, intimidation, bribery or psychological manipulation by methods developed in secret by the former Soviet Union, China, Israel and the officially denied equally unrestrained CIA and also mercenary intelligence and espionage services retained by high financial organized crime. What I am driving at is that operations like this may be on stand-by for any fraud investigator or honest politician or financial expert the banks legitimately employ. James Holmes may have been targeted early as the handle by which to control Robert Holmes if that is necessary.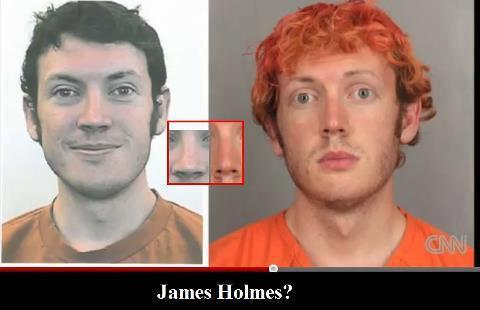 Robert Holmes knows which of these to is his son and which is not.
Not only is the arm of the international banking crime syndicate (the "Jewish Mafia") able to reach out and stop investigating statistician-mathematician -operations-analysis fraud investigators like Robert Holmes - they are also, very easily, able to keep police and defense attorneys from following the right lines of evidence. The resources to intimidate or bribe or otherwise control person after person to prevent an outcome or to force an outcome certainly exists, certainly is part of the defensive equipment of the most powerful ciminal syndicate the world has seen.
The only defense the people have against the banking crime families is for the public to spread the word and all as one speak with a unified voice of public opinion. But of course the bankers can thwart that, as they have with 9-11, with the economic depression, with countless other crimes too big and too amazing even to believe when they are all listed on one page. (for example, weaponized weather modification and the ability to take control of planes in flight and crash them).
Below are my notes sent to you before -- I have put them together. I ask that you - one way or another - make the facts of Robert Holme's links to FICO and the LIBOR scandal known. The fact that the prisoner in the Aurora shooting is not James Holmes. That a crime this elaborate and expensive could only be performed in the interests of the most powerful people on the planet -- and they are the international bankers to whom this one country owe 14 trillion dollars -- a good portion of which figure was determined by fraudulent manipulations of the LIBOR (inter-bank exchange rate) which has been set to favor the bankers rather than to reflect currently obtaining lending market conditions as it is represented as doing. This crime could spell the end of the international bankers -- and that is why they went to such lengths to kidnap James Holmes and substitute this mass-murdering imposter in his place -- and who we may shortly be hearing killed himself -- I can't see how they can let him go on public trial, or appear with his hair dyed back to its original color.
See the previous letters below - which discuss how this crime most likely was carried out.
Dick Eastman
Yakiama, Washington
---
From: Dick Eastman
Sent: Wednesday, July 25, 2012 7:31 PM
Subject: James Holmes father is senior scientist with FICO investigating fraud and credit scoring - WHICH INVOLVES HIM AND JAMES IN LIBOR SCANDAL -- sent notebook to psychiatrist detailing with drawings his plans for his attack -
I am sending this note page -- important
1. Holmes father:
Robert went on to earn a bachelor's degree in mathematics at Stanford, a master's in biostatistics at UCLA, and a doctorate in statistics at the University of California at Berkeley in 1981. His doctoral thesis was titled "Contributions to the Theory of Parametric Estimation in Randomly Censored Data." He subsequently authored studies for the Navy and the Marine Corps on how to forecast personnel changes using something called "tree classifications," the trees in question being statistical. Eventually, reports say, he signed on as a low-six-figure-a-year senior scientist with FICO, which produces management systems, fraud protection, and credit scores
The amount of debt a person has represented is around 30% of their FICO score which means that the LIBOR (setting of the inter-bank lending rate - which has been fraudulently manipulated endangering big banks) rate has a direct affect on FICO scores and that Robert Holmes has at least some degree of connection to the LIBOR scandal.
Having his son - definitely the victim of a psychological "black-op" by some governmental or powerful secret organized crime arm of the international banking community.
The fact that James Holmes sent his shooting attack plan to a psychiatrist shows that the psychiatrist was a significant factor in his life, the one to whom he looked for recognition or approval or attention for his act. It is said that James Holmes was affected by failing a critical exam - but this too can be a manipulated variable, used among other controlling variables to produce the desired criminal response.
Law enforcement will ignore this possibility. Everything they say shows that they are locked on the assumption that Holmes acted on his own, with only the question of whether his mental state was such that it was volunatry or involuntary -- whether he was sick and therefore irresponsible or deliberate and simply hate and resentment motivated and therefore guilty of premediatated murder. THE POSSIBILITY OF OF SOMEONE ELSE INVOLVED IN DELIBERATELY MOTIVATING JAMES HOLMES TO COMMIT THIS CRIME IS NOT BEING LOOKED AT.
The notebook was mailed to the professor and sat unopened in a mail room for as long as a week before it was found Monday, the report stated. At first University the University declined to comment. However, since the story broke on network television a spokeswoman for the University of Colorado Anschutz Medical Campus has denied that the package was delivered earlier.
This is my view. I am confident of my conclusions, on the strength of my informed suspicions. However I am not going to call the Aurora police and certainly not Homeland Security. They are not doing the right thing and they would not listen to someone in Yakima telling them that this case involves multiple individuals who have targeted a FICO criminal and credit science analyist who definitely would have incriminating things to say in the LIBOR banking scandal, which is a gigantic scandal which has been long enough in the making to actually have given enough time for the James Holmes operation to have been conceived and executed. I have already mentioned how James Holme's deep involvement in online role playing games gave the vehicle for conditioning the shooting attack performance - especially when he was under the clinical care of a psychiatrist who also maintained more continuous contact as a neuro-science medical student.
2. I said that Holmes could not have committed this crime -- psychologically could not have committed it -- without specific human support. The fact that Holmes has sent his report of the crime to a psychiatrist, shows that this psychiatrist was the significant observer/audience in his actions, the one Holme's saw himself accountable to, the one from whom he was seeking "social reinforcement" -- attention, approval, recognition etc.
It is clear from reports that the psychiatrist did not turn in this notebook that was sent to him. It is also clear that the envelope containing the notebook was located by investigators of the crime, not by anyone connected with the Anshutz Medical Campus.
the grandson of a decorated military veteran who was a respected educator at prestigious York School in Monterey. ... ..
He was one of the first Turkish language students at the Army Language School, now the Defense Language Institute, graduating in 1948, a school spokesman confirmed Friday.
After his military retirement, Holmes taught math and science at York School for 17 years. He died in 1990....
Online records show his parents, Robert and Arlene Holmes of San Diego, may have lived in Oak Hills in North Monterey County in the late 1980s and 1990s
I do not know which psychiatrist received the letter -- here are some possibilities
Dr. Lynne Fenton - secialty Physical Medicine and Rehabilitation Educated University of Chicago Medical School ranked 13 out of 144 in research quality by US News & World Report
Dr. Lynne L Fenton, MD is a female with 22 years of medical experience and practices in Physical Medicine & Rehabilitation and Psychiatry. University of Colorado Hospital
12605 E 16th Ave
Aurora, CO
James Holmes sent notebook to psychiatrist detailing with drawings his plans for his attack - James Holmes sent notebook to psychiatrist detailing with drawings his plans for his attack. At first the report was that the notebook lay in the University of Colorado mailroom for a week, delivered 8 days before the shooting attack, but now that story is being contradicted by an spokeswoman for the Anshutz Medical Campus.
Lynne Fenton, MD
Clinical Activities:
Medical Director, Student Mental Health Service, University of Colorado Denver, Anschutz Medical Campus, 2009 – present medication and psychotherapy for 15-20 graduate students per week coordination of team of four mental health clinicians supervision of R4 and R3 residents who treat student lectures, outreach to students, administrators and faculty Grants and Contracts:
Reward Processing in Schizophrenia: the Effects of Aripiprazole and Risperidone, 2008-present
A functional MRI investigation
False Pattern Recognition in Schizophrenia, 2009 - present
Involvement of the dopaminergic reward system.
Functional MRI Correlates of Overeating in Schizophrenia Treated with Olanzapine, 2009 - present
Associate Investigator Award, Department of Veterans Affairs, Schizophrenia Research Department, 2008-2010
Psychiatrist, 5-10 general psychiatry patients, medication and psychotherapy, 2008 - present
Associate Investigator Award for training in research from the Department of Veterans Affairs, 2008-2011
PRITE Award, 2006, 2007
Medal of Commendation, United States Air Force, 1993
Scholl Fellowship Award for research in Physical Medicine and Rehabilitation, 1990
Robert D. Davies, MD
1999-present Associate Director, Medical Student Education, Department of Psychiatry, University of Colorado School of Medicine, Denver, CO
2005-present Associate Professor, Department of Psychiatry, UCDHSC, Denver, CO
2006-present Associate Director, Psychiatry Residency Training Program, University of Colorado School of Medicine, Denver, CO
1989 Lamport Foundation Research Prize, Department of Psychiatry, University of Colorado School of Medicine
1998 Teacher of the Year, Department of Psychiatry, MCP♦Hahnemann School of Medicine, Allegheny Campus, Pittsburgh, PA
1998-2005 Assistant Professor, Department of Psychiatry, University of Colorado School of Medicine, Denver, CO
1998-2004 Director, Anxiety Disorders Clinic, University of Colorado at Denver & Health Sciences Center, Denver, CO
Robert Feinstein, MD Practice Director, Psychiatry Outpatient Department, University of Colorado Hospital, 2005-present Practice Director - I have spent 25 year training in many different forms of psychotherapy including psychodynamic psychotherapy, cognitive behavioral therapy, family therapy, group psychotherapy, motivation interviewing, and psychoanalysis. Psychiatry Outpatient Department, Clinical Case Conference (semi annually), 2005-present
Head of 6 Course Track, Psychodynamic Psychotherapy Track Psychiatry Residency Training, 2007-present
Lecturer, Violence Prevention, (2 sessions) PGY 3 and PGY 2 & 3, 2009 Dec.
Course: Outpatient Psychiatry PGY-3 (2-4 sessions variable),
Feinstein RE, "Personality Traits and Disorders In (Eds)," Blumenfield M, Strain J, Psychosomatic Medicine, Chapter 46 pp. 843-865, Lippincott/Williams Wilkins, Philadelphia 2006
Feinstein RE, Rothberg B, Weiner N, Savin D, "University of Colorado Evidence Based Medicine Project," Academic Psychiatry, 32:6 November-December 2008 pp 526-530
This cutting-edge health care campus fosters collaboration among students, researchers and clinicians.
The University of Colorado Hospital Outpatient Psychiatry Service offers a wide range of high-quality mental health services to patients as well as support for their families. Our programs utilize the world class expertise of the Department of Psychiatry faculty and residents and our partnership with medical specialists from the University of Colorado School of Medicine.
We are deeply committed to the care of adults, adolescents, children and families. Our missions are patient care, education, research and community service.
Some reports say the notebook was found as the result of a police search, others say it was "only discovered by chance" after the attack
The notebook was mailed to the professor and sat unopened in a mail room for as long as a week before it was found Monday, the report stated. At first University the University declined to comment. However, since the story broke on network television a spokeswoman for the University of Colorado Anschutz Medical Campus has denied that the package was delivered earlier. She said the Fox News report was inaccurate.
"Officials at the University of Colorado Anschutz Medical Campus can confirm that the suspicious package discovered at the Facilities Services building on Monday, July 23, 2012, was delivered to the campus by the United States Postal Service that same day, immediately investigated and turned over to authorities within hours of delivery. There has been no explanation of where the idea came from that the Holme's notebook had been delivered earlier.
Speaking generally about campus mail processing, university spokeswoman Montgomery said earlier the U.S. Postal Service mail comes to a central campus mail center and is delivered to the addressed recipient on the same day. The university's mail service is not open on Saturdays, so U.S. mail delivered on the weekend would not be sorted and delivered on campus until Monday, Montgomery said.
Holmes as a counselor at Camp Max Strauss of Jewish Big Brothers and Sisters of Los Angeles, a counselor at the "Brain Camp" the research I had in an essay was just erased --
Israel is the leading nation in organ transplants. They also are a center for the sex slaver trade. Both boys and girls are often sent to Israel for what they think are jobs from the Ukraine and other former Soviet Union republics. I have written before of the body organ black market run by Israelis in Guatamalia in 1989 - which was discovered by a UN agency and in world media but then everywhere retracted -- after what pressure or inducement was brought to bear? -- with the story that jewish families were raising these goyim gentile orphans in Guatamala and sent ot Israel for Jewish married couples to adopt. Part of sex slavery is putting the captured slave in the right frame of mind to be marketable. Thus there is demand for the behavioral technologies that Israel is noted for. Many Russian Jews in Israel were trained at the Pavlov Institute. The Soviet Block nations were experimenting with behavior control techniques as far back as the Korean War where American soldiers were subjects of weaponized conditioning techniques. The research to perfect techniques of behavior control for black ops has never stopped. Every major power with a strong academic behavior psychology establishment has done secret defense work. The techniques developed are also used in industrial espionage. etc.
The purpose of Black Ops is to make the enemy do something that is not in their best interest to do. It is also to blame an enemy for something that really was something made to happen by the black-operation itself.
To have the people insist on the government imposing a police state and taking away the freedoms they previously enjoyed, what is necessary is to fill them with fear of themselves, to create scary experiences tailored to create the demand for protective cancelling of someone's or everyone's rights. The false-flag operation is such a black op.
Better than infiltrating an agent is to capture control of a person the people already trust.
James Holmes was a non-Jew counselor at a camp run by Jewish Big Brothers and Sisters - which is open to poor gentiles who are given scholarships and the name of the program at his camp, at the Jew owned campsite, camp Max Straus, is "Braincamp."
Colorado Shooter Was Camp Counselor for Jewish Big Brothers and Sisters
By: Tibbi Singer
James Holmes, the Colorado graduate student who is suspected of killing 12 moviegoers and wounding 58 others on Friday during the premiere of "The Dark Knight Rises," worked as a camp counselor in Los Angeles County in 2008 that was run by Jewish Big Brothers and Sisters (JBBBS), the group's CEO told NBC4 on Saturday.
James Holmes, 24, worked as cabin counselor at Camp Max Straus in the summer of 2008, according to Randy Schwab, the CEO of Jewish Big Brothers Big Sisters.
Schwab's statement read: "It is with shock and sorrow that we learned of the incident in Aurora. Our hearts and prayers go out to all the families and friends of those involved in this horrible tragedy. On behalf of Camp Max Straus I want to offer our deepest sympathies and condolences."
Schwab said that, as cabin counselor, Holmes was in charge of the care and guidance of about 10 children. His role was to ensure that the children had a "wonderful camp experience."
According to Schwab, Holmes helped the children in his care "learn confidence, self esteem and how to work in small teams to effect positive outcomes."
His statement continued: "These skills are learned through activities such as archery, horseback riding, swimming, art, sports and high ropes course."
Camp Max Straus is a nonsectarian program for children ages 7-14, which is run by Jewish Big Brothers and Big Sisters of Los Angeles.
Holmes is not Jewish.
Tibbi Singer is a veteran contributor to publications such as Israel Shelanu and the US supplement of Yedioth. Invite Tibbi to visit your blog.
"Think about it? James Holmes was unemployed, but spent tens of thousands to acquire weapons, body armor & explosives. act was well-calculated. His behavior doesn't add up."
Holmes was carefully brought to the psycho-physiological state he was in by a program that built the repertoire with the on-line computer games he played which were monitored and programmed to evaluate behavior, shape behaviors, reinforce behaviors (make them conditioned reinforcers of sufficient strength to over-ride other behaviors -- at the same time, the role-playing games maintained contingencies of reinforcement -- and extinction and anchoring (Tvarsky) - conditioning respondants (emotional responses) and operants - and stimulus control to elicit the respondants and signal occasions for reinforcment of the operants -- while testing the strenth of success and recording progress for the behavior programmer -- all while Holmes "played" the enjoyable game. He was targeted by someone as a likely subject. He was identified and then he found he was accepted to the neurological sciences program -- where he was monitored and his predispositions modified without his knowing it -- although at some point someone had to meet with him personally who with real human attention, approval or other incentives (depending on the hooks used) got Holmes behavior up the the strenght and reliability -- all tested in various ways during the treatment -- until he was ready for the job. I speculate that the setting of the booby trap was a test to see if he was ready for the big event. The operation may have been conceived years ago, and it must be part of a much bigger operation -- as was 9-11 -- that is tied to many things. There may have been others conditioned as was James Holmes as backup, in case something happened to one particular subject they would have another.
How likely is it that someone would conceive on his own such a plot without those around him, those closest to him,seeing the abberations that would be necessary manifesting in many ways before hand. That is unbelievable. Rather those closest to him were working to produce a person primed to do what James Holmes did.
Let the defense phone me -- I will give them the names of top psychologists in the country who will verify, not my conclusions, but rather every claim in my argument of what can be done with conditioning -- using the very powerful techniques of Daniel Kahneman Amos Tversky that gains control of how people frame the decisons they make - a type of conditioning, known as anchoring, that controls the criterion by which an individual will make a decision, such as to go or not to go and shoot people in a movie theater. Their very selection of alternative courses of actions is pre-determined by a proceedure that "anchors" choice to a criterion -- a criterion that has been conditioned previously to gain prepotence over all other considerations in the question.
I have seen demonstrations of anchoring, the procedures developed by Kahneman and I know that these have been perfected at Bar Ilan universisty where Mossad psychological warfare researchers are centered.
I have no doubt that James Holmes could not have done what he did without lots of "help." He allowed himself to be modified because to him it was all computer game recreation. If I were the director of Homeland Security or the FBI I would check every game that Holmes played. I would hunt down everyone with whom he may have discussed the games he was playing. I would not trust those who worked closely with him over the last few years without checking independenly all their claims. I would look into their backgrounds. I would also study the major media and look at how they are using the James Holmes case - the spin they are giving it. I would pay close attention to what Obama is selling when he makes his speech in Colorado. (A president should have called the families and left it at that. But his mass-muder is being used to further an agenda. And I know, if you deny it or not, that this administration like the last is closely connected to the 9-11 false-flag operation -- the Oaklahoma City Bombing and other shootings, bombings, plane crashes and economic crises etc.
What course do I recommend -- that the entire human race all at once start insisting in unison, well in each language, that we know their crimes and that they no longer have any human cooperation, no longer have any economic or legal control -- that the human race suspends all of the power of the great international Money Power once and for all. For once the people who keep their mouths shut and do what they are told, won't do that any more. The power of the ROthschild, ROckefellers and all of their mafias and ruling elite criminals around the world is no more. They no longer own the billions of acres, nor the bonds, nor the futures contracts nor the commodities or corporations or anything else. Their assets will be nationalized as soon as the last of their puppets has signed his resignation.
Let me anchor you on that criterion of "fixing the problem."
Items
1. Holmes was in the ideal environment for being subjected to carefully supervised stealth conditioning proceedures.
by Dick Eastman
Bare with me -- there is something important about this killer and about applied behavioral psychology that needs to be considered.
I visit my 92 year old mother every day and she usually has Fox news on. At any rate, I saw how Fox was treating the Colorado movie house shooting. They had this female judge as a reporter asking a victim shot in the next what he thought should be done with Holmes. Then they had a former prosecutor turned guest news commentator on saying how that Holmes set up the booby trape that he must have known what he was doing and been very sane and pre-mediated. Then I heard that President Obama was comint to Colorado to speak on the issue (in my view a President would never do that in an election year -- he would quietly call the family and never announce that he had done so) and then they had the local police chief saying how he hopes Holmes gets what's coming to him, not only for shooting people at the theatre but also for setting up a trap to kill the police officer who first opened the door the apartment. They talk about the act being pre-meditated -- that it could not be temporary insanity - that it had to have been a choice of the individual etc. THESE IS ABSOLUTELY NO RECOGNITION OF THE FACT THAT ENVIRONMENTS AFFECT BEHAVIOR AND SPECIFICALLY THAT PEOPLE WITH A POLITICAL AGENDA CAN USE EXISTING TECHNOLOGY OF BEHAVIOR CONTROL -- WITHOUT OPENING THE SUBJECTS BRAIN AND WITHOUT FEEDING HIM DRUGS -- TO CONDITION / TEACH / ADDICT / HOOK A PERSON TO DO EVEN SUCH A CRIME AS THIS. No he would not be insane if brought under such control, merely susceptible to powerful response controlling techniques. Gamblers ruin themselves. People drink themselves to destruction. People enter conditioning episodes where pornography is mixed with masturbation to produce very strong Pavolovian conditioning to give objects and behaviors a strong sexual valance ("it becomes a fetish") where the conditioning occurs without the individual being aware of the connection between his proceedure with respect to himself and the new proclivities he is taking on. But not only contingencies of sexual reinforcment,but other contingencies -- all of the reinforcement on gets from escaping danger in real life and in a video game, can get one hooked. The very existence of propaganda and advertizing and poltiical agitators attests to the fact that people can be conditioned to do this or that. The additiction to horror movies as adrenaline and the good feeling one gets from escape from danger -- like a rock climber gets after reaching the top of a very difficult rock etc. Holmes was a video game player -- and there is not one mention by anyone on the mainstream media or in the politically correct polcie, FBI and Homeland security or media law-expert talking heads to even admit the possibility that people can be made to commit crimes -- the way a Washington DC call-girl (call boy) prostitute can get a Congressman or staffer hooked on a particular fetish behavior that they would be very embarrassed if anyone found out about it etc. in order to control them. Also, black-ops can infiltrate poliical groups and with the techniques of a skilled leader/agitator turn their viewpoint and attitude around so that they are led to plan a bombing -- or a hijacking of airliners. The poltical outcaste is easily susceptible to control by the sympathetic and reassuring macho Jesse Ventura or Bo Gritz type, who then can lead them to do something stupid just when the powers that be need a terrorist to help them out a bad situation. I AM SAYING THAT JAMES HOLMES VERY LIKELY HAD HELP GETTING TO THE STATE IN WHICH HE COMMITTED THOSE MURDERS.
I AM SAYING THAT IT IS A SERIOUS OMISSION THAT THIS POSSIBILITY IS NOT BEING INVESTIGATED -- THAT IT IS A COVER-UP BY CORRUPT GOVERNMENT POWER THAT IT CONCEALS FROM THE PEOPLE THAT SUCH CONTROL OVER BEHAVIOR IS POSSIBLE.
AND I SAY THAT FROM WHAT WE KNOW ABOUT HOLMES HE WAS IN THE PERFECT PLACE TO BE SELECTED AND BROUGHT UNDER CONTROL BY TECHNOLOGIES THAT WOULD BE EFFECTIVE EVEN THROUGH SO SEEMINGLY INNOCUOUS AN ACTIVITY AS PLAYING ONLINE VIDEO GAMES.
Say Holmes is playing a role model game that is really coming from a behavioral laboratory/ game developer laboratory serving black-ops organizations of a goverhment or very rich and powerful organize crime (such as conducted the 9-11 false-flag attack).
Is Obama going to address the nation because of the mass-murder by Holmes or is Obama's address the reason for Holmes being subjected to what he was to make him do what he did?
Our justice requires that the jury convict if they believe in guilt beyond a reasonable doubt. I would tell Holme's legal defense that there is more than a reasonable doubt IF YOU DO NOT ELIMINATE THE POSSIBILITY THAT HOLMES WAS DELIBERATELY MADE TO DO WHAT HE DID BY PEOPLE WHO KNEW HIS SUSCEPTABILITY TO COMING UNDER THE CONTROL OF ROLE PLAYING GAMES.
I ALSO SUSPECT THAT THERE WAS SOME REAL HUMAN BEING WHO ENCOURAGED HIM IN HIS ACTION -- someone who reinforced given themes and makinbg conditioned incentives effective with attention, affection and approval.
BUT WHAT IS MISSING is any discussion
James Holmes was a neuo-science medical student. He would have to be controlled by a psychologist or specialist in neuro-medicine, but also behavior conditioning -- and having their victim around as a student would be the perfect cover for observing him in action. He played unline video games -- which means that the game could have originated from a laboratory at Bar Ilan University where Israel's top behavior research (and development) is conducted. Obviously Kromka, a fellow student, was aware of Holmes game playing -- which means that Holmes was playing the online role playing games at the facility. The ability to condition a response by constant role playing and rewarding -- especially where the contingencies of reinforcment are on the right schedule to strengthen a particular response to occur on specific occasions with specific discriminative stimuli is very easy to achieve with the massive hours and total concentration game players devote to role playing and other kinds of games. Certain games or components added to a game may shape up a particular kind of response. We know that the military looks for game players to run remote control weapons with similar manipulanda.
Why the super-hyped Batman movie? Lots of reasons from a conditioning standpoint -- because if Holmes was playing a rigged version of a game which used Batman themes, and with Batman being promoted all over the mass-media culture, including new specials, and talk shows etc. -- which I saw promoted as if all of the media are members of a Batman Cult -- then that total emersion of environment with game would make it easier to erase the line between game and reality -- to make it easier for game mode in Holmes to overcome morality and cultural mores mode -- which are very weak in children today because Judeo-pornographic culture works to defeat such "middle class" moral training. John Brodius Watson, the first great American behaviorist, boasted, give me any healthy baby and I could shape him into any kind of person you want from doctor, to lawyer to begger man to thief - and of course that is child's play if today if someone has the fundamental laws of conditioning down and a subject hooked on games where you control the contingencies of reinforcement for this or that kind of (killing) response.
The games are like pornography. Pairing pornography with masturbation can condition fettishes that did not exist before -- that is where the sexual crime wave comes from -- but Holmes could have been motivated by other powerful conditioned reinforcers - such as the simulated but nontheless effective social reinforcement for being an effective killer etc. the principles discovered by Pavlov, any behavior that yield.
The ideation for setting his apartment with booby traps came from somewhere. It was probably a test exercise to see if he was ready for the main event. That is not just something that occurs to people. Bomb setters often are war veterans etc. but computer games can get you there maybe even quicker, by setting up the learning/conditioning for the quickest and strongest learning. (Learning both operant (what to do) and respondant (establishing the action as a source of reinforcement and the behavior itself a conditioned reinforcer)
One of my masters degrees is in experimental psychology. I've met Skinner, My thesis advisor was Skinners choice to receive his mantle for his school of operant psychology. Richard Herrnstein invited me to apply to his department after reading my thesis. I worked at the Behavior Therapy institute in Sausalito CA and I was for while a state psychologist II working for the State of Washington and I have taught college psychology -- in addition to teaching economics -- etc. So don't brush off what I am saying as coming from a "truther" consiracy theorist who gets his world view from UFO contactees and New Age Channelers -- I am not one of those.
Dick Eastman
Yakima, Washington
Ken Schram
KOMO Radio & TV
Seattle, WA
Hey Ken... It appears the mainstream media, save for some local outlets like WKYC TV in Ohio (see below), are omitting certain known facts about the Colorado movie massacre. And your ABC Newscasts only repeat the main story line about James Holmes being charged with first degree murder and a possible death sentence. Why aren't you on top of this? Where's the investigative journalism? I hear none on KOMO.
Check this YouTube item and the other links: https://www.youtube.com/watch?feature=endscreen&NR=1&v=2x6ducda0_0
Instead of looking beyond what ABC and the Associated Press provide you in the way of news feeds, you're again making a BIG DEAL about military assault rifles (AR-15) and high-capacity 100-round drum magazines, but FAILING TOTALLY to address WHO may have actually been involved in the Colorado movie massacre and the masterminds behind this incident. Ask yourself the question, how does an unemployed med student come up with the money to acquire all of the sophisticated ballistics gear, weapons and ammunition, let alone the ability to booby-trap his apartment? And what about the UN Small Arms Treaty, set for a U.S. Senate vote just 7-days away from the Colorado incident, coming up on July 27th? There is obviously an agenda afoot here, and you've missed it by about the distance between the Moon and Mars!
Get off the "GUN NUT" case with your anti-gun agenda, as you usually do, and start asking some serious, VERY SERIOUS questions, as to WHO is behind this crime. I'm sorry, but your guest this afternoon from Washington CeaseFire DOES NOT HAVE ANY ANSWERS!
Guns are not a public health issue... the pharma-medical industry is! Over 100,000 die in America alone every year from properly-prescribed medicine. Moreover, the most stunning statistic in modern civilization is that the total number of deaths caused by conventional, government-sanctioned medicine is an astounding 783,936 per year. It is now evident that the American medical system is the leading cause of death and injury in the U.S. [Gary Null]. It isn't and never has been "GUNS!"
We simply do not need further restrictive gun laws, regardless of what CeaseFire and you may think. You may have a CCW permit, but your ideology, purpose of thought, and broadcast position of public trust DO NOT GIVE YOU THE RIGHT to continually harangue the Right of the people to Keep and Bear Arms, or in any way influence, interfere, or restrict the right of the people to buy any kind of gun or ammunition they may desire to own. An armed populace is the only way to secure a FREE State. Your talk continually consists of discussions to deconstruct and defeat that right. Who knows, maybe you have 'communist' tendencies to be a seditionist. After all, when you suggest that the people don't have the right to own an AR-15 or any other similarly situated weapon, you're in effect saying they don't have the right to protect and defend their person, property or State. Say it isn't so!
WARNING: If you keep pursing this continual derogatory line of thought, I'll be happy to personally file a complaint with the FCC and get it filed into KOMO's broadcast license renewal application for your deliberate and continual overbalance and interference in demeaning the public's rights, not only to know what's best for them, but your consistent theme to debar them from owning or possessing weapons for their ultimate protection, including their defense from a tyrannical government. As you well know, a broadcast license is issued/renewed by the FCC in the public INTEREST, RIGHT and CONVENIENCE... not for some self-serving, closed-loop anti-gun agenda from your broadcast pulpit, and a conduit for Washington CeaseFire and others who would demean and/or otherwise restrict the public's interest and right.
Sincerely,
John R. Prukop
CCW COALITION
Abel Danger PR/Legal
---