Custom Search
Ex-New York police chief Bernard Kerik gets four-year jail term for tax fraud
James Bone in New York
The former New York police chief who became a national hero after the September 11 terrorist attacks was sentenced yesterday to four years in prison. Bernard Kerik, the city's only police commissioner to ever plead guilty to a crime, confessed to eight felonies, including tax fraud and lying to White House officials.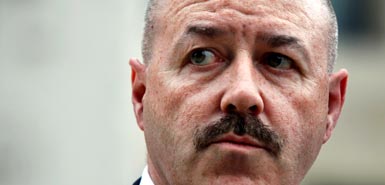 The former New York City police commissioner Bernard Kerik
The sentencing marked a dramatic downfall for the son of a prostitute who began his career as a pony-tailed undercover officer and rose to become the head of America's largest police department.
His career began to unravel when President Bush nominated him to become America's homeland security chief in 2004 — placing him under intense scrutiny as a result.
In imposing the four-year prison term, the judge, Stephen Robinson, exceeded the sentencing guidelines of 27 to 33 months. He excoriated Kerik for taking advantage of his new-found fame after the 2001 attacks.
"The fact that Mr Kerik would use that event for personal gain and aggrandisement is a dark place in the soul for me," Judge Robinson said. "I think it's fair to say that with great power comes great responsibility and great consequences. I think the damage caused by Mr Kerik is in some ways immeasurable."
Kerik, 54, the author of a bestselling memoir titled Lost Son, about his hunt for the man who murdered his mother, told the federal court in the New York suburb of White Plains that he was a changed man.
"I make no excuses," he said. "I take full responsibility for the grave mistakes I've made. Believe me when I say I have learned from this and I have become and will continue to become a better person. I know I must be punished. I only ask that you allow me to return to my wife and two little girls as soon as possible."
Kerik has already agreed to file amended tax returns and pay $188,000 (£120,000) in restitution.
As well as making false statements to the White House, Kerik admitted accepting a $250,000 payback in the form of home renovations from a company to which he gave a city contract.
The company installed marble bathrooms, a Jacuzzi and a new kitchen in Kerik's apartment in the upmarket New York suburb of Riverdale.
He also admitted tax crimes, including failing to report more than $500,000 in taxable income between 1999 and 2004.
"The sentence imposed today reflects the gravity of Bernard Kerik's crimes," said Joseph Demarest, the FBI Assistant Director.
"No public official can behave as if he is above the law."
www.timesonline.co.uk/tol/news/world/us_and_americas/article7032860.ece
Feb. 19, 2010